Ambush marketing. Debit card readers. Summer Internships. Sustainability. Horchata. What do these have in common? They're all part of wide-ranging multi-million dollar contracts many American colleges and universities have with Coke and Pepsi.
These two companies have exclusive "pouring rights" contracts worth hundreds of thousands, if not millions, of dollars with schools around the country. We sent out public records requests to 94 schools for those contracts. A MuckRock analysis of the 38 contracts released so far found huge, two-directional cash flows, and tight grips on more than just beverage consumption.
Exclusivity rights give one of these behemoth drink companies a chance to carve out space on campus. Literally, many of the contracts specify how much space they get in convenience stores on campus - often 80% of the shelf space.
University of North Carolina at Chapel Hill:


But these companies get more than just two dispensing machines in a prime position in the dining hall (cough University of Central Missouri cough). The school often promises to maximize the sale and distribution of company beverages and guarantees ads in print media, radio, during collegiate sporting events, and on the school's website. They become the official drink of the university.
These and other benefits intimately tie the drinks to the college experience of hundreds of thousands of students. The companies contribute to "on-campus marketing programs that will enhance student life" as Boise State University put it, and they can use merchandise, tickets, and parking passes to sporting events the schools are contractually obligated to give them for marketing purposes.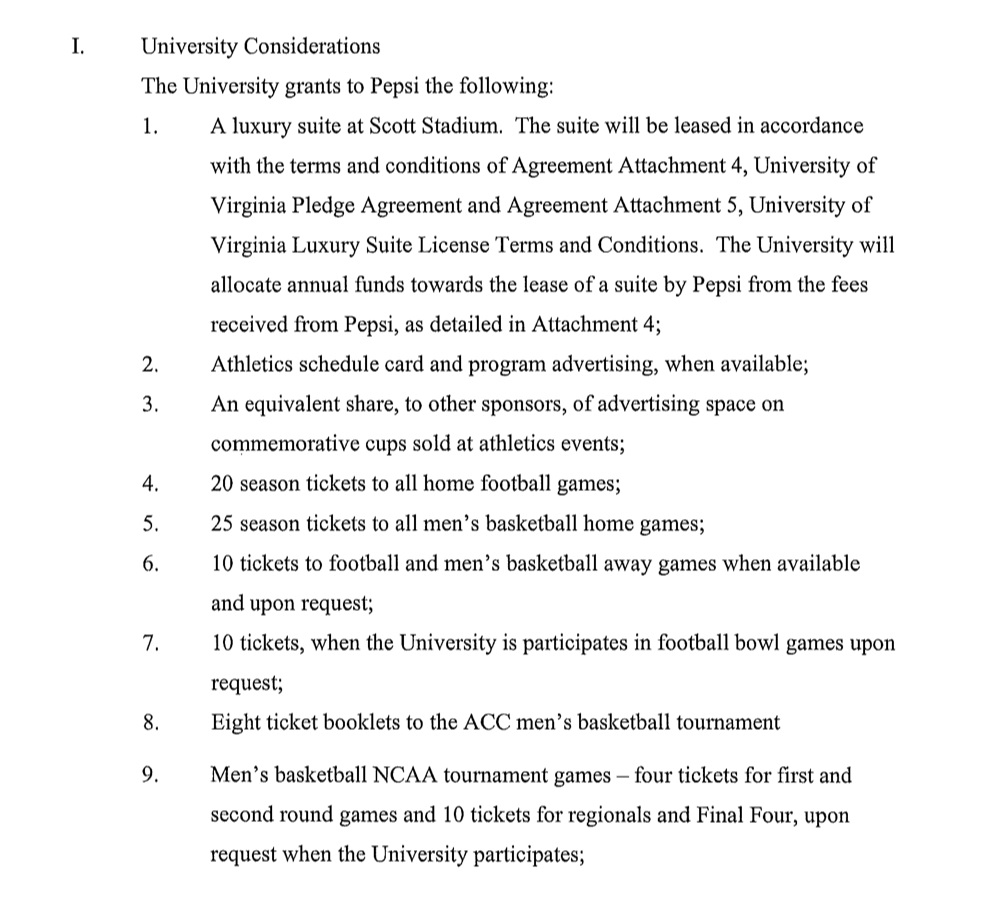 The reach of the drinks even extends into fraternity and sorority houses at the University of Maryland.

However, there are exceptions to the exclusivity rights. The Pepsi contract for Southern Illinois University Carbondale gave Pepsi exclusivity in campus signage with one notable exception; without acknowledging Coke by name, the on-campus Pepsi monopoly makes the exception for National Collegiate Athletic Association tournaments, as Coke is one of the NCAA's official partners.

Other schools make exception for drinks including Chik-fil-A lemonade, Dr. Pepper, Starbucks, and horchata.
On the other hand, the schools get millions of dollars, plus other benefits. Pepsi agreed to pay Texas A&M University at least 17 million dollars and Coke agreed to pay at least 27 million to the University of Minnesota. At many schools they donate hundreds of thousands of dollars worth of product, including $113,000 per year of POWERade at Louisiana State University.
Coke and Pepsi at certain schools - including Maryland's Towson University and the University of Maine - are contractually obligated to hire students as interns and campus marketing managers. At Oregon State University, there's potential for a marketing class to work with Pepsi on a new product launch. Coke and Pepsi are required to provide recycling bins at many schools.

Coke and Pepsi contracts stipulate payments of anywhere from $3,000 per year to $150,000 total for sustainability initiatives, and many thousands more for scholarships, marketing or advertising support.
Coke and Pepsi are also required to install and maintain vending machines. At BSU, Coke has to install 124 new or like new machines, and at LSU, Coke has to keep a student vending machine ratio of 100:1. Nearly every contract mentioned that the company had to install card readers. At Houston, Coke had to pay $20,000 a year to support credit card readers and $8,000 a year to support Houston's "cougar cards".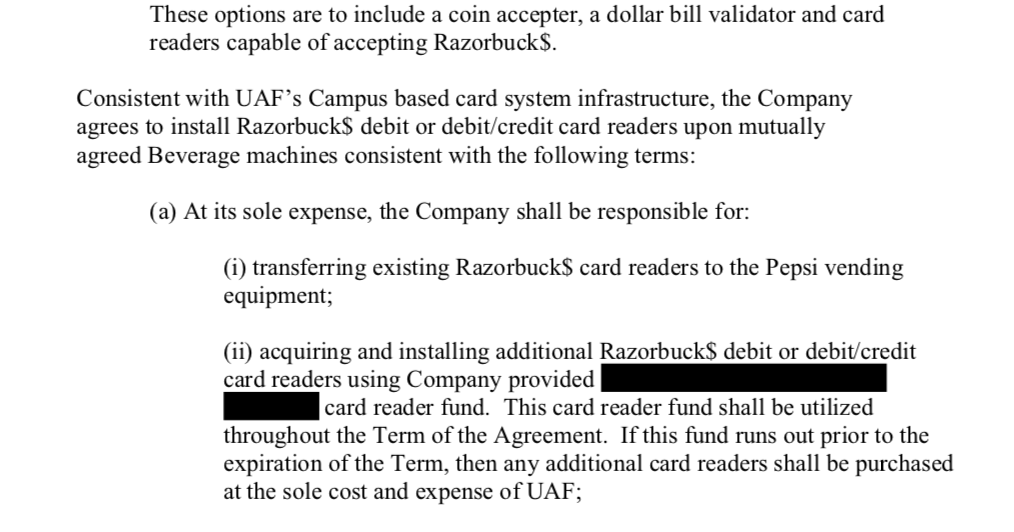 Most contracts mention how many hours Coke or Pepsi has to respond to maintenance calls on vending machines. OSU went further and mandated a 24-hour answering service where OSU would speak "to a person, not an answering machine."
However, controversy has surrounded these contracts before. New York University banned Coke from its campus in 2005 after students campaigned for an investigation into allegations of labor violations. Now, some of these contracts contain social responsibility clauses.
Arkansas: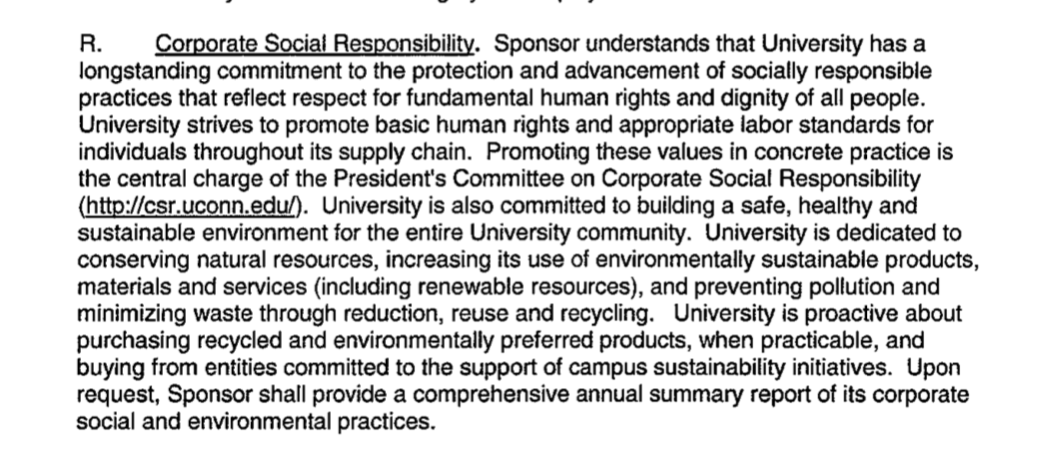 Although these contracts cover huge swaths of campus life, some of the schools wanted to keep it quiet.
Houston:

Maryland redacted chunks of their contract with Pepsi, including the sponsorship payments. Arkansas, Colorado State University, Maine, and Towson also redacted parts of their contracts and contract amendments. Pennsylvania State University and the University of Delaware denied the request by saying the contracts weren't public records.
Read all the completed contracts here.
---
Image by Orin Zebest via Flickr and is licensed under CC BY 2.0