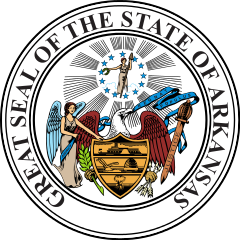 Arkansas, USA
Arkansas Public Records Guide
Overview
Law applies broadly, with strict three-day response window, restrictions on fees, and with strong penalties including jail time</span>
Citizenship requirement overturned in 2006 is now back in place
Law can be overly vague to the point lawmakers aren't clear on what's exempt</span>
The Law
3-day response time
Applies broadly to all "public bodies" including executive, judicial, and the legislature.
Agencies may only charge "actual cost" copying fees
Non-residents may not submit requests, as of 2013 Supreme Court ruling
Supplemental
Definition of public records – [Ark. Code§ § 25-19-105 ]
Open Public Meetings Act - [Ark. Code§ 25-19-106 ]
The Details
Can you submit a request if you're not a resident?
No – following McBurney v. Young, Arkansas resumed denying requests based on Arkansas citizenship
To whom does this apply?
Executive?
Yes.
Judicial?
Yes, with some exceptions outlined in the act.
Legislative?
Yes.
Is there a designated records custodian?
Yes.
Who is exempted?
An organization that could reasonably be argued does not construe a "public body."
How can requests be submitted?
In-person?
Yes.
Verbally?
Yes.
By mail?
Yes.
By email?
Yes.
How long do they have to respond?
3 Days.
(e) If a public record is in active use or storage and therefore not available at the time a citizen asks to examine it, the custodian shall certify this fact in writing to the applicant and set a date and hour within three (3) working days at which time the record will be available for the exercise of the right given by this chapter.
Are there provisions regarding the extension of response times?
There is currently no provision dictating how agencies may extend time.
Does the agency have to give you a tracking number or estimated date of completion?
No and no. Nothing in the law specifically says that such things are necessary.
Can they ask why you ask?
No. Nowhere in the law does it say that a records custodian can demand to know the reason for the request. However, records custodians are encouraged to release materials in the public interest.
What enforcement?
The Attorney General
The State Supreme Court case of Bryant v. Weiss (1998), in which the state's top law enforcer was regarded as a citizen entitled to employ the FOIA, affirmed this opinion. Therefore, the State Attorney General may file a request that had been denied to another citizen and, if the request is once again denied, then he/she may bring civil action under the FOIA in place of the original requester.
Fees?
Yes, but strictly for reproduction costs.
The public body may establish fees reasonably calculated to reimburse it for its actual cost in making reproductions of records. A public body may not charge a search or retrieval fee or otherwise seek reimbursement based on a man-hour basis as part of costs associated with making reproduction of records. §29B-1-3
Are there fee waivers for media requests or those made in the public interest?
No.
Attorney's fees - Can you win them?
Yes
(B) A claim for reasonable attorney's fees and litigation expenses reasonably incurred in an action against the State of Arkansas or a department, agency, or institution of the state shall be filed with the commission pursuant to 19-10-201 et seq. within sixty (60) days of the final disposition of the appeal under subsection (a) of this section.
Exemptions and Appeals
What exemptions exist?
There is a presumption that all records are public. However, statutes and court cases have combined to create specific exempted categories. (See below for more specific applications.)
Do they have to tell you why a portion or pages were redacted or withheld?
Yes.
How much time do you have to appeal?
Appeal must immediately follow denial, with court proceedings occurring within seven days
To whom does the appeal go?
(a) Any citizen denied the rights granted to him or her by this chapter may appeal immediately from the denial to the Pulaski County Circuit Court or to the circuit court of the residence of the aggrieved party, if the State of Arkansas or a department, agency, or institution of the state is involved, or to any of the circuit courts of the appropriate judicial districts when an agency of a county, municipality, township, or school district, or a private organization supported by or expending public funds, is involved.
However, if the requester desired to be represented by the AG, they have to request it be re-filed on their behalf.
Can you appeal a delay?
Yes.
Do agencies have to tell you where to send your appeal?
No.
What if your appeal is denied?
Appeals are legal proceedings and therefore final.
Where else can you turn?
AG's office – see above.
Are all appeals kept officially?
Yes, at the AG's homepage
Resources
Organizations
The following organizations offer resources for those seeking public records in Massachusetts.
Attorneys and Law Firms
The following attorneys and law firms have practiced public records law. Names marked with an asterik have indicated a willingness to offer pro bono services on a case by case basis.
Successful appeals
News Stories on Public Records Laws in the State
Blogs and feeds primarily focused on public records in Arkansas
Public Records Guide and Advice
Newsletters
Big FOIA wins
Have a public records success story? Let us know!
Stats
| | |
| --- | --- |
| Filed | 793 |
| Completed | 193 |
| Rejected | 181 |
| No Responsive Documents | 94 |
| Awaiting Acknowledgement | 132 |
| Awaiting Response | 27 |
| Requiring Action | 116 |
| Overdue | 156 |
Allowed Response Time

3 days

Average Response Time

97 days

Success Rate

22.32%

Average Fee

$166.67
0.50% of requests have a fee
Top Localities See All
| Jurisdiction | Requests |
| --- | --- |
| Little Rock, AR | 72 |
| Fayetteville, AR | 13 |
| North Little Rock, AR | 12 |
| Conway, AR | 12 |
| Springdale, AR | 11 |
| Pulaski County, AR | 10 |
| Benton County, AR | 9 |
| Cross County, AR | 9 |
| Jonesboro, AR | 8 |
| Fulton County, AR | 8 |