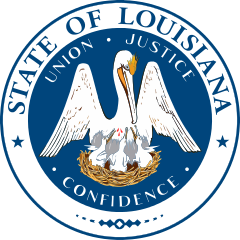 Louisiana, USA
Louisiana Public Records Guide
The Law
The agency must respond to a request, either with documents or the reasons that documents could not yet be provided, within three days.
Applies to the executive branch.
No administrative appeal option.
Supplemental
The Details
Can you submit a request if you're not a resident?
Yes.
To whom does this apply?
"A.(1) As used in this Chapter, the phrase "public body" means any branch, department, office, agency, board, commission, district, governing authority, political subdivision, or any committee, subcommittee, advisory board, or task force thereof, any other instrumentality of state, parish, or municipal government, including a public or quasi-public nonprofit corporation designated as an entity to perform a governmental or proprietary function, or an affiliate of a housing authority." Public Records Law
Executive?
Yes. However, records used by the Governor or the Inspector General in the performance of their duties are exempt.
Judicial?
Yes.
Legislative?
Yes.
Is there a designated records custodian?
The "custodian" is the person responsible for custody of the records. This person isn't necessarily specified.
(3) As used in this Chapter, the word "custodian" means the public official or head of any public body having custody or control of a public record, or a representative specifically authorized by him to respond to requests to inspect any such public records.
Louisiana Revised Statutes §44.1
Who is exempted?
Legislative records are covered by the law, but many may be deemed by court ruling or statute to be exempt from disclosure. Louisiana Revised Statutes §44.2
How can requests be submitted?
In-person?
Yes.
Verbally?
Yes.
By mail?
Yes.
By email?
Yes.
How long do they have to respond?
Within three days, the agency is expected to respond to the requester, regardless whether processing is ongoing.
Are there provisions regarding the extension of response times?
Within five days of submitting a request, a requester may initiate legal proceedings. However, there is no formal option for asking for or rejecting an extension of response time.
Does the agency have to give you a tracking number or estimated date of completion?
No.
Can they ask why you ask?
No, though they may ask the requester's age and for a copy of identification.
"A. The custodian shall present any public record to any person of the age of majority who so requests. The custodian shall make no inquiry of any person who applies for a public record, except an inquiry as to the age and identification of the person and may require the person to sign a register and shall not review, examine or scrutinize any copy, photograph, or memoranda in the possession of any such person; and shall extend to the person all reasonable comfort and facility for the full exercise of the right granted by this Chapter; provided that nothing herein contained shall prevent the custodian from maintaining such vigilance as is required to prevent alteration of any record while it is being examined; and provided further, that examinations of records under the authority of this Section must be conducted during regular office or working hours, unless the custodian shall authorize examination of records in other than regular office or working hours." Louisiana Revised Statutes §44.32
What enforcement?
One may sue.
"A. Any person who has been denied the right to inspect, copy, reproduce, or obtain a copy or reproduction of a record under the provisions of this Chapter, either by a determination of the custodian or by the passage of five days, exclusive of Saturdays, Sundays, and legal public holidays, from the date of his in-person, written, or electronic request without receiving a determination in writing by the custodian or an estimate of the time reasonably necessary for collection, segregation, redaction, examination, or review of a records request, may institute proceedings for the issuance of a writ of mandamus, injunctive or declaratory relief, together with attorney fees, costs and damages as provided for by this Section, in the district court for the parish in which the office of the custodian is located." Louisiana Revised Statutes §44.35
Fees?
The agency may only charge fees for situations in which the requester asks to inspect records outside of regular business hours. They may charge "reasonable" fees for duplication.
"F. A public body may make reasonable charges not to exceed its actual cost incurred in accessing, duplicating, supplying, or searching for the requested records. No public body shall impose any extraneous, intermediary, or surplus fees or expenses to recoup the general costs associated with creating or maintaining records or transacting the general business of the public body. Any duplicating fee charged by a public body shall not exceed the actual cost of duplication. The public body may also make a reasonable charge for the cost incurred in supplying records produced from a geographic information system at the request of anyone other than the owner of the land that is the subject of the request. However, such charges shall not exceed the actual cost to the public body in supplying such records, except that the public body may charge, on a pro rata per acre basis, for the cost of creating topographical maps developed by the public body, for such maps or portions thereof, which encompass a contiguous area greater than 50 acres. All charges for the supplying of requested records shall be estimated in advance at the request of the citizen." Louisiana Revised Statutes §44.32

"C.(1)(a) For all public records, except public records of state agencies, it shall be the duty of the custodian of such public records to provide copies to persons so requesting. The custodian may establish and collect reasonable fees for making copies of public records. Copies of records may be furnished without charge or at a reduced charge to indigent citizens of this state." Louisiana Revised Statutes §44.32(C)
Are there fee waivers for media requests or those made in the public interest?
There are no provisions regarding fee waivers for media. However, custodians may waive fees for indigent Louisiana citizens.
"Copies of records may be furnished without charge or at a reduced charge to indigent citizens of this state." Louisiana Revised Statutes §44.32(C)
Attorney's fees - Can you win them?
Yes, you may.
"D. If a person seeking the right to inspect, copy, or reproduce a record or to receive or obtain a copy or reproduction of a public record prevails in such suit, he shall be awarded reasonable attorney fees and other costs of litigation. If such person prevails in part, the court may in its discretion award him reasonable attorney fees or an appropriate portion thereof." Louisiana Revised Statutes §44.35(D)
Stats
| | |
| --- | --- |
| Filed | 1166 |
| Completed | 319 |
| Rejected | 74 |
| No Responsive Documents | 221 |
| Awaiting Acknowledgement | 114 |
| Awaiting Response | 79 |
| Requiring Action | 154 |
| Overdue | 182 |
| | |
| --- | --- |
| Appeals awaiting response | 3 |
Allowed Response Time

3 days

Average Response Time

126 days

Success Rate

26.07%

Average Fee

$664.72
13.81% of requests have a fee
Top Localities See All
| Jurisdiction | Requests |
| --- | --- |
| New Orleans, LA | 170 |
| Baton Rouge-East Baton Rouge, LA | 63 |
| Shreveport, LA | 24 |
| East Baton Rouge Parish, LA | 22 |
| Jefferson Parish, LA | 20 |
| Lafayette, LA | 18 |
| Orleans Parish, LA | 15 |
| Lafourche County, LA | 13 |
| Calcasieu Parish, LA | 13 |
| Lafayette Parish, LA | 13 |