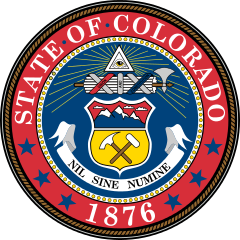 Colorado, USA
Colorado Public Records Guide
Colorado Open Records Act
(CORA)
Enacted in 1969
The Colorado Open Records Act, like any state's records law, has its drawbacks and advantages. In Colorado, there are no set time limits for requests, which means it is up to you to decide if an agency is taking too long or ignoring you. And their lack of administrative appeal or oversight from the AG or an ombudsman means that it may have to be in court. Yes, you can win attorney's fees if you prevail in your case, but even finding a lawyer willing to take on a provisional case is challenging to do-an obvious flaw. Enforcement for a willingful records offense is taken quite seriously by the state, with a $100 fine and the potential for jail time. Otherwise it lacks much teeth, and is a rare occurrence that it is used.
That being said, Colorado does give requesters access to records from all three branches of government, with some exceptions being made to certain criminal justice records (covered in a separate law) and court records. However, records from those categories can still be requested and received, it just depends on what specifically you need. We go into more detail further down, and give some valuable links. Fees in Colorado are mostly handed down to people who have asked for data that must be segregated into another form by the agency before release, or copying charges which ring up to 25 cents a page for standard sized paper. Not an unreasonable fee policy.
Side note: Colorado agencies require a form be submitted, so be prepared to do a little extra paperwork in most cases.
The Law
No distinct time limit No admin appeal or ombudsman *Applies to all three branches of government
Supplemental
CO records retention schedules
The Details
Can you submit a request if you're not a resident?
Yes.
To whom does this apply?
Executive?
Yes.
Legislative?
Yes.
Judicial?
In part. While most court records are attainable under the Colorado Public Records Law, criminal case files are subject to disclosure under the Colorado Criminal Justice Records Act.
Who is exempted?
Other than certain court records and public university records, all files of government are in theory open.
Is there a designated records custodian?
No. The Attorney General sometimes acts as an amicus in cases involving records disputes.
How long do they have to respond?
There is no distinct time limit. However, if you feel an agency is simply ignoring you or is taking an improperly long amount of time to get your records, you can sue in court.
Does the agency have to give you a tracking number or estimated date of completion?
Can they ask why you ask?
No. That is, your answer may not impact their records locating or redactions.
What enforcement?
Anyone guilty of knowingly or willfully violating the public records law is guilty of a misdemeanor, which carries a $100 fine and/or imprisonment for not more than 90 days.
If the offense was more arbitrary in nature, the punishment is $25 a day the records were withheld, coming from the personal pockets of the custodian.
Fees?
For duplication the charge is for $0.25 per page for standard sized paper, and not exceeding actual cost for other sizes. This also goes for electronic records.
They may not charge a search fee unless they have manipulated data into a form that was not already created by the agency. And even then, costs must be kept 'reasonable.'
Are there fee waivers for media requests or those made in the public interest?
Yes. However, it is up to the discretion of the specific custodian working your case at the agency you have requested the records from whether you qualify as eligible. Journalism is a valid cause for a fee waiver.
Attorney's fees - Can you win them?
Yes.
Exemptions and Appeals
What exemptions exist?
Exemptions in the Colorado public records law are not wildly different than what we see with the other states. There are the pretty standard trade secrets exemptions, records from students in elementary and secondary schools, and personnel files which are defined in Colorado as records that exist due to the employer-employee relationship.
Other more specific exemptions do exist, although again there are not many curveballs. Many of the same special interest type of exemptions exist here. Financial records are very difficult to get here, as are any kind of personal identifying records.
Juvenile court records are all exempt, and Colorado does seem to as a whole treat 'Children's Matters' as it is termed in the law, as something that should be almost entirely off limits to requesters.
In perhaps the biggest deviation from other state records laws, law enforcement exemptions are covered by the separate Criminal Justice Records Act. This covers police investigatory files and personnel files. The investigatory files exemption is to be construed narrowly, only referring to criminal justice records. To quote directly from the law, "All criminal justice records other than records of official actions are open to inspection by any person at reasonable times at the discretion of the official custodian." Colo. Rev. Stat. § 24-72-304(1).
Do they have to tell you why a portion or pages were redacted or withheld?
Yes, although only if you request so. It is not illegal for an agency in Colorado to not immediately let you know the specific redactions, although upon request they must.
Can you appeal the courts?
Yes, in the district court where the offending agency is located. There is no time limit for filing suit in Colorado.
Resources
Organizations
Colorado Freedom of Information Coalition
Attorneys and Law Firms
The following attorneys and law firms have practiced public records law. Names marked with an asterisk have indicated a willingness to offer pro bono services on a case by case basis.
There are currently no experienced public records law attorneys that we know of in Colorado. Write to us at info@MuckRock.com if you know of any and want to help us out!
Successful appeals
News Stories on Public Records Laws in the State
Blogs and feeds primarily focused on public records in New Mexico
Public Records Guide and Advice
Newsletters
Big FOIA wins
Have a public records success story? Let us know!
Stats
| | |
| --- | --- |
| Filed | 1643 |
| Completed | 530 |
| Rejected | 53 |
| No Responsive Documents | 333 |
| Awaiting Acknowledgement | 131 |
| Awaiting Response | 38 |
| Requiring Action | 333 |
| Overdue | 167 |
| | |
| --- | --- |
| Appeals awaiting response | 5 |
Allowed Response Time

3 days

Average Response Time

59 days

Success Rate

28.55%

Average Fee

$11540.01
12.23% of requests have a fee
Top Localities See All
| Jurisdiction | Requests |
| --- | --- |
| Denver, CO | 359 |
| Colorado Springs, CO | 61 |
| Aurora, CO | 52 |
| Boulder, CO | 37 |
| Adams County, CO | 23 |
| Boulder County, CO | 21 |
| Jefferson County, CO | 21 |
| Arapahoe County, CO | 21 |
| El Paso County, CO | 19 |
| Fort Collins, CO | 18 |