As the hype grows around the #AmazonHQ2 finalists announced last week, it's worth perusing the proposals that didn't make the cut to get a sense of what cities across America were offering.
Criteria that we looked for within these bids included whether or not they were published proactively, had local hiring requirements, mention changes to the tax incentive program and potential developers, propose a transportation overhaul, point out plans for community development or non-profits, bring up non-material benefits of their town, and finally whether these cities hired outside marketing consultants to craft their bids.
The Northeast
The majority of freed Amazon proposals came out of MuckRock's own backyard. Three major bidders to post their proposals online were Connecticut which boasted about their proximity to New York, New Hampshire, which boasted about their proximity to Boston, and Boston, which boasted about their proximity to the center of the universe.
Bragging aside, towns throughout Massachusetts were for the most part, fairly good about releasing their HQ2 pitches. Fall River, a town that already houses a massive Amazon distribution center did not shy away from publishing their proposal on their website. The town offered a range of tax incentive options, including a Tax Increment Financing package that, "for a term of 5 - 20 years and can range from 0% to 100% real estate and/or personal property tax exemption". In a study done by GoodJobs First, it was reported that the original objective of TIF to rebuild devastated areas of cities can often fail to solve the problem when it diverts large amounts of tax revenue to economic development and away from public services.

Laws that allow for the weakening of these TIF zones can be easy prey for larger corporations who can expand to adjacent land and monopolize the area without any blight or poverty requirements. Fall River stated that the program is specifically implemented with companies that promise to create jobs. Lynn also offered a TIF incentive package, stretching up to 20 years and potentially $500 million in savings for Amazon.
The least subtle shot at big city bidders came when Fall River started dropping hot orange crime graphs …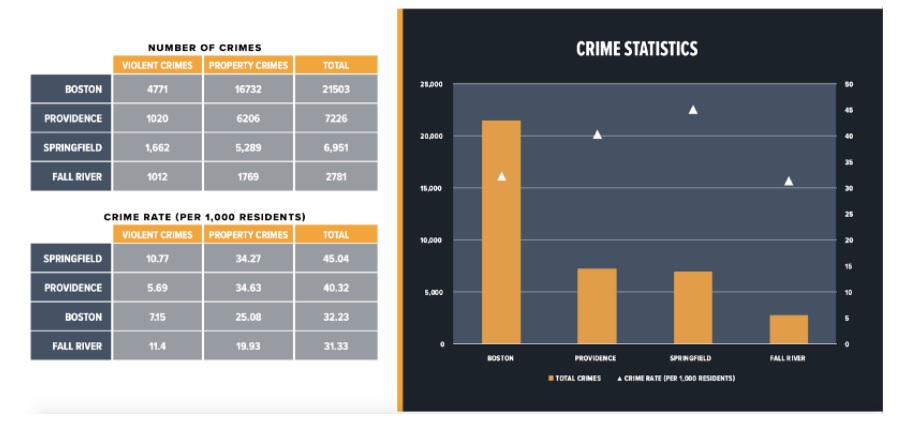 Amazon's RFP does call for an assessment about the quality of life in the applicant city …

further down specifying for, "relevant crime data:"

According to another study done by GoodJobs First, "economic development subsidies are a substantial contributing factor to sprawl. That is, they fuel the thinning out of economic activity in a way that concentrates poverty at the urban core and rapidly consumes land at the fringe". While safety is certainly a valid factor in Amazon determining their new location, this point of data can keep major cities like Detroit an outlier against smaller, already affluent cities with lower crime rates.
Somerville's bid talked of a transportation overhaul that's been in motion for decades - the expansion of various train lines within the Greater Boston Area. This involved the infamous Greenline Extension project that began in 1990, "currently under construction" and, "will be completed in 2021". Other projects that never quite took off included the city of Worcester's $10,000 promotional video and Leominster's recycled casino plot pitch …

While Boston still has a chance at prom queen, there were many Massachusetts bids that Amazon passed on including Billerica, Everett, Gardner, Holyoke, Leominster, New Bedford, Northborough, Peabody, Waltham, and Westborough.
Further up north in Brunswick, Maine released their proposal to us, then attempted to charge us $750 after the fact.

Other Northeastern releases that lost out on housing the new corporate headquarters included Danbury and Waterbury, Connecticut, Scarborough, Maine, and North Kingston, Rhode Island.
While Newark may be the only city in New Jersey that made the top 20, the state released a fair amount of Amazon proposals for MuckRock to mule over. Atlantic City's stated that through the Grow NJ Assistance Program, businesses that create jobs in New Jersey are eligible for tax credits ranging from $500 to $5,00 per job, per year, which they estimated could have translated to "a five percent savings" for the company's $5 billion project.
Governor Chris Christie has offered to expand the Grow NJ subsidy program to raise the cap on subsidies from the maximum $5,000 per job that Atlantic City offered, up to $10,000 per new job. With Newark backed by New Jersey bigwigs and a still viable choice for Amazon, that could mean up to $7 billion worth in tax breaks over the next decade for the massive distributor.
Other garden state contenders that didn't quite stack up included Camden County, Galloway, Old Bridge, Salem County and West Windsor. Longshot Bayonne has our vote for most earnest bid: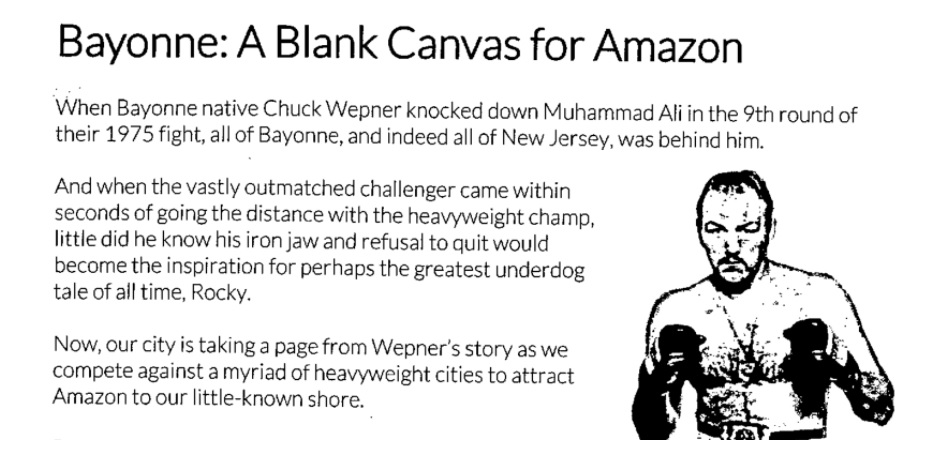 The West Coast
The sole West Coast city still in the running for HQ2 is Los Angeles, and they have yet to issue their bid openly, while other California cities Chula Vista, Fresno, Irvine, and Pomona have both made their proposals available.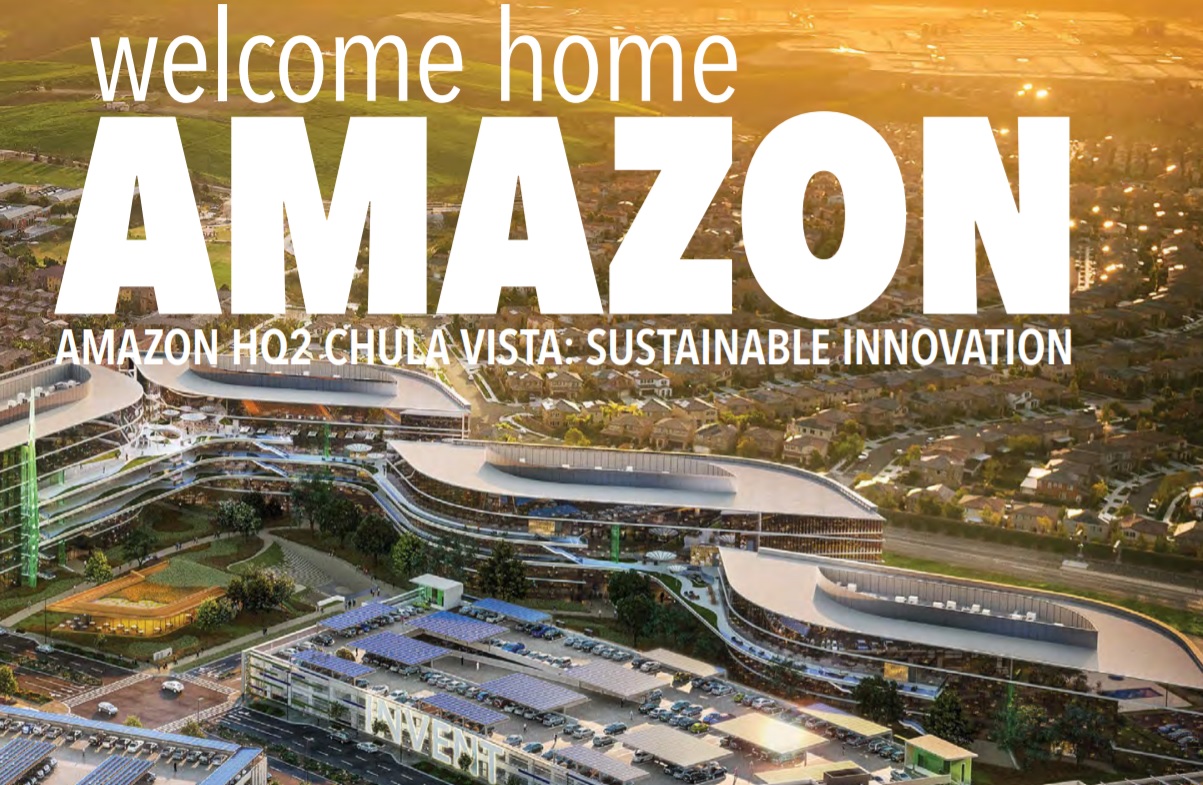 San Francisco was also among a few of the west coast locations to release their proposal proudly, and while their enthusiasm for transparency was valued, there was an notable lack of discussion around the possibility of a move like Amazon stoking further gentrification in a city with one of the highest costs of living in the country. King County, Washington also released their bids to MuckRock.
The Midwest
Only a few cities we sent out requests to in the Midwest allowed us to peak at their proposals. This included Toledo, Ohio a bidder residing in a state still wrestling with overzealous Amazon incentives.
Since 2014, Ohio has rewarded Amazon with $123 million in tax breaks over the span of four deals including one made in 2015, in which the tech titan levied the right to pay zero property tax on their Licking County site for 15 years. The potential for another Amazon deal in the state lives on in Columbus. Other Midwestern cities that let us in but ultimately lost out included Edwardsville, and Orland Park, Illinois.
The Southeast
The only cities from the south that MuckRock filed with and let us take a look were Stonecrest, Georgia. and finalist Miami. Stonecrest offered to de-annex 345 acres of land and rename the site "Amazon, Georgia," calling on the company to, "create a corporate city in the metropolitan Atlanta area and expand their eternal brand".

While there may never be an Amazon, Georgia, Atlanta still has huge potential for being chosen.
What's next
With 238 submitted proposals, Amazon whittled the competition down to 20 candidates in just a matter of months. Those who remain appear to be conventional choices for the conglomerate - large metropolises with educated workforces that have the clout and coin to lure Bezos in. The company is expected to make a final decision this year.
Here are some of the Amazon proposals released to the public not through MuckRock… Colorado's bid for Denver, Portland, San Jose, Philadelphia, Rhode Island, Massachusetts, Toronto, and Washington, DC's semi redacted proposal.
Small Red - No Responsive Documents
Large Red - Rejected
Small Yellow - Awaiting Acknowledgement
Orange - Fix Required
Small Green - Partially Completed
Large Green - Completed
If we've missed a spot please let us know via email, Twitter, Facebook, or via the form below.
---