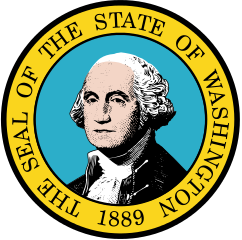 Washington, USA
Washington Public Records Guide
Washington rewrote their public records law in 2006, although it is hard to tell because it certainly seems a little outdated in some regards. Access to the legislative and judicial branches are exempt.
Enforcement is almost entirely up to the judge presiding over the case, with fines of either five dollars or a hundred dollars per day that the request went denied for. Fees are not charged for searches, but photocopies run fifteen cents a page. Fee waivers are not granted here.
Washington has 46 exemptions, which are highly specific and cover many of the same kinds of records as other state FOIA laws, with a few oddballs and deviations. We have included a section on them, and a helpful link in our resource section.
Appeals here are only heard in court, in this case the Superior Court of whatever county that the agency is located in. If you win, you may recover attorney's fees. You have a year to file suit, and may get an non-binding opinion from the records ombudsman in the AG's office, which may help in your case.
The Law
No admin appeal No fee waivers
Supplemental
WA State agencies records retention schedule
WA Local agencies records retention schedule
The Details
Can you submit a request if you're not a resident?
Yes.
To whom does this apply?
Executive?
Yes.
Legislative?
Still undecided. Some records are currently exempt, such as documents generated by the Clerk of the State House of Representatives or Secretary of the Senate, while others may be on the table.
Judicial?
Federal Way v. Koenig, 167 Wn.2d 341, 217 P.3d 1172 (2009) held that all records of the judicial branch are exempt.
Is there a designated records custodian?
There is not a specific agency dedicated to records and the upholding of records law, but the Washington Attorney General's Office has created a records ombudsman to help requesters and mediate disputes. Their rulings and opinions are not binding.
How long do they have to respond?
The response time for requests made under the Washington Public Records Act is 5 days.
Does the agency have to give you a tracking number or estimated date of completion?
No.
Can they ask why you ask?
No.
What enforcement?
One can either seek a non-binding opinion from the Attorney General's records ombudsman, or you can seek judicial review in court. If found guilty of a public records violation, a judge may order an agency to pay between $5 and $100 in fines per day that the requester was denied records. Depending on the ruling, this could be very little or a surprisingly large sum.
Fees?
Search fees may not be charged, and the standard rate for photocopies are fifteen cents per page.
Are there fee waivers for media requests or those made in the public interest?
No.
Attorney's fees - Can you win them?
Yes.
Exemptions and Appeals
What exemptions exist?
46 exemptions exist in Washington, and are very specific, like making the gang database or timeshare membership lists exempt. The benefit to this kind of specificity is that you know what the exemptions are and are not, and it is easier to appeal a more specific exemption rather than one which is more generally worded. What winds up happening here though is that many exemptions are needed to simply prevent personal information, financial consumer information, and other personally identifying info that citizens or employees would like kept private. Most exemptions found in the Washington Public Records Act are versions of what can be found in many other state FOIA laws. These cover subjects such as the discovery exemption (used to withhold doucments if the state is going to trial under rules of pretrial discovery), law enforcement investigatory documents are exempt, as are deliberative process records. A full list is included in the resources section.
Do they have to tell you why a portion or pages were redacted or withheld?
Yes.
How much time do you have to appeal?
One year from the date the decision was initially handed down.
Can you appeal the courts?
Yes, in the Superior Court in the jurisdiction of the offending agency.
Resources
Organizations
Washington Coalition for Open Government Freedom Foundation
Attorneys and Law Firms
The following attorneys and law firms have practiced public records law. Names marked with an asterisk have indicated a willingness to offer pro bono services on a case by case basis.
There are currently no experienced public records law attorneys that we know of in Washington. Write to us at info@MuckRock.com if you know of any and want to help us out!
Successful appeals
News Stories on Public Records Laws in the State
Blogs and feeds primarily focused on public records in Washington
Public Records Guide and Advice
Newsletters
Big FOIA wins
Have a public records success story? Let us know!
Stats
| | |
| --- | --- |
| Filed | 2666 |
| Completed | 1265 |
| Rejected | 142 |
| No Responsive Documents | 390 |
| Awaiting Acknowledgement | 23 |
| Awaiting Response | 215 |
| Requiring Action | 206 |
| Overdue | 231 |
| | |
| --- | --- |
| Appeals awaiting response | 6 |
Allowed Response Time

5 days

Average Response Time

101 days

Success Rate

44.71%

Average Fee

$147.37
14.63% of requests have a fee
Top Localities See All
| Jurisdiction | Requests | Pages Released |
| --- | --- | --- |
| Seattle, WA | 659 | 70,614 |
| King County, WA | 143 | 32,913 |
| Tacoma, WA | 90 | 45,708 |
| Spokane, WA | 78 | 7,333 |
| Bellevue, WA | 70 | 5,120 |
| Pierce County, WA | 67 | 4,921 |
| Kitsap County, WA | 49 | 3,686 |
| Auburn, WA | 44 | 52,873 |
| Olympia, WA | 44 | 24,285 |
| Spokane County, WA | 40 | 1,819 |