In a democracy, the power of the people comes from the ability to hold their government accountable. We're launching a project to provide a comprehensive list of FOIA resources that will help you to prepare, participate and investigate protests.
Today, we'll be looking at what to know before the protest starts.
Agencies
Federal
National security, defense and intelligence agencies have a vested interest in monitoring civilian activity. Participation in public discourse is an obvious target in a sea of indiscriminate government surveillance and the extensive list of those invested could include such agencies as …
The FBI - Broad searches for keywords and content regarding files on political groups and their protests are appropriate for large federal agencies such as the FBI. A request for all files on the environmental guerilla group known as "Earth Liberation Front" lead to the reiteration of that old, government narrative of activism as inherently criminal. What was released revealed the files of an agency eco-narc who had deemed the conservation group GreenPeace as extremist.

The Department of Defense - When filing for requests through agencies such as the Department of Defense, you can often face push back in the name of national security. In an event where federal and local law enforcement are working together such as the Ferguson Protests, look into any and all communication between the two entities that could reveal economic or tactical support. A request sent to the Missouri Police about grants from DOD showed the government's fast track to show force in the face of political dissidence.

The Department of Homeland Security - Federal security agencies like the DOD and DHS may push back by presenting false obstacles for requestors, so be persistent and specific. In a request sent to the DHS regarding their use of social media surveillance, one MuckRock requester was accused of using this information for commercial purposes.

After a drawn out appeal by the determined requestor who rightfully insisted his journalist intentions, the DHS was eventually forced to submit the files. Outlined was a guide to reasons for social media surveillance that included gathering information on threats …

to disgruntled employees.

The Drug Enforcement Agency - Certain government agencies may prevent access to specific instances of surveillance in the name of privacy and security. Requesting files that outline monitoring procedurals, training materials, directives, memorandums and guidelines can reveal the existence of surveillance. Even heavily redacted releases, like one sent to the DEA requesting StingRay policy and training documents, are not a complete dead end. Files such as these provide evidence of surveillance capacities and vulnerabilities within agencies.

The Secret Service - Federal departments often rely heavily on secrecy and therefore can seem daunting to file requests from. It is extremely helpful to focus your FOIA by researching certain programs within these governmental bodies. A request sent to the USSS looking into a specific program known as PRISM revealed instances of demonstration documentation …

revealing files on everything from HIV advocates to frog activists.

State and local
Local and federal governing bodies also have a history of surveilling and countering political activism…
Local Police Departments - Filing for highly specific requests within local departments are crucial because they often lack an internal public records officer. Be sure to link articles that reference the specific protest or incident and give a through description in order to avoid miscommunication. One requestor saw a photograph of Boston Police filming at a 2014 Black Lives Matter protest and filed for that footage through FOIA. Successful requests often come from noticing the small details.
Local Public Offices: Protests that surround specific public policy can target more accessible local officials such as mayors, governors and other state actors. A request for text messages between Seattle's mayor, his staff and police the night a protest took place outside his home revealed how people in power personally react and deal with public scrutiny
Regional Transit Authorities - Protests by their very nature exist in the public sphere. Requesting for any and all files of communication between transit departments and the police can reveal what authorities expect and are prepared for before a political rally.
Strategies and Tactics
The level of aggression or cooperation law enforcement will attempt to foster with civilians is informed by the threat level they perceive. Whether federal or local, police agencies prepare for political rallies with varying levels of severity. The sorts of equipment and tactics police use can reveal the level of force that may be displayed. Public record files that have informed us about police procedurals include …
Use of Force Policies - While use of force policies are standard departmental materials, that does not mean departments will always release them without a fight. Agencies might claim such policies are exempt under law enforcement techniques, but know these are public records legally accessible under FOIA. After initially rejecting MuckRock's Use of Force policy request under the defense that it could jeopardize an officer's safety and impede investigates, the Cambridge Police Department discharged the documents in 2015. The department specifically applauded the request along with the recent release of the the White House Task Force Report as major incentives for allocating use of force policies for public scrutiny.
De-escalation - De-escalation procedures are meant to prevent or at least limit the use of force by police. Requesting files pertaining to training and policies can show whether law enforcement are prone to proactive or reactive tactics. A request for the number of hours Chicago police had undergone implicit bias, communication, firearms, de-escalation and crisis intervention training showed the varying situations, such as dealing with autist and mentally ill citizens, and state mandated hours (often zero) versus the extended commitment by the force.

Emergency Management Assistant Compacts - A State of Emergency declaration can often call up an EMAC, which allow local law enforcement to recruit and deploy large scale police forces from surrounding states. A request sent between the Governor's office of North Dakota and Wyoming revealed how these states prepared to quell the "civil unrest" of the peaceful Standing Rock Protest through the use of chemical munitions launchers and riot squads.

Supplies and Equipment
When investigating the level of military prowess of police departments, look into files on equipment and munitions. A Field and Force Manual distributed to the North Dakota law enforcement revealed a highly sophisticated document providing information on protestor tactics …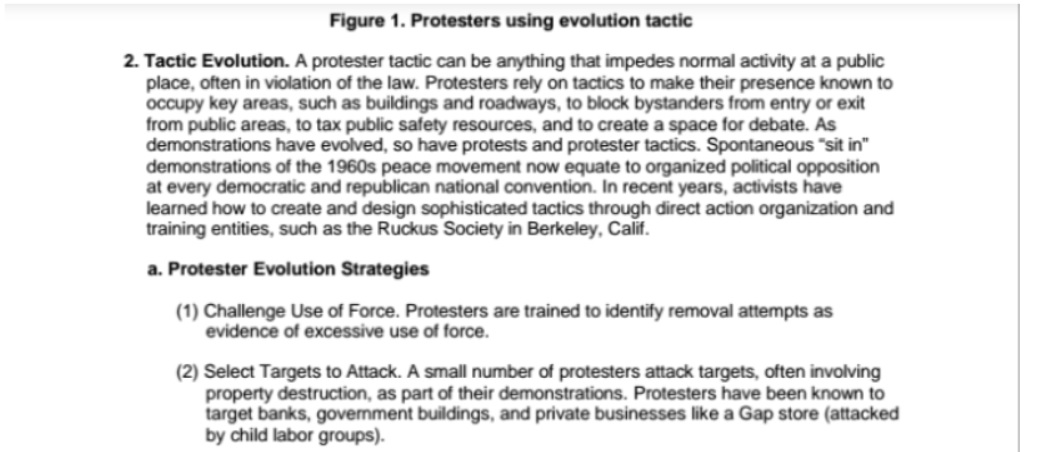 as well as riot control equipment and chemical agents wielded by the agency during demonstrations such as Hand Tossed Munitions …

Other items included ARPs (Gas Masks), Fire Resistant Clothing, Tear Gas, Compressed Air Weapons, Rubber Bullets, Bean Bag Rounds and Foam Baton Rounds to name a few.
Tracking Technology
StingRays - StingRays are a military grade device produced by the Harris Corporation that can forcibly establish connections with all cell phones in a given area. The omniscient technology can collect texts, listen to phone calls and track a phone's physical location simultaneously. When requesting search for files such as NDAs, contracts, records, communications, invoices, purchase orders, agreements, policies, guidelines, and acquisition requests between police departments and the Harris Corporation can help to determine if StingRay technology is in their hands.
Digital Receiver Technology - Also known as "DRT boxes", are yet another popular cell site simulator. A FOIA request sent to Virginia State Police regarding DRT acquisition documents revealed a log that shows in at least 5 out of 12 instances the technology was used, the device failed to locate the subject. Almost $50,000 of public allocated money was used for the 12 instances with only 4 leading to arrest. Files like these show how the dismantling of privacy is not the only cost of burgeoning mass surveillance.
Automated License Plate Recognition - ALPRs are a network of cameras often placed on police patrol cars or street-side structures in order to collect license plates numbers and the corresponding dates, locations and times of passing cars. They have the power to collect raw protest footage and are a powerful tool of privacy abuse by law enforcement. The Boston Transit Department was one of the first cities to adopt ALRPs, eventually leading to the programs demise in 2013 when license plates of 68,000 vehicles were released to MuckRock. Leads could include requesting NDAs, grants and policies from the federal government to state and local police. Private companies such as MVTrac and the Digital Recognition Network also collect license plate data with virtually no oversight.
Social Media Monitoring
With the ability to monitor location, time frame, personal information and record posts in real time, social media tracking software allows police to keep a detailed tab on activists. These systems could include …
Geofeedia and LifeRaft: Local police departments and federal agencies can track and record individuals' social media accounts to identify locations, time frames and personal information regarding community activists and their gatherings. A FOIA request for contracts, procedurals and guidelines revealed the capabilities of Geofeedia an increasingly popular social media tracking software that can monitor and record posts in real time …

Another service, ArchiveSocial, works with local departments to archive their own social media presences and help handle requests. It can also serve as a way to see how an agency responds to protests, as well as what questions people ask the agency (ArchiveSocial only archives social media posts from an agency or explicitly directed at the agency).
Over 250 agencies have been added to our social media surveillance survey, a continually updated tracking map that can inform your privacy protection at the national level.
---
Check back next week for what to request from the day of.
Image via Oakland Socialist. This article was updated to clarify which content ArchiveSocial archives.