This part 3 of a 4-part series on private prison contracts, going into the hows and whys of awarding a contract. Parts 1 and 2 can be read here and here.
The contract is the crux of the public-private partnership. Last week, we considered the basic conditions leading to an agreement with a private prison operator. Once a competitor is chosen, though, the contract or inter-govermental services agreement (IGSA) itself is clutch in knowing what the government expects and what the operator can be held to if accused of violations.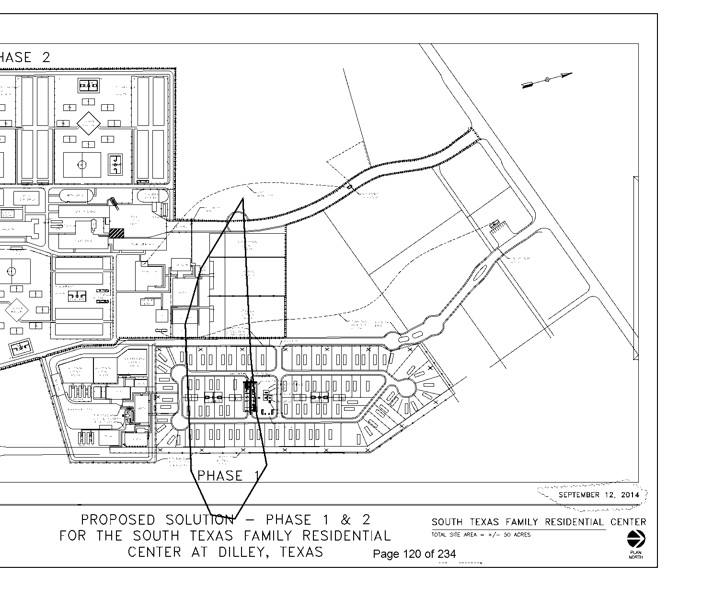 Agreements made through IGSAs might not be released unless specifically asked for, even if the relationship in question is obvious, like what happened when MuckRock requested contracts related to South Texas Family Residential Center.
The first request, for contracts generally, returned no materials.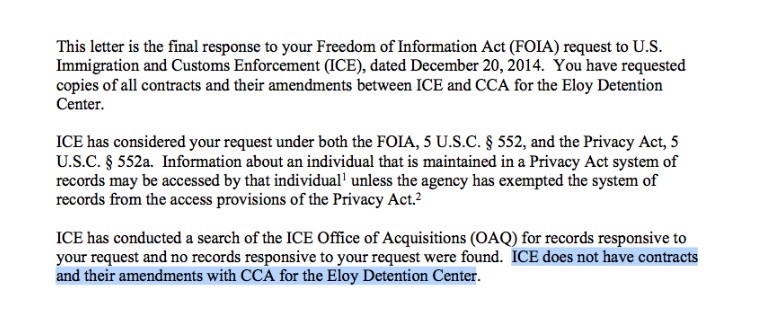 While a more specific request including IGSAs provided the desired material.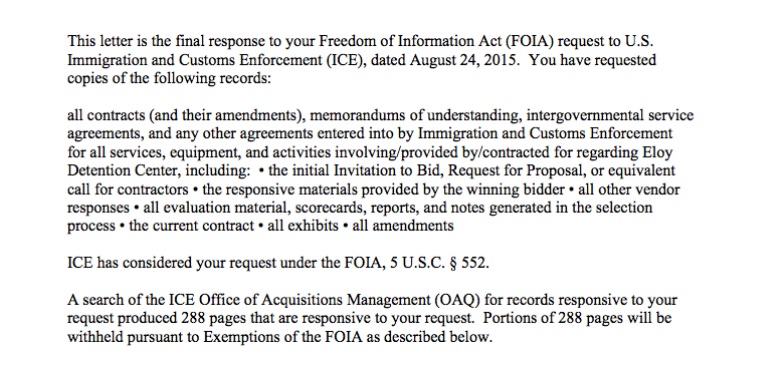 And even when a contract is provided, it will likely not be free from redaction. The fact that not all information may be revealed, even the most basic such as the actual "unit price," suggests unpleasant implications for the public's right to know what business is being carried out in their name.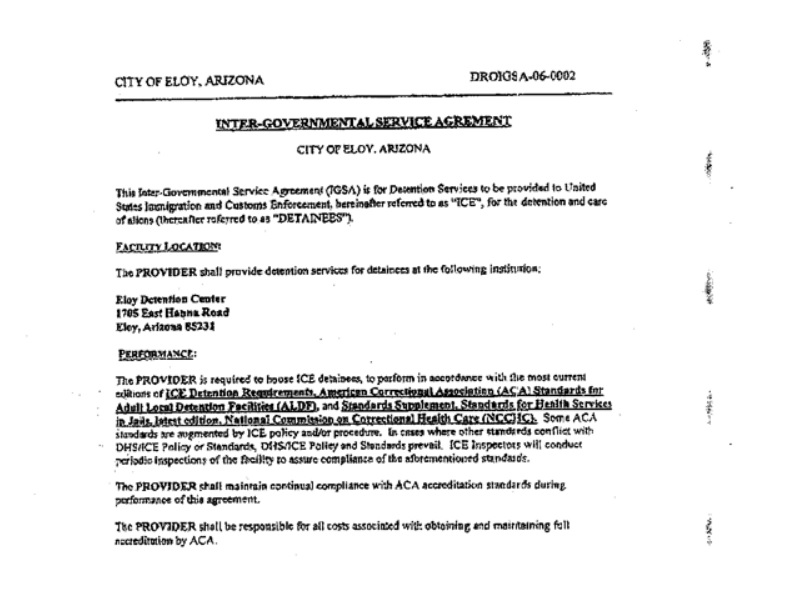 The price
There's a basic agreement outlined in the contract: the matter of money. A recent contract awarded in Texas nicely outlined the key points:

Who is getting the contract, how is that contract identified, how much will the agency pay, how will that payment be made, and how long will the contract last are the main points of business, and for private prison operators, that price is determined based on a per diem cost - that is the cost per day to house an individual in the facility. This per diem price is meant to include the other necessities included in the care of the person, which can range from medical care up to inmate wages, like in Arizona state system, and usually counts the day that the prisoner arrived at a facility, but not the day he or she leaves.
Just as all contracts do not contain the same stipulations, all agencies, of course, do not handle responses to requests or providing public information in the same way. The contract referenced above is accessible online via the State of Texas, and among the materials is a list of per diem prices for each facility in the contract.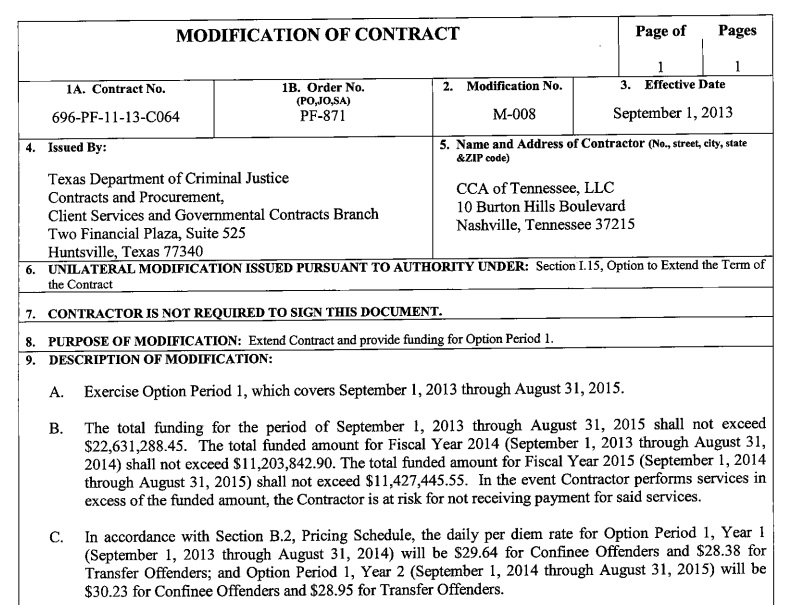 However, Immigration and Customs Enforcement, has taken to redacting that same information under the (b)(4) exemption, indicating that it is a trade secret.

There are other growth elements built into the per diem rate. Both federal and state contracts, however, typically include a provision related to the adjustment of costs based on the rate of inflation or generally expectations about increases in expenses. There may also be certain minimum requirements placed on how full a facility needs to be, though the one for Eloy Detention Center and, by extension, STFDC do not.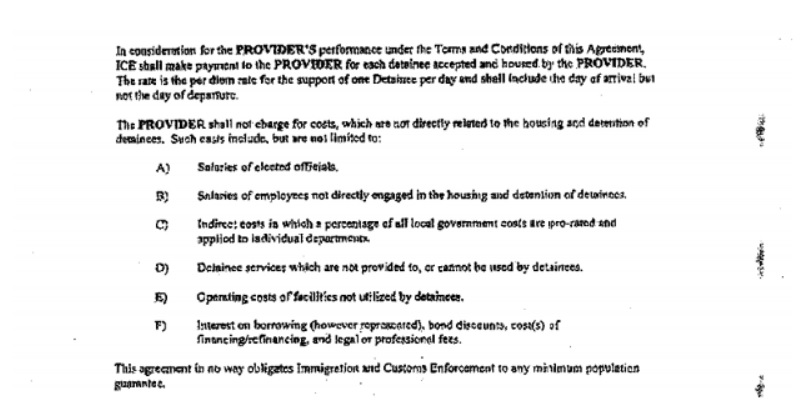 However, when you're dealing with individuals by unit price, there are other potential savings to be brokered. In a Texas bid for five prisons, for example, a potential discount was suggested based on the award of management of multiple facilities; that discount was not later applied.
But what we're paying for in a contract is not always only a matter of inmate, some summed up estimate of how much food, shelter, medical care, and other activities cost per day for a person. There are also other services being provided, extensions of the private prison's appeal as a construction operator or a security team that also benefit the contractor.
CCA, for example, provided options for the construction of Security Management Units - essentially solitary confinement units - in which the amount provided by the government would essentially affect how much time the detainees would be able to spend outside. Either way, CCA would be compensated some for the construction of the units themselves, and then, of course, they would be outfitted for any future contract offerings requiring such federal compliance.


All contracts of the federal government are subject to particular procurement rules, the Federal Acquisition Regulations, and once you've gotten a contract with the government, it can facilitate future wins. Each contract contains the company's DUNS number, the unique identifier given to a business, though a business may operate with multiple such numbers.

This means that contract materials will often also include updates to the government's wage determinations…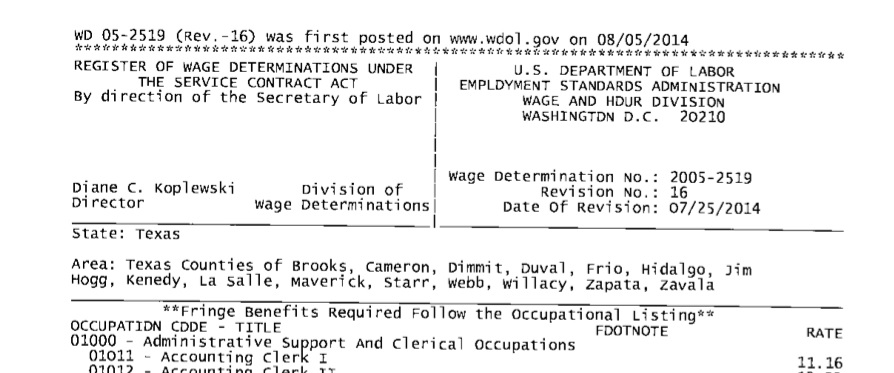 …and other regulations set forth by the United States.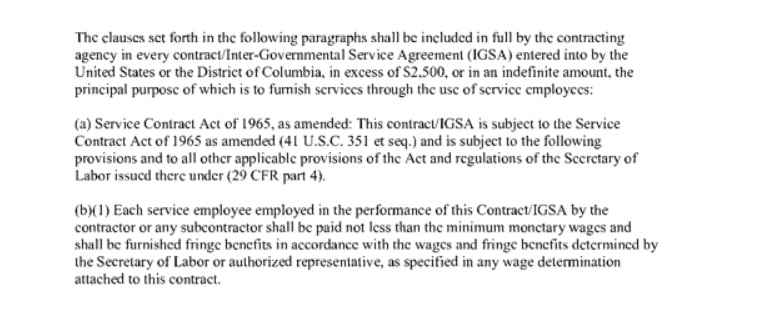 It will also usually include requirements about how employees must be trained and certified, and if there is a union involvement, which is uncommon among the private prison industry, these materials would also be included.
Prisoner concerns
Depending on the agreement, it may say little or a lot about the structure of the detainee experience. At STFRC, for example, the Performance Work Statement provides details about libraries, programs, meals, and housing.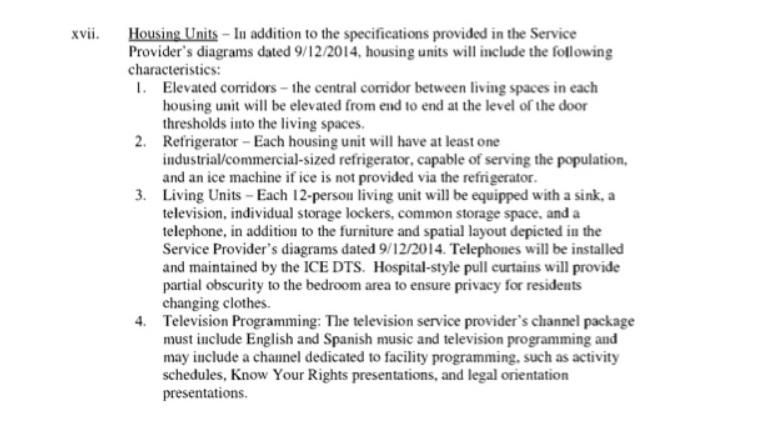 Because South Texas Family Detention Center is meant to hold immigrant families rather than criminals, more care is given to outlining expected amenities.

Otherwise, a few common elements are highlighted: the responsibility of medical care, the responsibility of grievance procedures, and whatever expectations there may be for provision of education and work programs.
But while the exact certification requirements or medical responsibility may vary from jurisdiction to jurisdiction, a common element is at play: the lack of any clear standards for what a "successful" prison really is.
For some, a successful prison is an open one.
It's difficult to get a totally clear picture of the private prison field, in part because the government doesn't always see why disclosure of contracts and other information would be in the interest of the public. BOP regularly questions the release of such materials as being within the public's new interest. States like Florida have estimated over $7000 for the provision of their contracts. And, as mentioned, even when material is released it may rely on the b7e exemption, regarding law enforcement techniques, or the b4 exemption protecting trade secrets or even the privacy exemption to protect the identity of the contracting officer tasked with overseeing the contract.

So while some towns receive thousands of dollars to administer IGSAs and private prison companies continue to receive millions for their role in alleviating some of the governments' stress, not so much measure is made of whether the standards we hold them to, our own, are really good enough.
In two days, we'll conclude with Part 4 - what happens when a community wants out of the deal, and how's that's easier said than done.
---
Image via Pixabay