Florida, home to private prison giant GEO Group, Inc. and host to facilities managed by Corrections Corporations of America, has seen an uptick in inmate deaths and abuse over the past decade. Earlier this month, the overhaul of its struggling prison system was tasked to Julie Jones, the fourth Department of Corrections head in as many years.
Governor Rick Scott called her "a true reformer who is laser-focused on ensuring accountability and transparency", and last week, she was visiting legislative committees to drum up support for reform measures when she received a question about the share of the burden the private prisons are paid to handle.
(Cut to the 76:40 mark on the video:)
"I asked [former Department of Corrections] Secretary Crews a very specific question," State Senator Rob Bradley said during a meeting of the Committee on Criminal Justice, "and that was, I said, 'Are inmates cherry picked for private facilities?' and he said, 'No.'"
Secretary Jones's attempt to respond — "The inmates don't select…." — was interrupted.
"No, no, no, no, I mean, do private facilities get to take the cheapest ones, the ones that don't cost as much, the ones that aren't as bad? 'Does that happen?' and he said it's as random as anything in the world, that private facilities do not cherry pick," Bradley clarified. "Because I asked that specific question of him and that's what he told me. Are you giving me a different answer? That the privates get all the easy ones and y'all get all the bad ones?"
"That is my belief," Jones replied, "yes, sir."
It's not an uncommon belief. In a 2011 New York Times article, CCA spokesman Steve Owen noted that "The myth is that were are somehow hand-selecting [inmates]," clarifying that it would not be atypical to see stipulations that would bar the sickest prisoners.
The effective "cherry picking" to which Senator Bradley referred — and which Secretary Jones believes is more-or-less happening — is not an unusual phenomenon in other states.
A day after her seemingly straightforward answer, Secretary Jones had the question put to her again in the Justice Appropriations Subcommittee, and she reportedly clarified her statement, saying, "If we can recognize this is my second week and a half, and I misspoke yesterday."
MuckRock has placed requests for private prison contracts related to every CCA facility. We have yet to receive acknowledgement from Florida's Department of Corrections on requests in that state — GEO took over operation of a few CCA facilities at the beginning of last year, and requests for contracts have only yielded GEO inmate transfer agreements thus far — but a look at a CCA contract we received from Bernalillo County, New Mexico illustrates the sort of restrictions that raise questions.
According to the contract, any inmate in need of "specialty treatment" is not accepted and "the Contractor reserves the right to refuse or remove any inmate from the Facility if the Contractor determines it is in the best interest of the Contractor."

Though operators may not choose their offenders personally out of a line up, special guidelines for the type of inmates they won't have are basic enough. The aforementioned transfer agreements, for example, include standards for what percent of the prison population can be classified by each medical grade, or level of need for medical care.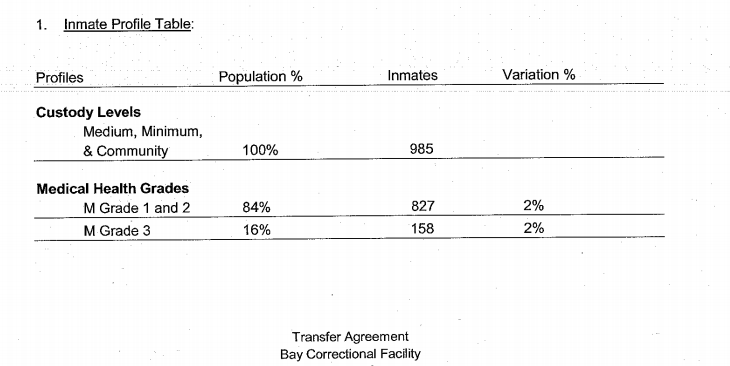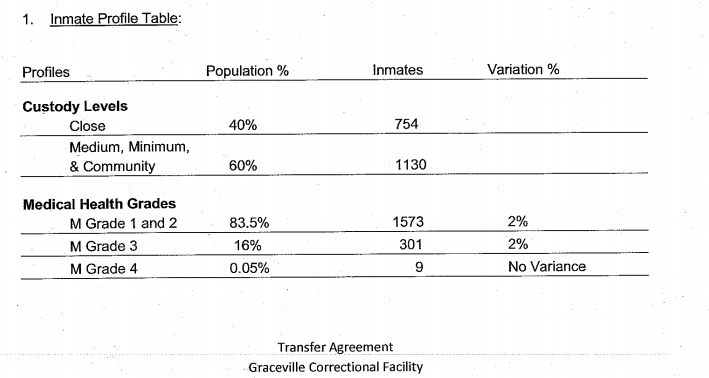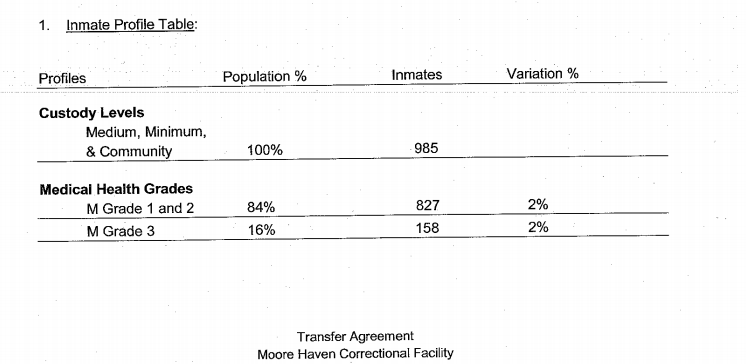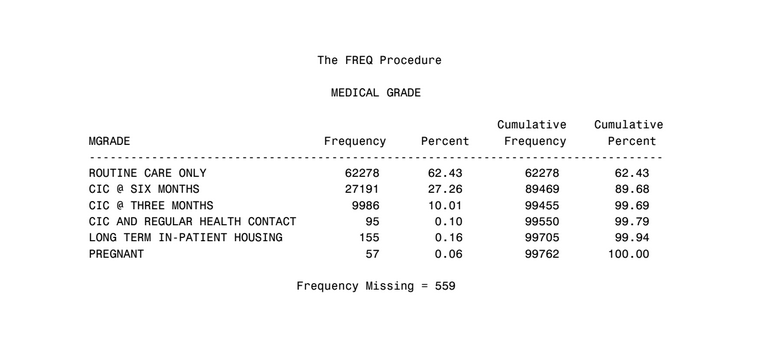 The measures set by the contract do not directly correspond to the categories provided on the most recent general population percentages, and a request for Medical Grade clarification from the Florida DC Bureau of Research and Data Analysis was not immediately returned, so it remains difficult to draw clear conclusions about the new medical classification restrictions.
But the agreements also include procedures for GEO Group requests to move particular inmates out of their facilities; requests for each one of these "progress reports" have been placed.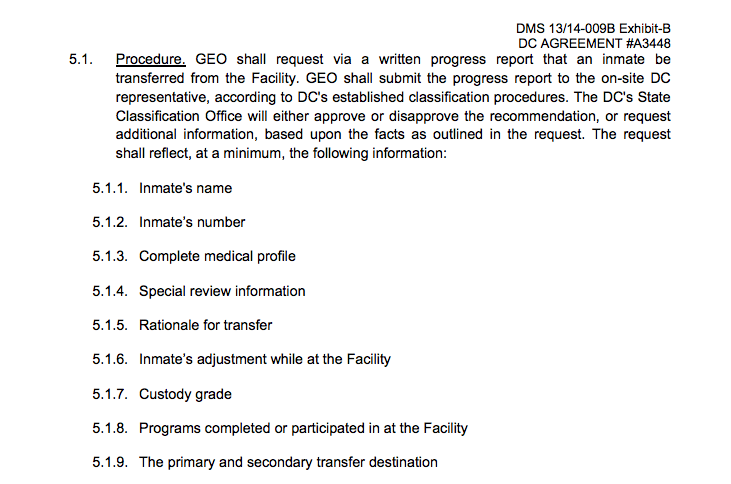 So though MuckRock has not yet received the most current Florida GEO contracts, currently available agreements suggest that further cost-saving inmate classification clauses should come as no surprise.
Follow the related requests below, and if you have suggestions, contact beryl@muckrock.com.
---
Image by Eflatmajor7th via Wikimedia Commons