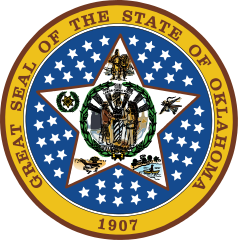 Oklahoma, USA
Oklahoma Public Records Guide
Overview
Oklahoma has no mandatory response times, no administrative appeals process, and no requirement of citizenship to request. In general, fees are limited to the actual cost of copying unless the request is unusually burdensome or a fully commercial request. Agencies must designate a public records officer to receive and process requests.
The legislature and judiciary are subject to the public records insofar as requested records detail the receipt or expenditure of public funds. Executive records are generally subject to the public records law except when they're specifically exempted.
The Law
No deadlines for response
No appeals process
Generally fees are limited to direct copying costs, and are waived if request is in public interest
Supplemental
The Details
Can you submit a request if you're not a resident?
Yes.
To whom does this apply?
Executive?
Yes.
Legislative?
Yes, but only to the extent that the records detail the receipt or expenditure of public funds.
Judicial?
Yes, but only to the extent that the records detail the receipt or expenditure of public funds.
Who is exempted?
No one.
Is there a designated records custodian?
Yes, each public body designates a records custodian under OKLA. STAT. tit. 51, &3167 24A.5(6).
How long do they have to respond?
There is no statutory timeframe for a response, although agencies are expected to provide "prompt, reasonable access."
Does the agency have to give you a tracking number or estimated date of completion?
No.
Can they ask why you ask?
Not beyond what is required for them to fulfill their obligations under the law.
What enforcement?
There is no formal appeal process, so litigation is the primary enforcement mechanism. Officials found guilty of violating the act may be fined up to $500.
Fees?
Request fees are generally limited to the direct cost of materials required in fulfilling the request and not to exceed 25 cents per page for 8 1/2 by 14 inches or less. However, requests deemed purely commercial (which does not include media requesters) or which would be unduly burdensome may recover fees for search time.
Are there fee waivers for media requests or those made in the public interest?
Fees are not to be charged for requests in the public interest unless the request is disruptive to the agency's day-to-day duties.
Attorney's fees - Can you win them?
Yes.
Exemptions and Appeals
What exemptions exist?
According to NFOIC, exemptions cover state evidentiary privilege; real estate appraisals; personnel records; registration files of sex offenders; public officials' personnel notes; business-related bids; computer programs; medical market research; and certain educational records including student records.
Do they have to tell you why a portion or pages were redacted or withheld?
Yes.
How much time do you have to appeal?
Not applicable.
Can you appeal to the courts?
Yes.
Resources
Organizations
Attorneys and Law Firms
The following attorneys and law firms have practiced public records law. Names marked with an asterisk have indicated a willingness to offer pro bono services on a case by case basis.
There are currently no experienced public records law attorneys that we know of in Oklahoma. Write to us at info@MuckRock.com if you know of any and want to help us out!
Successful appeals
News Stories on Public Records Laws in the State
NM public records requests are answered slowly or not at all
Blogs and feeds primarily focused on public records in Oklahoma
Public Records Guide and Advice
Oklahoma exemptions discussion
Newsletters
Big FOIA wins
Have a public records success story? Let us know!
Stats
| | |
| --- | --- |
| Filed | 740 |
| Completed | 257 |
| Rejected | 46 |
| No Responsive Documents | 184 |
| Awaiting Acknowledgement | 60 |
| Awaiting Response | 34 |
| Requiring Action | 108 |
| Overdue | 4 |
| | |
| --- | --- |
| Appeals awaiting response | 4 |
Allowed Response Time

No limit

Average Response Time

170 days

Success Rate

31.35%

Average Fee

$250.21
3.11% of requests have a fee
Top Localities See All
| Jurisdiction | Requests |
| --- | --- |
| Oklahoma City, OK | 139 |
| Tulsa, OK | 73 |
| Oklahoma County, OK | 21 |
| Norman, OK | 19 |
| Lawton, OK | 12 |
| Broken Arrow, OK | 10 |
| Tulsa County, OK | 10 |
| Edmond, OK | 6 |
| Mcalester, OK | 6 |
| Sayre, OK | 5 |