Incarceration does not prevent illness. It does, however, prevent clear access to appropriate care; it does make it more difficult to advocate for treatment. The lack of adequate medical care in private and public prisons alike is one of those issues of human decency also contributing to facilities' inefficient operation and failure to rehabilitate its inmates.
A riot in February at the private detention center Willacy County Correctional was caused in part by frustration over an inability to get reasonable medical treatment. It's a frustration being shared by prisoners across the country. MuckRock wants to help you find out who and where.
In January, we received a response from Pennsylvania's Allegheny County for its contracts with Corizon Health. Corizon is one of the largest private providers of correctional healthcare in the United States and provides medical services to the Allegheny County Jail. But the quality of those services have repeatedly been called into question, most recently by the ACLU, which alleges that inmates with HIV were not provided medications in a reliable way.
Criticism has been leveled against Corizon in Pennsylvania since they assumed responsibility of Allegheny's prison health operations in 2013. Since then, the Allegheny County Controller Chelsa Wagner has conducted an audit of the provider, finding a range of inadequacies in the staffing, the care, and the record keeping. According to the contract, which contains a list of equipment in various states of usability provided to Corizon as part of the deal, Allegheny County is on the hook for half of the cost of a new electronic medical record-keeping system for the facility.

The contract also notes that Corizon is not responsible for "suicide watch" and that the facility has just one psychiatrist for the roughly 2700 prison occupants. Grievances are handled by a system run by Corizon itself.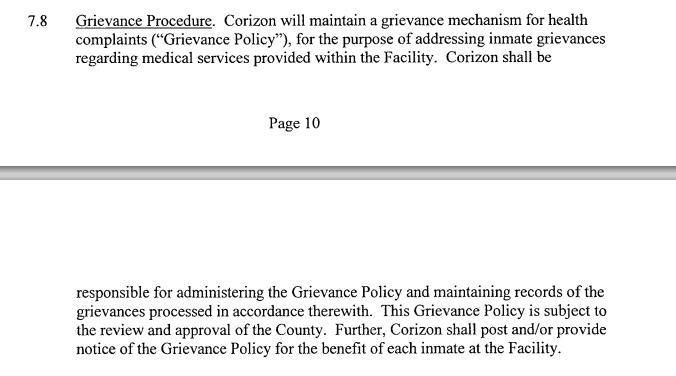 Read through the contract on the request page, or embedded below:
MuckRock will continue to follow up with this facility. Interested in the medical care conditions at a prison near you? Let us know, and we'll start filing requests there too. As always, send tips, suggestions, and comments to info@muckrock.com.
---
Image via Wikimedia Commons