FOIA law governs access to public records at the Federal level, but each state mandates their own public records policies. Navigating the ambiguities in these state laws can prove cumbersome and frustrating to requesters - we've identified particularly irksome examples and offer tips on what you can do about them.
1. The legislative paradigm: New York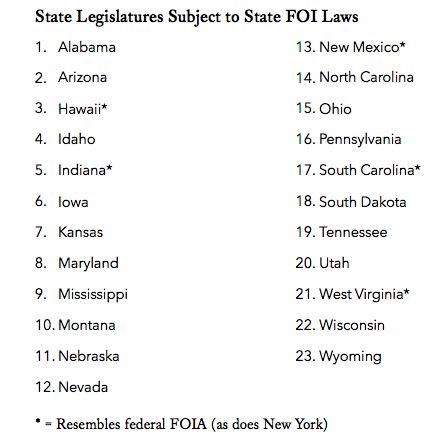 Twenty-three states in the country enforce public record and open meeting laws onto their legislature and four states have carve outs in their law to exempting them. Yet, the New York state legislature doesn't fit into either category. Its state law doesn't explicitly exempt the legislature from New York Freedom of Information Law. Instead, it details a handful of records that need to be public and readily available. That means you can get agenda items, reports, and similar records from this legislature pretty easily. Now, if you try filing for email communications or legislative receipts, you'll most likely get rejected. The law is tricky in this sense as there is no mention of other records besides the documents it lists. It's up to the legislature's discretion if you get any other records. At the end of the day, they really don't have to disclose anything other than what's listed under law.
What can you do? Find out what is public and request those items. Although it may not be the record you wanted to see, it can still shed light on other areas of government.
2. Minors can't file here: Louisiana
In Louisiana, state public records law says you have to be of "majority of age" to review records. You can even be asked to provide an I.D to verify your of legal age to request records. No other state in the country holds these provision, which makes it an oddity of it's own.

What can you do? If you happen to be a minor looking for records, have an adult tag along to make the process easier.
3. Student government open meeting laws: California, Nevada, and Washington
According to the Student Press Law Center, California, Nevada, and Washington are one of the few states that explicitly apply Open Meeting Laws to organizations like Student Government Associations. The rest of the 47 states don't have specific language that applies to SGA's, but still make note of public bodies and their obligation to abide by Open Meeting Laws. However, it's unclear if a state would consider an SGA to be a "public body." In New York, an SGA didn't notify news outlets of a senate meeting this week. Although it's not a legal requirement under public records law, an open government official in the state said that "media must be notified before public meetings."

What can you do? You may not be off the hook just because you don't live in one of the three states that explicitly apply Open Meeting Laws to SGAs. Make sure you review your state public records law and their definition of a public body. Your SGA may have to abide by the law, especially if it collects student activity fees as a legislative body. At the end of the day, the courts would have to rule on a final verdict.
4. Personal email communications: Vermont
Lawmaker's email exchanges have been a long time grey area within public records law. The idea is further complicated when you consider personal email accounts. In Vermont the notion was settled after a judge ruled last year that public records law must exempt private email communications. Yet, government employees are required to use their government email address for business matters only. This still warrants some wiggle room for email exchanges to get lost, misplaced, or deemed irretrievable.
What can you do? If you're living in Vermont, you won't have access to lawmaker's personal email exchanges, as it's pretty clear in the law now. However, many states don't have specific exemptions when it comes to government communications. It is, however, unlikely for a state to subject personal email accounts of government officials to public records law. You might have more luck filing for email exchanges on government addresses.
5. Prepayment fees to release the records: Oregon
Last year, MuckRock user Curtis Waltman found an odd surprise when the Portland Police Bureau required him to answer three questions to determine his eligibility for a fee waiver. If he failed to provide the right answers, he would have to send a $30 prepayment to the PPB before the request was even processed.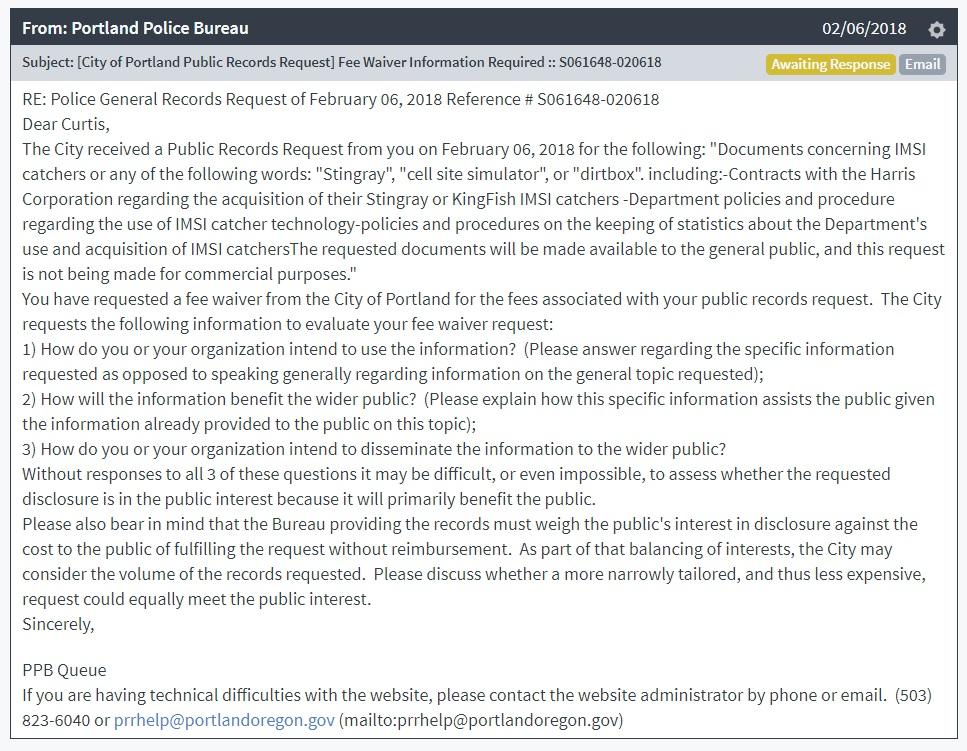 Oregon public records law doesn't include any requirements for prepayment. Yet, the PPB claims it as a policy, which is confusing because their statute doesn't uphold or refute the idea.
What can you do?: Fees can pose a big barrier for any requester. Whether it be $30 or $500, paying a fee for your records can be tedious. Therefore, make sure you read up on your state's public records law and find out if there are any fee caps for search or review of your records. If an agency tries to tell you otherwise, you can always reference your state public record law.
Experienced your own grey area issues? Let us know via the form below!
Image via PXHere