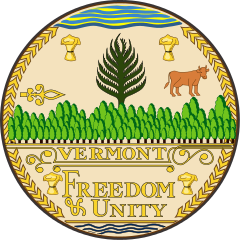 Vermont, USA
Vermont Public Records Guide
Vermont Public Records Act
(PRA)
Enacted in 1975
Overview
The Vermont Public Records law holds neither the judiciary nor the executive branch fully accountable to the law. Burden is put squarely on requesters for proving that their request is in the public's interest if they want documents from the Governor's Office released. Most if not all records of the courts are exempt as well. While legislative bodies and all other public agencies are open for requests, it certainly undercuts the bill's claim that all branches of government and records are considered open. That being said, any person regardless of place of residency may request records in Vermont, and Vermont has just a two day response time with an extension period of ten days. Fees must be kept to actual cost, although specifics are not written into the law. There is little if any enforcement of the law, with the onus of policing the law put on citizens and the press.
There are 40 exemptions which are fairly standard in most cases, and they are helpfully specific. In our exemption section we provide a more detailed run down. In most cases they deal with privacy, public safety concerns, and other kinds of records where the merits of disclosure may not outweigh the importance of keeping those records within government. Administrative appeal in Vermont is run by the head public records officer of each agency. If administrative appeal fails you, appeal via the court system is available by filing suit in the superior court of the county in which the offense occurred. Attorney's fees are recoverable if you can prove the records are in the public's interest and that litigation was a necessary factor in having them released.
The Law
No citizenship requirement
3 day response time
Supplemental
The Details
Can you submit a request if you're not a resident?
Yes.
To whom does this apply?
Executive?
To an extent. In Vermont records of the Governor are often ruled to be exempt due to executive privilege. Cases like Herald Ass'n Inc. v. Dean, 174 Vt. 350, 355-56, 816 A.2d 469, 474-75 (2002) and Killington, Ltd. v. Lash, 153 Vt. 628, 639, 672 A.2d 1368 (1990), helped cement for requesters that certain documents are up for disclosure. However, the burden shifts from the agency to the requester to prove whether it is in the public's interest for release in the case of the executive branch.
Legislative?
Yes. No case law exists on this issue, but the Attorney General has ruled that legislative bodies are subject to the open meetings law and presumably are held subject to the public records law.
Judicial?
State v. Schaefer, 157 Vt. 339, 599 A.2d 337 (1991) helped to clarify that the courts are held responsible in Vermont for their own records and procedures. Herald Ass'n Inc. v. Judicial Conduct Bd., 149 Vt. 233, 544 A.2d 596 (1988) also played a part in limiting judicial disclosure in Vermont. Furthermore the very language of the law states "records of, or internal materials prepared for, the deliberations of any public agency acting in a judicial or quasi-judicial capacity," 1 V.S.A. § 317(b) (24), are exempt from disclosure. In most cases therefore, the judicial branch is exempt.
Who is exempted?
Large amounts of judicial and executive records are exempt. State universities are subject to the law.
Is there a designated records custodian?
No.
How long do they have to respond?
Agencies have two business days to respond to your request. This can be extended to ten days with a written notification. The specific circumstances they are permitted to cite for an extension are as follows: (1) need to search or collect records from field offices; (2) need to search or collect voluminous records; or (3) need to consult with another agency. See 12 V.S.A. § 318(a)(5)
Does the agency have to give you a tracking number or estimated date of completion?
No.
Can they ask why you ask?
No.
What enforcement?
There is very little enforcement of the public records law in Vermont. In the words of the Reporter's Committee for Freedom of the Press, "the State appears to rely on the press and private citizens for enforcement of the Public Records Act under 1 V.S.A. § 319(a). To date, there have been no enforcement actions brought by the Vermont Attorney General's Office." The only provision for penalties to public records offices or agencies in general who violate the law is that they may be held in contempt and be subject to discipline. There are no specifics as to what this means in terms of what exact discipline they may experience.
Fees?
In 1996 an amendment to the law granted agencies the right to charge for public records requests. Fees must be kept to actual cost for both copying and searching, and search time costs only kick in after 30 minutes of search time.
Are there fee waivers for media requests or those made in the public interest?
Yes.
Attorney's fees - Can you win them?
Yes. However, you must be able to show that without litigation the records would likely not have been disclosed, and that there was public benefit in the release of the documents.
Exemptions and Appeals
What exemptions exist?
Vermont has 40 general exemptions. These exemptions tend toward the specific, and are to be construed narrowly. The kinds of records exempted are common throughout other state's FOIA laws. Personal privacy, financial privacy, trade secrets, patient privacy, student privacy, law enforcement investigation tactics, tax returns, building layouts and emergency plans that may disrupt public safety, passwords and access codes, all code and machine-readable structures of state-funded and controlled database applications, and records relating to collective bargaining agreements with government personnel. Any voluntary information given by anyone to the government prior to July 1st 1975 is deemed exempt as well. It is impossible to give you a complete breakdown of these exemptions here, but the RCFP exemption guide for Vermont is located in the resource section.
Do they have to tell you why a portion or pages were redacted or withheld?
Yes.
How much time do you have to appeal?
There is no stated time limit. As always, it is recommended to file an appeal sooner rather than later. If more than two years has passed your chances to be heard may slip.
Can you appeal the courts?
Yes. However, you must be able to show that without litigation the records would likely not have been disclosed, and that there was public benefit in the release of the documents.
Resources
Organizations
New England First Amendment Coalition Vermont Press Association
Attorneys and Law Firms
The following attorneys and law firms have practiced public records law. Names marked with an asterisk have indicated a willingness to offer pro bono services on a case by case basis.
There are currently no experienced public records law attorneys that we know of in Vermont. Write to us at info@MuckRock.com if you know of any and want to help us out!
Successful appeals
News Stories on Public Records Laws in the State
Blogs and feeds primarily focused on public records in Vermont
Public Records Guide and Advice
Newsletters
Big FOIA wins
Have a public records success story? Let us know!
Stats
| | |
| --- | --- |
| Filed | 480 |
| Completed | 208 |
| Rejected | 15 |
| No Responsive Documents | 112 |
| Awaiting Acknowledgement | 32 |
| Awaiting Response | 8 |
| Requiring Action | 43 |
| Overdue | 40 |
| | |
| --- | --- |
| Appeal awaiting response | 1 |
Allowed Response Time

3 days

Average Response Time

49 days

Success Rate

35.42%

Average Fee

$26581.94
4.58% of requests have a fee
Top Localities See All
| Jurisdiction | Requests |
| --- | --- |
| Burlington, VT | 55 |
| South Burlington, VT | 6 |
| Chittenden County, VT | 5 |
| Montpelier, VT | 4 |
| Essex, VT | 4 |
| Middlebury, VT | 3 |
| Essex Junction, VT | 3 |
| Colchester, VT | 2 |
| Chester, VT | 2 |
| Manchester Center, VT | 2 |