On February 9th 2017, officers from the Portland Police Bureau in Oregon shot and killed 17 year old Quanice Hayes. Hayes was unarmed, and had told officers as much. Want to get records involving this shooting, or any of the six officer-involved shootings the PPB had during the years 2014 and 2015? Be ready to cough up some cash just to get your request processing.
As part of a nationwide survey, I recently filed a request with PPB for any materials on the cellular surveillance device called an IMSI catcher or StingRay. I was surprised when I was then asked to respond to three questions to justify a fee waiver - if my answers weren't to PPB's liking, then I'd have send $30 as prepayment before they would even begin processing my request.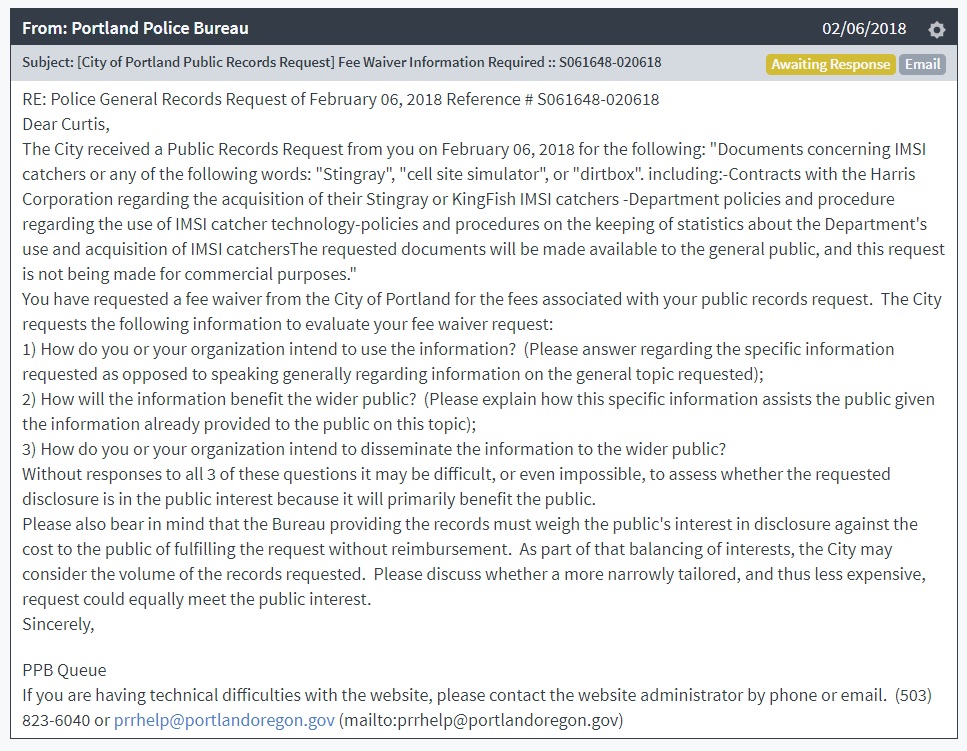 I called them for clarification, and PPB confirmed that yes, it was their policy to require prepayment before accepting a public records request. I was advised to wait until the PBB had made a determination on my fee waiver, and lo and behold the next day I was informed that PPB had no responsive documents. While no fee was levied, in the event that there had been records, and they had not granted my fee waiver, then I would have been paying $30 to just get the ball rolling.
A significant portion of public records requesters are not journalists. Many are simply concerned citizens accessing information to attempt to remedy, or even just explain local issues. In fact, some of our largest reporting projects, such as the investigation into the Pentagon's transfer of military equipment to local police, began with a citizen requester. Charging a prepayment for any and all record searches creates a barrier to entry that is a direct repudiation of the very concept of public oversight, and worryingly, one that seems to be a trend among police departments.
PBB's fee breakdown for requests is below, and if you run into this problem, be sure to let us know via email, on Twitter, or on Facebook.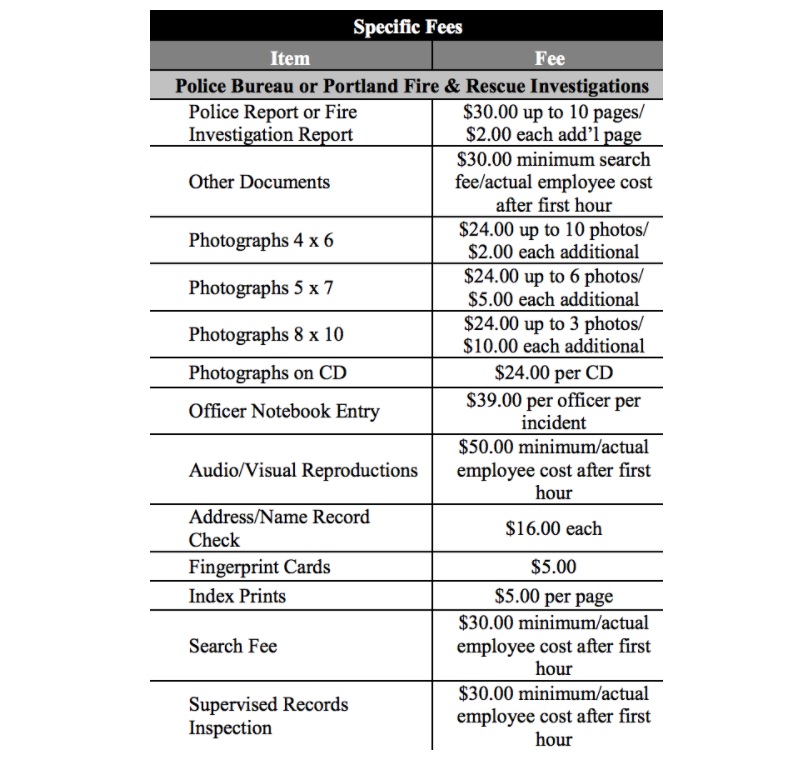 ---
Image via masha v. and scott p. via Wikimedia Commons and is licensed under CC BY-SA 2.0