The most regular rides on public transportation from Phoenix, Arizona to Florence - an out-of-the-way halfway point between the state capital and Tucson in the south - happen on the white buses stamped "Corrections" that traverse multiple times a day down Route 79.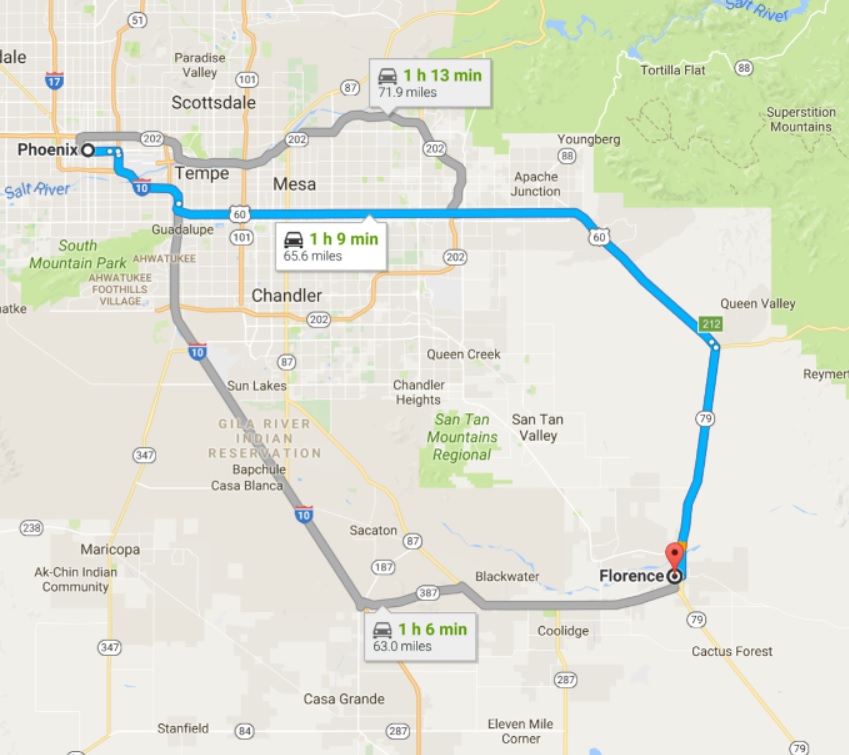 Without one's own vehicle or a spot waiting for you in one of the town's multiple correctional facilities - seven, if you only count state-related operations, more if you start adding juvenile and county lock-ups - the options for reaching the desert town are limited to a long-distance Uber ride or the horde of Craigslisters competing for your flat-rate or by-the-mile attention.
On Monday, the Phoenix suburb of Mesa made the decision to ink another Copper State contract with for-profit correctional giant CoreCivic and begin sending their jail population to the hard-to-reach locale. On Tuesday, armed with a camera and 100+ SPF sunscreen, I took my own trip to the Arizona town that has built an entire economy around incarceration.
The trip was intended to be an in-person adventure into the County's court records. Two weeks ago, ahead of planned trip to the Arizona seat, I gave a call to the Pinal County Courthouse to ensure that their in-house records terminal would be available and browsable along particular parameters. Assured that my needs would be met by a real life trip to the courthouse computer terminals, I planned to spend a couple of days in the primo example of a prison town, and get a fresh sense for the circumstances and suspicion that come along with that distinction.
Florence has been heavily involved in incarceration for almost as long as it's been a town, since just after the Civil War. It was home to prisoner-of-war camps during World War II, and now boasts its status as a recognized National Historic Landmark on over a hundred locations throughout. Signs boasting its Historic Sites are spread through the primary grid and downtown, which primarily offers a bar and a True Value, among empty buildings dressed with signs "for sale" and announcing indefinite closure.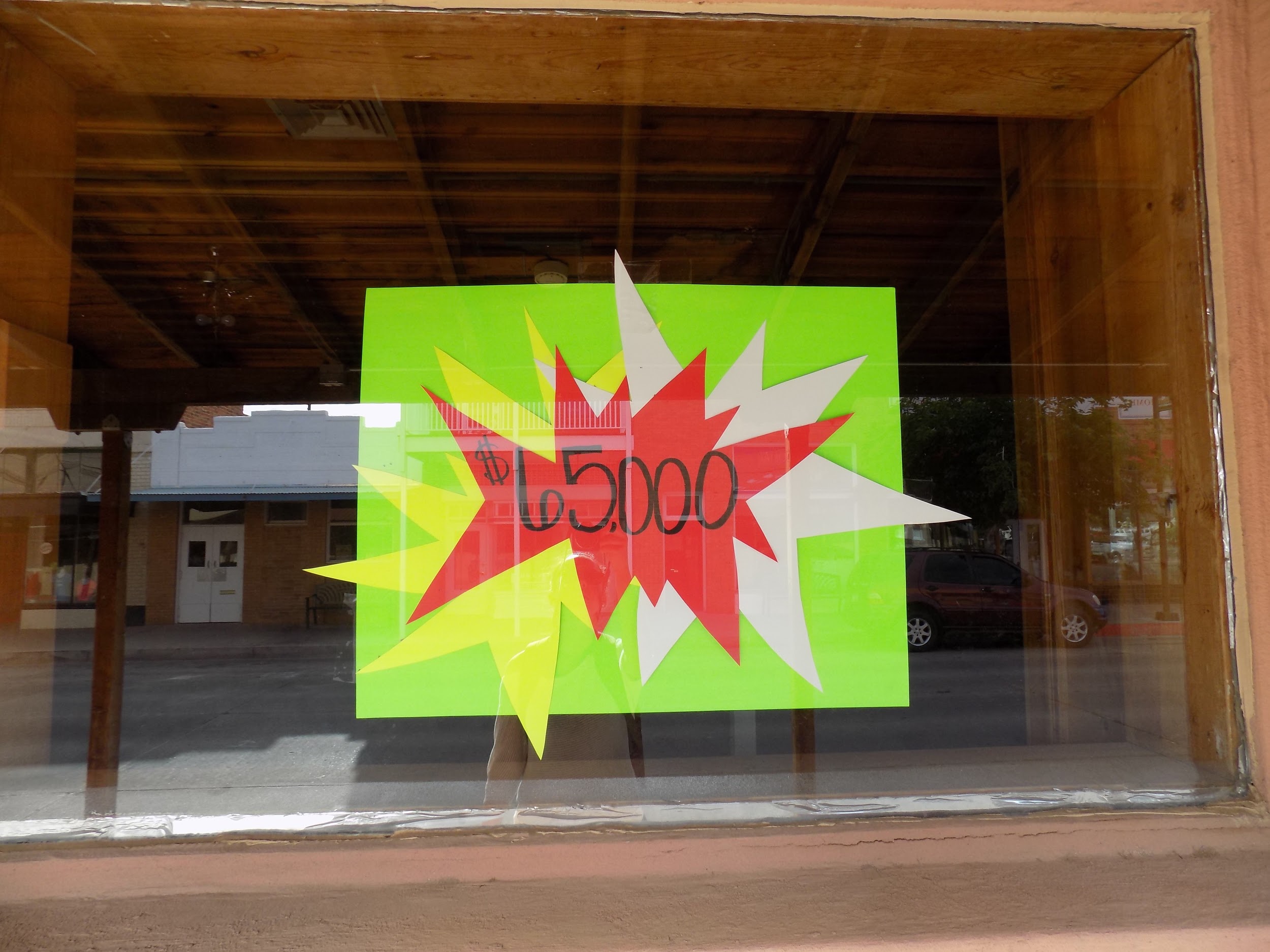 An initial browse of the local bulletin board suggested that I was indeed in a community that operates differently than anywhere I've ever been before.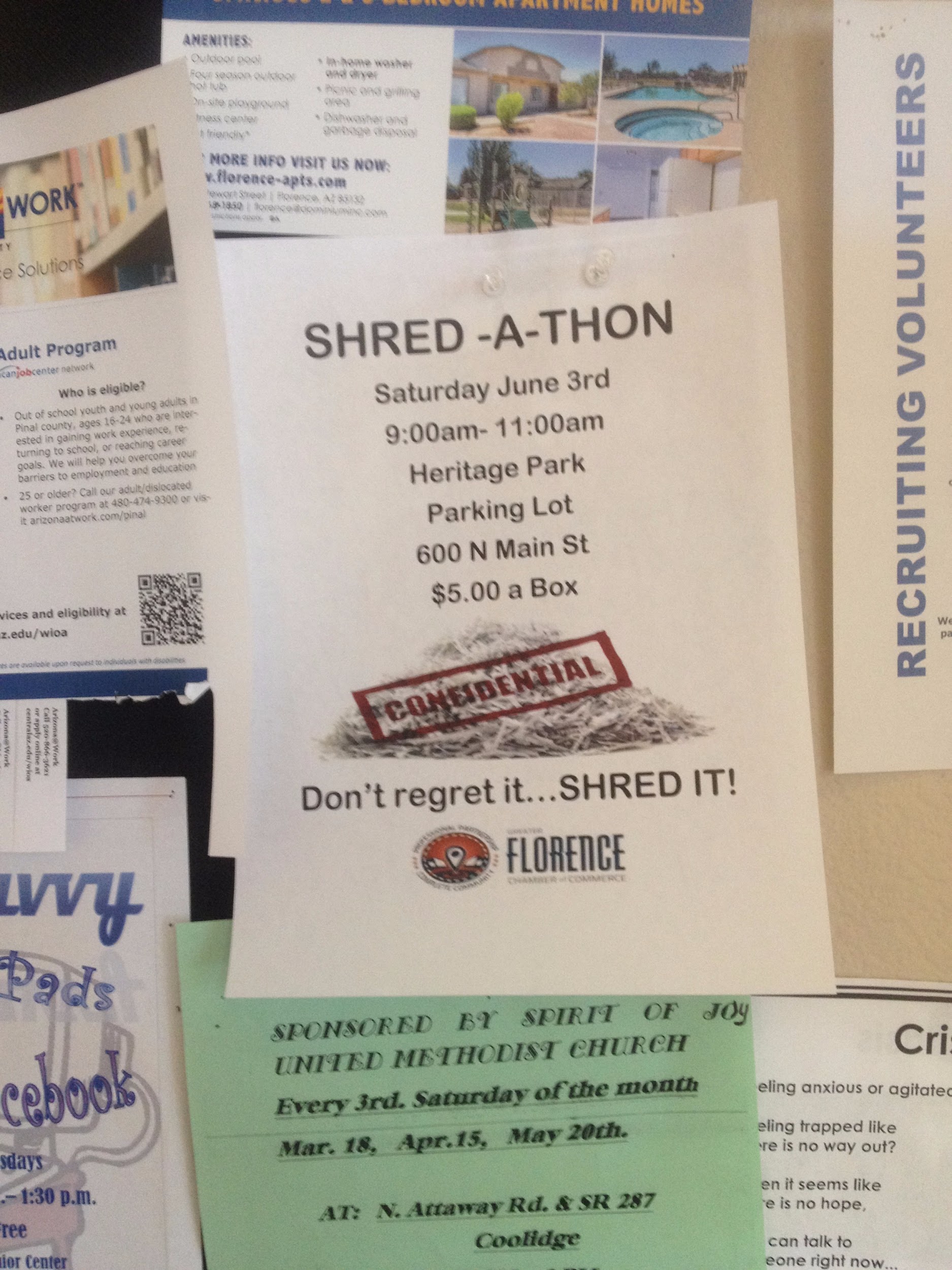 And my next stop, to the courthouse, quickly revealed that my straightforward trip would need to be reconfigured.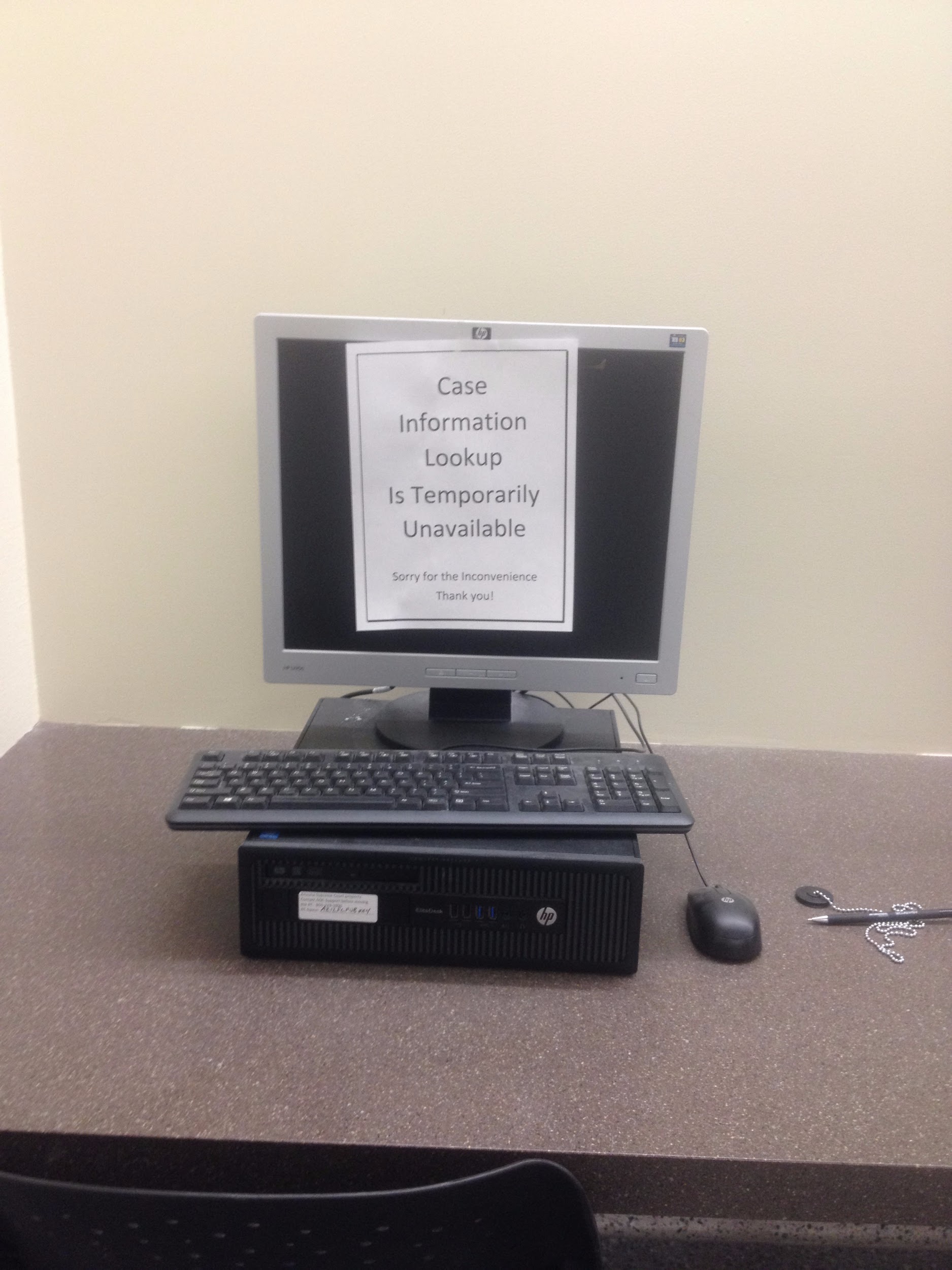 When asked, the available clerks informed me that the two terminals in question had actually been down for about two years. They weren't sure, they said, when they would be functional again - the responsibility for that lies with the IT Department, and I'm currently waiting for some status report to come from them. That I had been misinformed, despite my phone call, apparently came for a lack of communication with the County call center that handles incoming phone calls.
It seems that in the last two years, they too have not been informed of the terminal malfunction.
On Day Two of the foray to Florence, then, I focused on simply taking photographs of some of the buildings along and near Jason Lopez Way, the main loop of criminal justice buildings.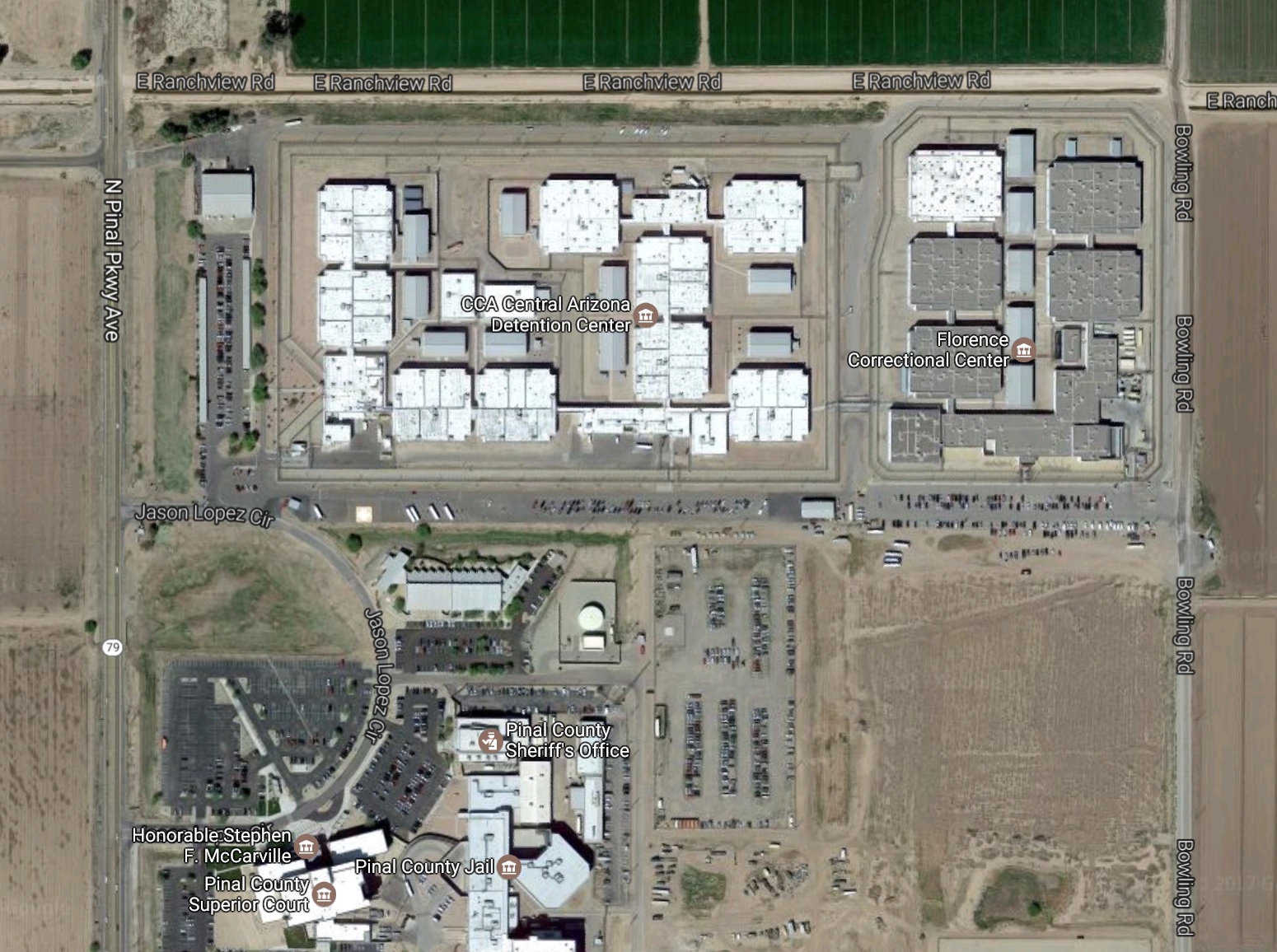 Here is the Superior Court, the Pinal County Sheriff's Office, the local jail, and one of the town's private prisons: CoreCivic's Central Arizona Detention Center.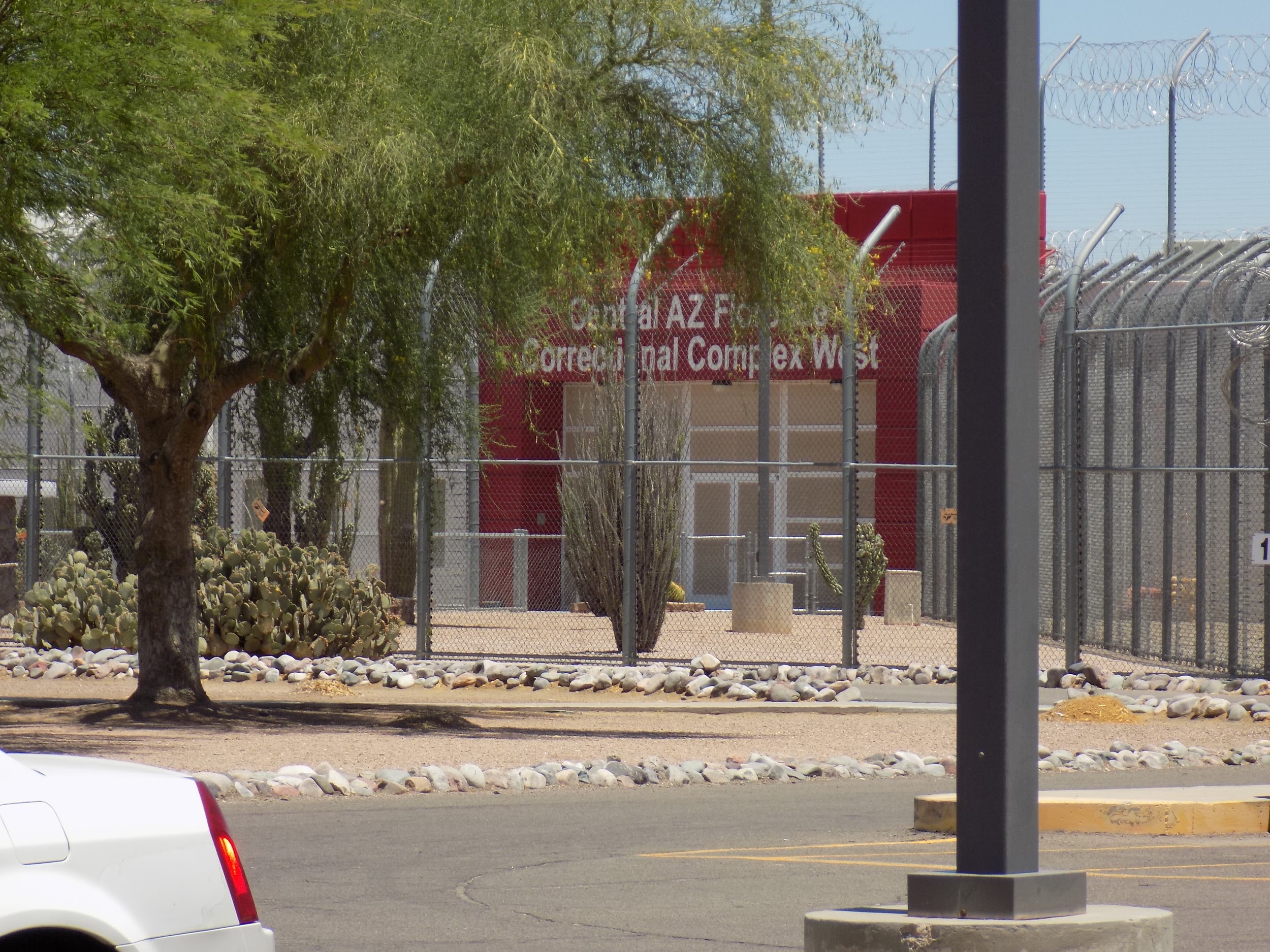 Two ladies power walked by, and discussed how suspicious my taking photos was - "Doesn't she realize the Sheriff's Office is right there?"
On cue, I made a trip to to see the local county law enforcement. "You're making people nervous," laughed a very helpful sergeant as I walked through the door. He assured me that I was well within my rights to photograph from the public roadway.
I proceeded to take some exterior photographs of the CoreCivic facility. The ability to photograph from public roadways is well-established as being within the law. For one, it's how Google Street View is able to operate.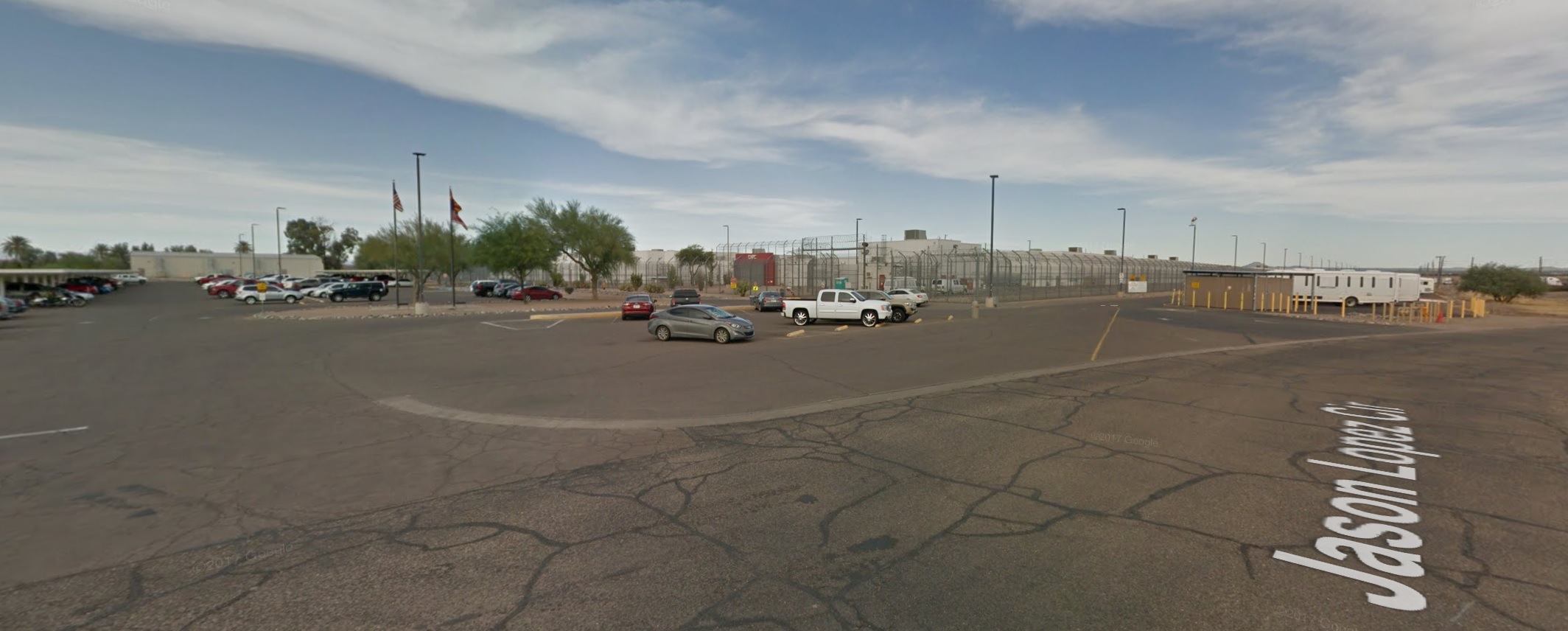 However, as I carefully clicked away from a clear distinguishing line separating the freshly-paved public road and the duller asphalt of the private parking lot, a white pickup truck sped along the side of the building and headed straight in my direction, stopping a few feet before me.
"This is private property," said the security officer.
"Yes," I acknowledged, "but this," indicating the tar on which I stood, "is not. This is public property."
"This is a private facility. You can't take photos."
Of course, this was untrue. I informed him of as much and invited him to point to a law that prohibited the photographic capture of private property by people standing on public land. He responded by reversing the truck, blocking my way around, and certainly blocking any traffic that may have been coming down the lane.
At this point, I informed him that, now, he too was on public property and vulnerable to photography.
I realized he was in a difficult position, and I told him I understood as much. He had particular instructions intended to deter photography, but I - as do you - have particular rights as an individual on public ground. He agreed, and the rest of the interaction went amicably, as he attempted to locate in a binder kept on the dashboard the contact information of an appropriate public relations person. Unable to find it - "It must have gotten taken out" - he directed me to consult the website, and I agreed to do so. My email to the facility's designated public information officer, at this point, has gone unacknowledged.
After another quick trip to the courthouse, I made my way to its other side, Diversion Dam Road, on which lives another private prison: GEO Group's Arizona State Prison - Florence West.
It was here that I noticed a police car from nearby Coolidge seeming to slow and observe my actions. Though they don't have jurisdiction within the town of Florence, I was later informed at the nearby restaurant that a Florence police officer had inquired about my moves. From behind the strip mall in which the cafe lives, one can easily see the orange jumpsuits of inmates sweeping the perimeter or moving in the yard.
"A cop just came to the back door and asked if you had snuck in and are hiding inside," one of the wonderful waitresses relayed from the cook in back.
I sipped my lemonade, amused. The Florence Police Department was going to be my next stop, but now I wanted to see what may have come of my unusual behavior.
An in-person request for the day's log of calls for service revealed I'd been called in for "Suspicious Activity." A formal request for the recording of that call could not immediately be filled, though I'm looking forward to hearing just how suspicious I seemed to the caller.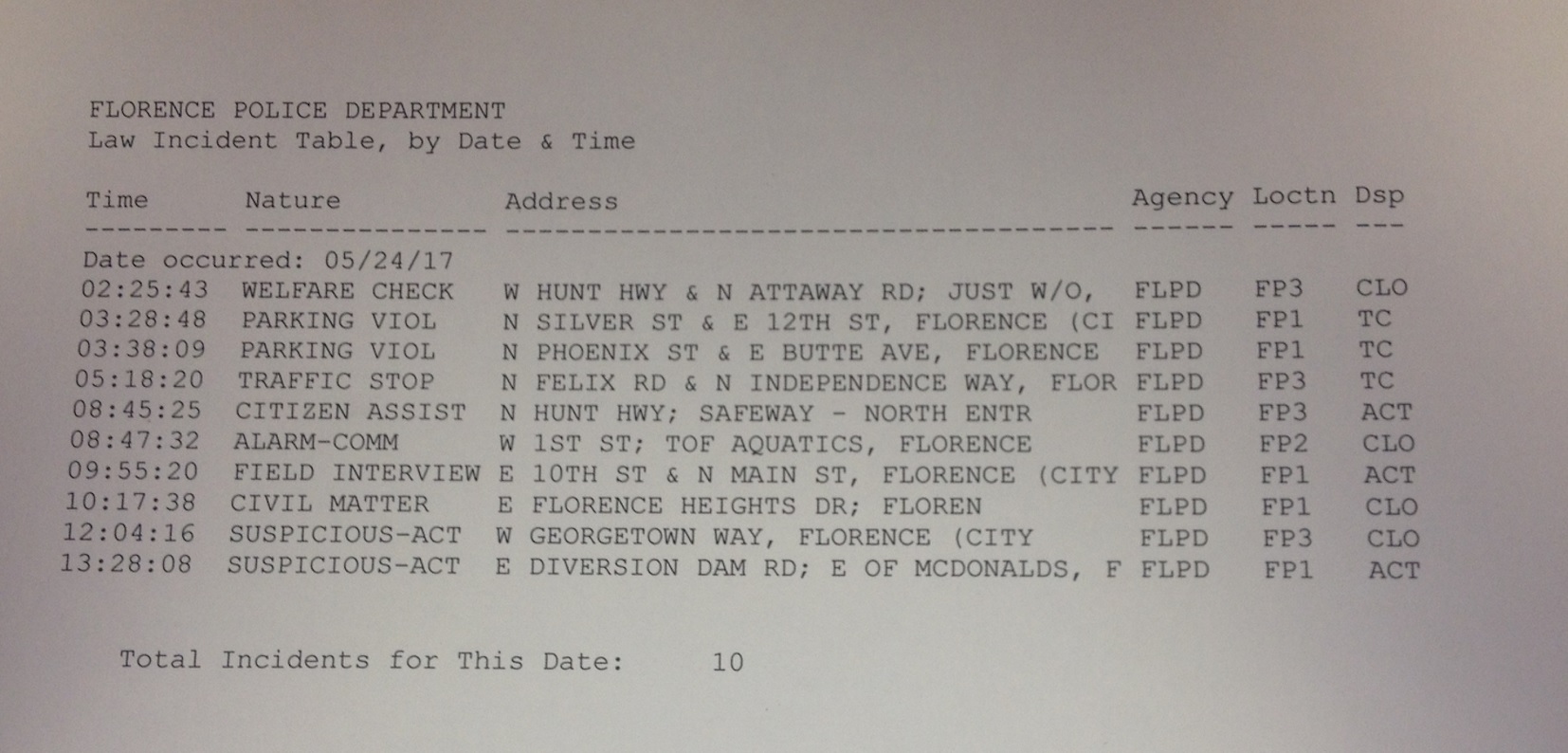 My final official stop of the trip was back to the Town Hall to inspect and capture additional records related to the development of the two private prison facilities. There, I had a lovely and friendly experience with the deputy clerk as I inspected development records.
I rode out of town on Thursday, using a locally-available driver to make my escape. As a court record research mission, the excursion had been thwarted early. But as an introduction to the touchiness of a desert town dependent on its inmate populations, the quick trip through the hot, hot streets had proved an education in itself, one I was thankful to be able to freely leave.
Want to know more about how prisons, both public and private, operate in Arizona? Check out Beryl's guide here.
---
Image by Beryl Lipton