In the alternate reality that was Summer 2016, people who heard the feel-good news were convinced that the otherwise blundering government had at least put the kibosh on the little-known enterprise of private prisons.

We all know now, though, that any predictions made before the election results came in couldn't account for the general uncertainty currently blanketing the nation, the consensus being, from detractors and proponents alike, that one can expect a crackdown. Whether that means stricter immigration rules, tighter enforcement of current laws, or expansion of the behaviors we consider criminal, for-profit corrections companies stand poised to reap the profits of increased need for not just federal agencies, but local, county, and state ones too.
Corrections Corporation - Red
GEO Group - Blue
Management and Training Corporation - Green
As we coast into the law-and-order, "build a wall," Donald J. Trump presidency, the for-profit detention sector is set to enjoy a dependable upward climb. The renewed feeling of a Reagan-era, privatization redux is good news for a sector that just three months ago was coming off of the sting of a Bureau of Prisons Inspector General report that was the ammunition for the DOJ's announcement.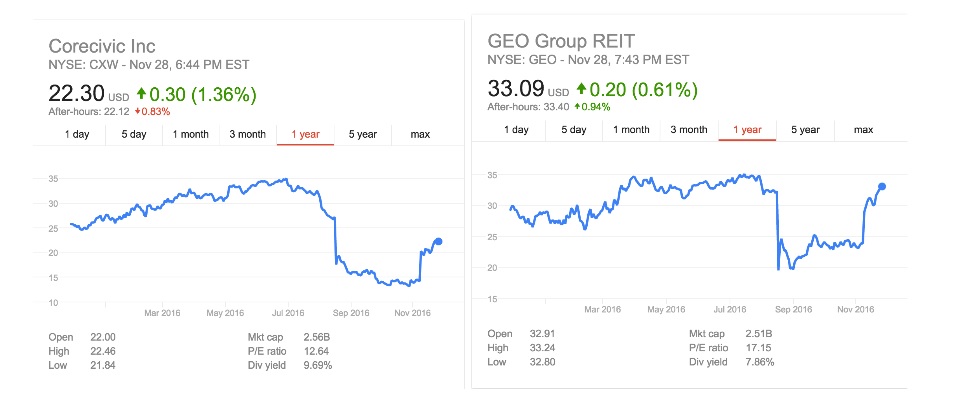 Even then, the pronouncements were out of scale. So many one-line summary takeaways for readers ignored the fact that it wasn't even the whole federal government - which extensively uses private facilities for immigrant detention - or the whole Department of Justice (the U.S. Marshals weren't included) that would be scaling back.
Nor did they really convey that this sort of phase out relied upon a reevaluation of contracts - the BOP could still reaffirm its use of private facilities on an individual basis, as they did almost immediately.
They also suggested a misleading reach, as the DOJ action would have no effect on the local, county, and state agencies that also outsource their corrections.

And they ignored the long-standing moves toward evolution that companies like Corrections Corporation of America and GEO Group have taken toward diversifying their businesses. Not deaf to the negative buzz their prisons were generating - reports of abuse, fraud, negligence, cost-cutting, unfair punishments - both prison giants had converted to Real Estate Investment Trusts in recent years and added or expanded their offerings of residential reentry services, electronic monitoring, and treatment programs.
Corrections Corporation of America, as a further step in moving toward their three-pronged strategy, rebranded at the end of October as CoreCivic.

They also took renamed their Otter Creek Correctional Center, now known as Southeast Kentucky Correctional Center, which had been shut down amid multiple reports of sexual abuse.

For many opponents of the private prison system, it's the human abuse hidden behind the guise of business and free enterprise that is most concerning. The potential for abuse and its cover-up is amplified by an incentive structure that has employees and politicians, whole towns and states, in its grasp. For even proponents, the current means of monitoring them seem insufficient. And for those with no skin on either side, the secrecy that surrounds an entity doing a government's job is enough of a red flag to warrant a closer look.

Please help MuckRock continue the investigation into the deals that keep Wall Street companies financially glued to the poor and punished. Consider donating today. Have a tip or live near a private prison and want to help? Reach out at info@muckrock.com.
---
Image via Core Civic