When we were hit with an estimated $5,000 fee for rape kit data and collection policies from Biloxi, Mississippi, we were stunned.
Fees this large carry a sense of deterrence, and, with Biloxi's rate of sexual assault being significantly above the national average, we couldn't help but wonder if they were trying to hide something. As it turns out, Biloxi's fee was neither an outlier nor the most expensive we'd see - Fairbanks, Alaska, which sits at number three on Forbes Magazine's list of "Most Dangerous U.S. Cities for Women," said their data and policies will cost us $15,000.

The email states that the Fairbanks Police Department has 617 cases from 2000 to the present, the time period we are requesting documents from. Whereas Biloxi's fee seemed rather arbitrary, Fairbanks did, at least, give us a breakdown of costs and a reason for the final pricetag. Their records keeping software doesn't sort information in the way we are requesting, and it will take time to extract exactly what we need.


Like Biloxi, the prevalence of sexual assault in Fairbanks is frightening, reaching highs more than six times the national average.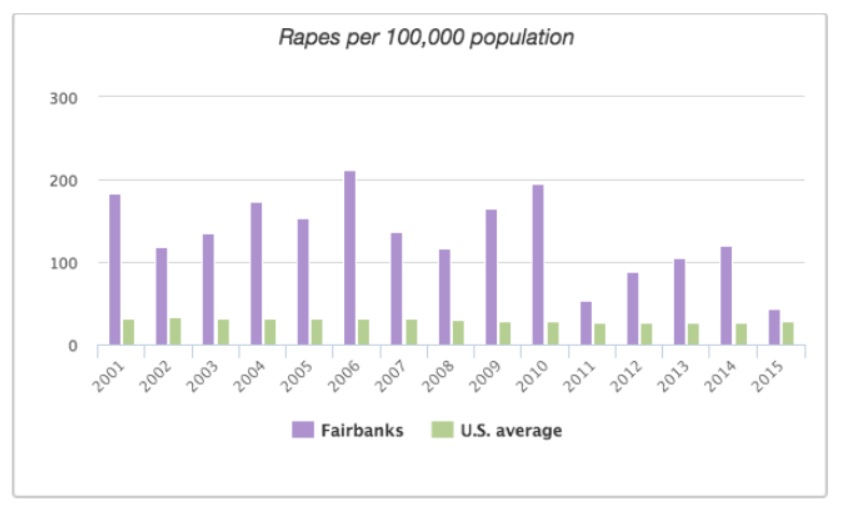 Accessing these documents is essential to further our knowledge of how large the rape kit backlog is. Although many communities across the United States are making strides toward testing all of their kits, the national problem will persist when the most dangerous areas go unchecked. Part of our project highlights why the backlog exists, namely the lack of standardization regarding evidence collection policies and data reporting. Were there a federal requirements mandating law enforcement agencies keep track of how many untested kits are in their possession, these records would be more easily obtainable and perhaps less costly.
Fairbanks is a perfect example of why the law needs to change, and why all kits need to be tested – in an area where rape is pervasive, we have the right to know what our law enforcement is doing to fix it, and victims have the right to feel their cases are receiving the attention and urgency they deserve.
Want to get involved? Add your town to our project via the form below, and we'll submit a request to your local law enforcement.
---
Image via EndTheBacklog.com