Last Sunday, NBC's acclaimed psychological thriller Hannibal wrapped up its third and final season. But while the show's stylistic blend of culinary carnage quickly earned it cult status, FCC complaints obtained by Robert Delaware reveal that those with milder appetites were left with a bad taste in their mouth.
It should come as no great surprise to anyone even remotely familiar with Hannibal that that overwhelming majority of the 39 complaints released are concerned with the show's extremely graphic depictions of violence - at least by prime-time network television standards.



So disturbing is Hannibal's imagery that viewers didn't even have to watch the show to know it shouldn't be on the air - ads and trailers generated over half the total complaints.



In the most extreme cases, the complaints see a correlation - if not a direct causality - between the show's content and the "evil and violence we see today."

Plus, our first-ever FCC complaint crossover! One viewer just wants to watch his "PG-13 comedy" The Office without having to see "R rated gore."

In a beautiful example of FCC imitates art, the copy provided for some of the complaints was of unusually poor quality, the ink bleed giving them a sinister air …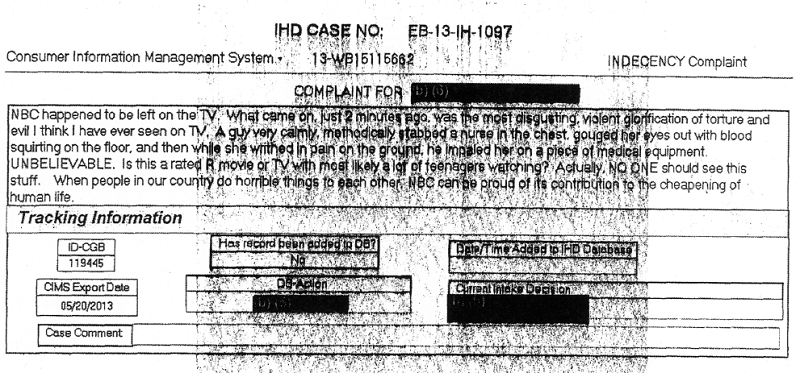 That combined with the disjointed, third-person tone, transform some complaints into genuine found-FOIA horror stories.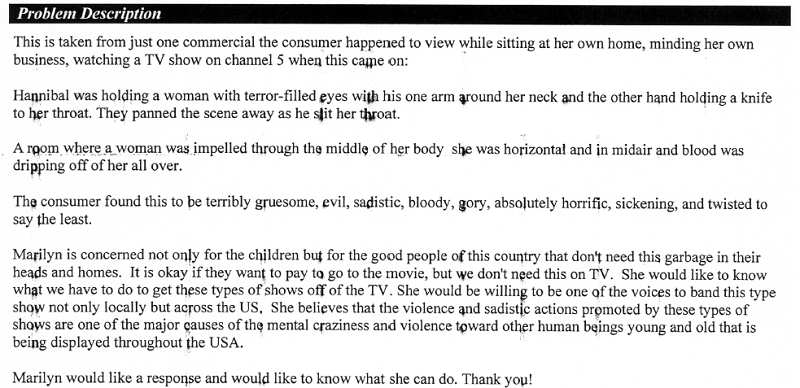 Amid all the demands to please think of the children, there is one rare case of a FCC complaint speaking out against censorship. One viewer bemoans the "well acted, directed, and produced" program's cancellation by the Mormon-owned NBC affiliate KSL in Salt Lake City, Utah. "What about freedom of speech?"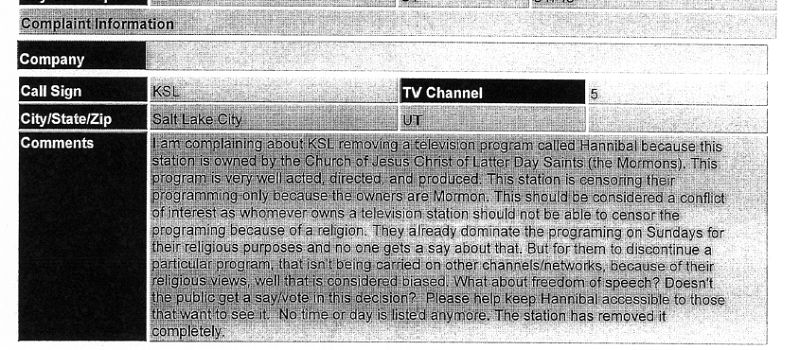 What, indeed. Read the full complaints embedded below or on the request page.
---
Image via Wikimedia Commons