MuckRock's Tom Nash recently obtained FCC complaints regarding NBC's The Office, spanning the show's last two seasons. While the nature of these complaints is nothing new - almost entirely concerning being reminded of the existence of genitals - there is a refreshing eloquence to them that sets them apart from your run-of-the-mill cries for censorship.
Such as this one, which decries "yet another slip down the slope of extreme broadcast media crassness, leading to a bottom of total societal numbness," before thoughtfully adding "Boo."

Or this gem, a strong contender for "FCC's most genteel complaint"

While the rest of the complaints lack the same luster, they make up for it with the insistence that all the world's children are magically whisked to bed at 10pm, and that anything even mildly risqué broadcast before then - The Office aired at 9pm - would corrupt their young minds: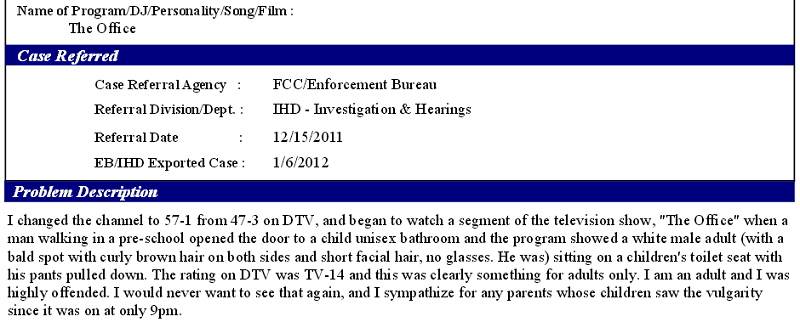 And lastly, whatever "coconut p * * juice" is, this person is not a fan.

Read the full list of complaints embedded below, or on the request page:
---
Image via Wikimedia Commons