2018 was the year of the electronic scooter. As investors poured billions into startups, e-scooters appeared overnight on sidewalks across the country. These companies took treasured childhood memory, threw in a GPS unit and a battery, and proclaimed a dockless micro-mobility "revolution."
Some e-scooter startups, with ex-Lyft and Uber executive Travis VanderZanden's Bird Rides leading the pack, arrived unannounced. "The places where there are no laws, that's where we go in," explained VanderZanden at the Vanity Fair New Establishment Summit in October, referencing the fact that many cities' laws made no reference to e-scooters before this summer.
City planners, some veterans of the Airbnb and ride-sharing takeovers, quickly moved to remedy the situation. Many instituted pilot programs and solicited public comment. E-scooters were divisive, to say the least. Officials in Austin, Texas, drafting scooter regulations were unfazed:

To take a closer look into e-scooter policies across the country, MuckRock filed public records requests with 18 cities in October, asking for local laws governing e-scooter operators, applications by companies for operating permits, data-sharing agreements, and impound lists. The results show city officials with similar concerns - rider safety, minimization of sidewalk clutter, transportation data sharing, and equitable access - and scooter companies desperate to keep a competitive edge in a market spawning start-ups. Here are the major takeaways:
Cities want usage data
Proponents bill e-scooters as a solution to the last/first mile problem of public transit, the distance between someone's origin or destination and the nearest bus stop or subway station. E-scooter users essentially sign-up to have their movement through the city tracked by GPS. The six cities that responded to MuckRock's requests all mandated that companies share usage data.
The surveyed cities differ in what information companies must share. Some, like Oklahoma City, Oklahoma's draft e-scooter ordinance, mandate monthly reports. Portland, Oregon's data-sharing agreement, on the detailed side, gives a sense of the range of information other cities want access to in real-time.
Some cities, including Austin and Washington D.C. make limited summaries of this data publicly available online. D.C. also mandates that companies that allow public access to an API detailing, at minimum, the current location of all e-scooters.
None of the surveyed city governments released all of the information collected.
Scooter companies hate caps, but cities stand by them
On November 11th, David Estrada, Head of Government Partnerships for Bird Rides, wrote a public letter to the newly elected mayor of D.C., Muriel Bowser. Estrada condemned the city's proposed e-scooter regulations, which will take effect in 2019 at the conclusion of D.C.'s ongoing pilot program.
Bird and other e-scooter providers argue that caps on the number of permitted units they can operate in a city incentivize neglect of underserved areas and are ignorant of purportedly high demand. D.C. allows companies to propose quarterly increases in scooter counts. Austin also allows fleet increases if companies can demonstrate that e-scooters are being used regularly.
Bird and Lime, both of which operate in Austin, used the public comment period on dockless mobility rules to make their case, unsuccessfully, against the caps.


Officials in Salt Lake City raise caps if companies place scooters in "underserved" areas of the city, defined by city government on a zone map.
Many of the cities surveyed stuck by the caps, preventing a flood of scooters into their cities, choosing to exercise caution and wait for user data to aggregate. In the meantime, Austin's finest rounded up rogue scooters found in the public right-of-way.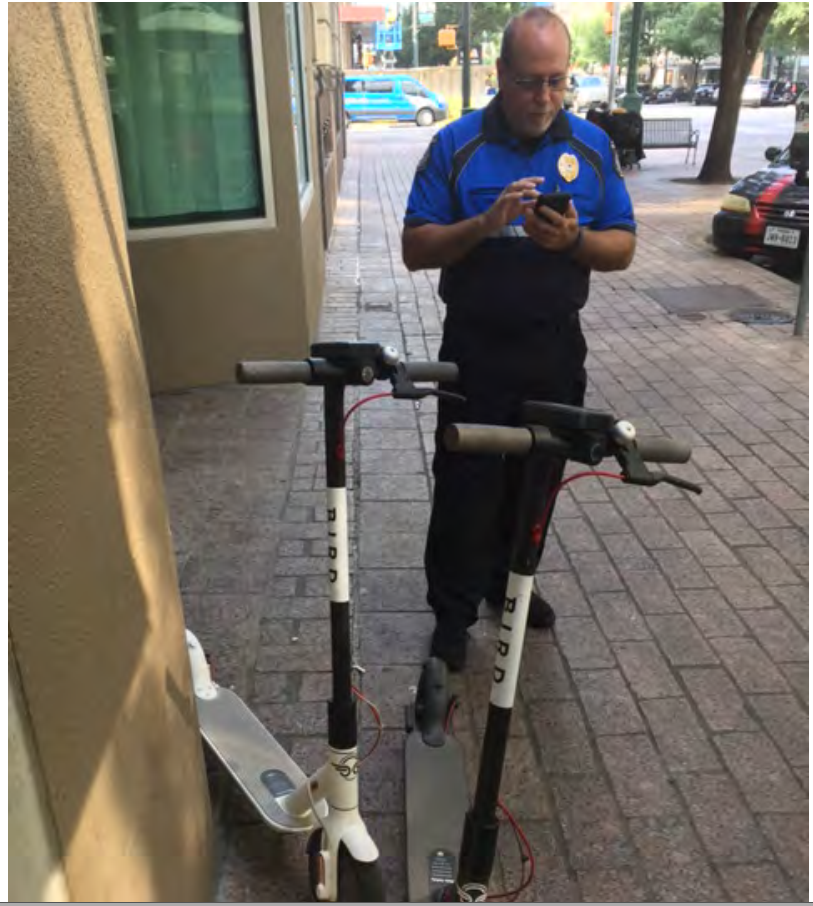 Some companies want permitting materials exempt from disclosure
Two of the cities' surveyed, Spokane, Washington and Salt Lake City, Utah, make specific reference to the the records and permitting applications shared by companies with cities are available for public disclosure under state public records law.
Two other cities that returned documents, Austin and Portland, redacted all or part of the companies' permitting applications. In response to MuckRock's request, lawyers retained by Uber's micro-mobility arm, JUMP Bikes (also operating e-scooters), submitted a nine-page letter to Texas's attorney general outlining why all of the company's permitting materials should be exempt. It cited "trade secrets" exemptions and argued that release of the documents would cause "substantial competitive harm."
JUMP's e-scooters currently operate only in Austin and Los Angeles, California according to the company's website. Although LA wasn't surveyed, the kind of information JUMP argues shouldn't be disclosed by Austin's city government (insurance policies, marketing and outreach plans, technical specifications, safety measures, and other application materials) is public record in other cities.
Portland's response to MuckRock's request revealed varying levels of exempted information depending on the company. They city cited trade secrets, confidential submissions, and personal privacy exemptions. Bird's permitting application submitted to the Portland Bureau of Transportation had whole pages redacted, including sections detailing its user equity and economic opportunity plans, safety and complaint history reports, launch schedule, service rates, and a communications and outreach plan.
In contrast, an application submitted to Portland by Bird's competitor, Germany-based Byke Mobility, includes almost all of this information, unredacted.
Cities disagree over e-scooter safety measures
Emergency room doctors and personal-injury lawyers have labelled e-scooters as threats to their riders, although companies reject the idea that they are uniquely dangerous. Speed limits, helmet requirements, and sidewalk riding policies varied between the cities surveyed. All mandated companies educate users on safe riding, proper parking, and applicable local laws. Some also developed their own materials (in Austin called the "Dockless Mobility Code of Ethics.")