Included in the most recent batch of Federal Bureau of Investigation records regarding the Church of Scientology - released to Emma Best after a FOIA lawsuit represented pro bono by Dan Novack - is the script for a play written by COS's Ministry of Public Relations in order to counter the "inflammatory statements" being made by a "dissident church member."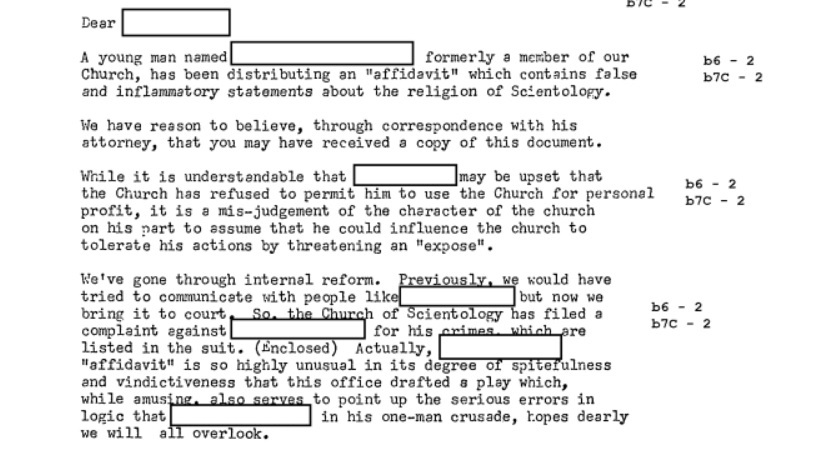 Making light of what they call the "comic book flair" of the rogue ex-Scientologist's claims (referred to as "Wally" in the Church's letter but identified as Lawrence Wollersheim, the play consists of an interview between him and "the greatest reporter of them all" …

Superman's alter-ego, Clark Kent - whose secret identity is safe, thanks to the Bureau's redaction.

Yes, even though the play takes place at Kent's fictional paper, The Daily Planet, and even contains an unredacted cameo by the Planet's star photojournalist, Jimmy Olsen …
(who, perhaps predicting his turn as a Central Intelligence Agency operative in Batman v Superman: Dawn of Justice, is accused by Wally of trying to poison him)

the Bureau felt it necessary to redact Kent's name under both the b(6) and b(7)(c) privacy exemptions. In fact, the only way to be sure the redacted name is Kent's and not that of the real "greatest reporter of them all," Lois Lane, is the Bureau slip up that left a "Mr." visible.

As Best put it in an statement to Gizmodo:
"It's easy to laugh at this, and it is laughable, but it also highlights how bad the FBI is when it comes to FOIA. There are no explanations for this aside from gross incompetence, negligence, and/or bad faith. Even if this were an innocent mistake, the slightest amount of due diligence and research would have shown that the Daily Planet is fictional. Admiral Hardy's FOIA staff at FBI couldn't be bothered."
Harsh, but as Lane would put it …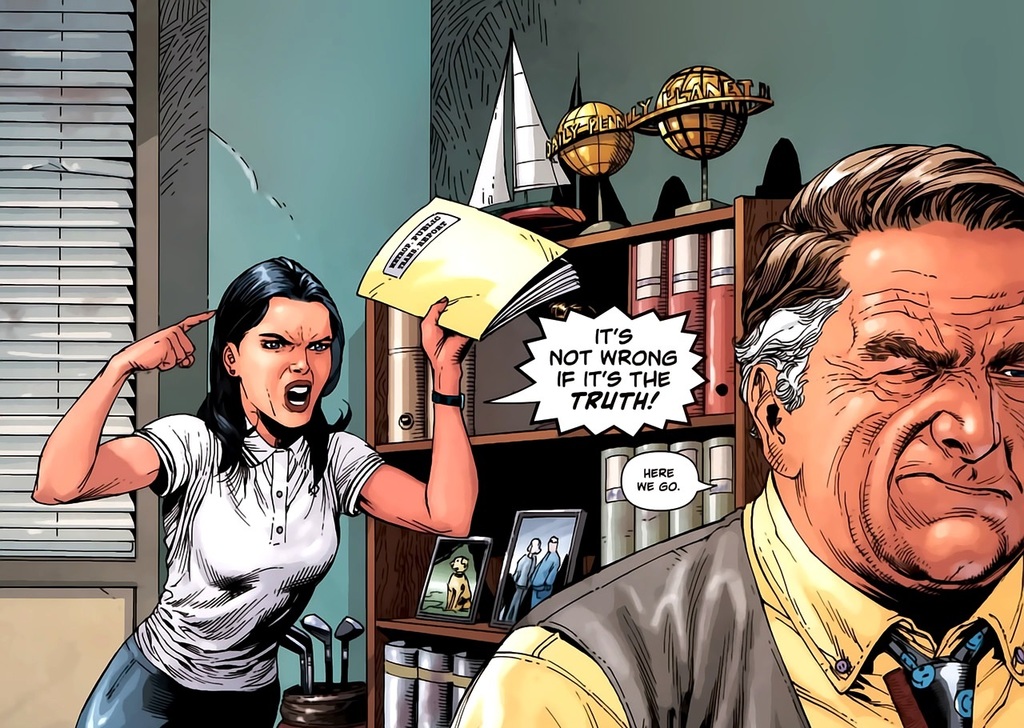 Read the full play embedded below or on the request page.
---
Image via DC Comics