The Obama administration's hope for its Countering Violent Extremism (CVE) program to be "community-led" has not fared particularly well in the face of opposition from Muslim groups.
In California, the Islamic Shura Council of Southern California and the Muslim Student Association of the West Coast voted to oppose CVE initiatives last year. Boston's CVE Framework included a letter of dissent signed by the Executive Director of the Islamic Society of Boston Cultural Center, accusing the program of "exclusively targeting the American Muslim community." Minneapolis has seen perhaps the most sustained resistance, with local Somali youth - who are most likely to be targeted by CVE initiatives - taking the lead in opposing the program.
But as the three pilot programs in Boston, Minneapolis, and Los Angeles struggle to find their footing, a similar program has been active in Montgomery County, Maryland since 2013. The Montgomery County Model (MCM) is led by the non-profit World Organization for Resource Development and Education (WORDE), the Montgomery County Police Department (MCPD), and a faith community group maintained by the Montgomery County government.
The model is described as "the first community-led effort of its kind across the country.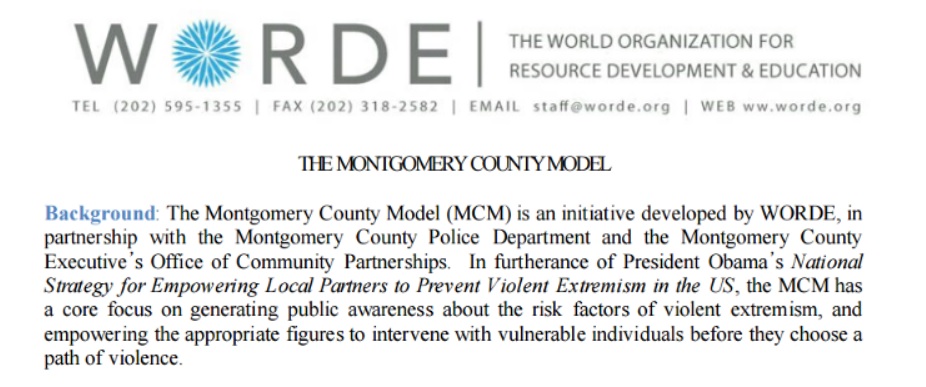 In many ways, MCM is exactly the kind of community-led CVE program outlined in the Obama administration's National Strategy for Empowering Local Partners to Prevent Violent Extremism in the United States. It is funded by the local county and through the Department of Justice's Community Oriented Policing Services (COPS) grant program.
It is executed through the county government's Faith Community Working Group (FCWG) which trains law enforcement officers, social service providers, community activists and faith leaders to spot signs of radicalization in vulnerable individuals. A 2014 Report on the National Summit on Empowering Communities to Prevent Violent Extremism suggested that these trainings are based on "the most up-to-date science-based research."
The State Department has relied on WORDE's expertise for designing "a comprehensive CVE framework for a State Department contractor to evaluate the efficacy of US government-funded CVE programs in South Asia, Europe and Africa." A recent study supported by the Department of Justice even called MCM "the first evidence-based CVE-relevant program" in the country.
Despite these accolades, there is little indication that MCM has been able to resolve the concerns raised by Muslim and civil rights groups about CVE. In fact, MCM seems to have proceeded simply by ignoring such concerns - similar to the pilot program in Boston - and has been helped by the secrecy with which the program operates. WORDE's 2014 application for a grant from COPS obtained through a Freedom of Information Act request provides some clues about how the program has been implemented.
A "key component" of MCM, reads the application, "involves training stakeholders on how to identify individuals who may be influenced by various risk factors for violent extremism." Given that "the processes of radicalization are complex, non-linear, and rely on a combination of factors," WORDE has developed its own "multivariate, cluster-model approach" to identify people "who are at-risk for violent extremism."

An Instructor's Manual recently released by WORDE explains that such an approach is "not predictive of who will become radicalized. Instead, it represents a structured guide to explore variables that have a potential to contribute to one's radicalization." The difference between WORDE's "multivariate, cluster-model approach" and previously discredited theories of radicalization is that WORDE insists its approach cannot predict who is likely to become a violent extremist. Instead, it relies on recognizing factors which have a potential to "contribute to one's radicalization."
For some critics, this is a distinction without a difference. "The words may be different, but the effect is the same," says Faiza Patel, co-director of the Brennan Center's Liberty and National Security Program and author of the report Rethinking Radicalization. Even as WORDE concedes that its approach is "not predictive," she continued, it is "nonetheless used to identify individuals who are susceptible to becoming terrorists." She remained concerned about the "use of non-scientific methods to tag Muslims as potential terrorists."
Arun Kundnani, who teaches at New York University and has written extensively about radicalization, finds the approach "self-contradictory." If it has no "predictive power" as WORDE concedes, then the model "shouldn't be used," according to Kundnani, "because it means the variables it focuses on have no demonstrable relationship to radicalization." He believes "policy-makers are being forced to admit that the science does not support their policy, but instead of changing the policy, they're keeping it, and then inevitably having to contradict themselves when explaining the policy's scientific credentials."
WORDE's approach may not be predictive but its use of "non-scientific methods" has predictably led to individuals being identified as potential terrorists based on a specious criteria. This is perhaps the most worrying aspect of MCM, as illustrated by the few cases of intervention identified in the grant.
Those who are identified as "being at-risk for violent extremism" are either referred to the MCPD Crisis Intervention Team or to WORDE's Crossroads Program. The latter provides "culturally-competent mentoring and case management to low-income immigrants from the Middle East, South Asia, and North/East/West Africa who … who may be at risk for violent extremism."

More than 25 people were referred to Crossroads by community members, nonprofits, police officers, and public agencies between September 2013 and June 2014. The reasons noted for their referrals were homesickness, suffering from "acculturation related stress, feelings of alienation," and having "economic stressors in their family." These factors apparently suggested that the individuals "may be at risk of violent extremism."

The identification of individuals as potential terrorists simply for exhibiting signs of stress and alienation—factors which describe most human beings at one time or another - seems to confirm fears that CVE stigmatizes already vulnerable populations by tarring them as potential terrorists.
The inclusion of "ideologies and values" and "political grievances" in WORDE's approach can also place significant limitations on political speech and publicly voicing unpopular opinions. According to Kundnani, this contributes to "fostering an atmosphere in which expressing dissent is seen as a precursor to terrorism, rather than as a civil right." Such an atmosphere would inevitably lead to the curtailment of those civil rights as a precautionary measure by targeted communities, as numerous studies on government surveillance of American Muslims have concluded.
Such precautionary measures would not be altogether unreasonable given that MCM is used by law enforcement agencies to collect and share information. As Montgomery County Assistant Police Chief Darryl McSwain has previously said, law enforcement agencies view MCM "as a way to gather information on security threats and share it with state and federal officials" through fusion centers.
What constitutes a security threat is unclear but the reliance on fusion centers is hardly reassuring. A two-year bipartisan investigation by the US Senate Permanent Subcommittee on Investigations in 2012 called fusion centers "part of the problem" which regularly "stepped on Americans' civil liberties."

A request to Maryland's fusion center for information passed on by the Montgomery County Police Department was rejected.

Despite being "community-led," MCM seems to have proceeded much like other CVE initiatives: by relying on a discredited theory of radicalization, identifying individuals as potential terrorists based on that discredited theory, stigmatizing American Muslim communities as a primary source of violent extremism, and potentially curtailing civil rights and chilling political speech. Instead of grappling with these problems, it seems to have preferred operating with a lack of transparency about many of its key components.
"No program that claims to be community-based should operate in the dark," says Faiza Patel, "especially because the risks to those who are tagged as pre-terrorist are extremely severe."
No one from WORDE responded to requests for an interview.
Read the full grant embedded below, or on the request page.
---
Image via WORDE