The Show-Me State made moves last week on a gun permitting bill initially passed by the legislature but vetoed by Governor Jay Nixon in June. The State Congress overrode the veto on Senate Bill 656 Wednesday with a Republican supermajority, eliminating previously-required training to obtain concealed carry permits and strengthening the right to use force in situations where an individual fears for one's safety. Most elements of the bill go into effect on January 1, 2017.
Though parts of the previous law - which, also in the form of an overridden veto, introduced concealed carry into the state in 2004 - remain intact, including the discretion of local sheriffs to deny concealed carry permits to those at risk of hurting his or her own or others' lives, gun control activists balked at the extension of firearm access. The National Rifle Association, the nation's largest gun rights lobbying group, meanwhile called the event "a great day for freedom in Missouri." The organization received a specific shout-out in the bill as well, which now allows applicants to use an online firearm safety course to satisfy the training requirement.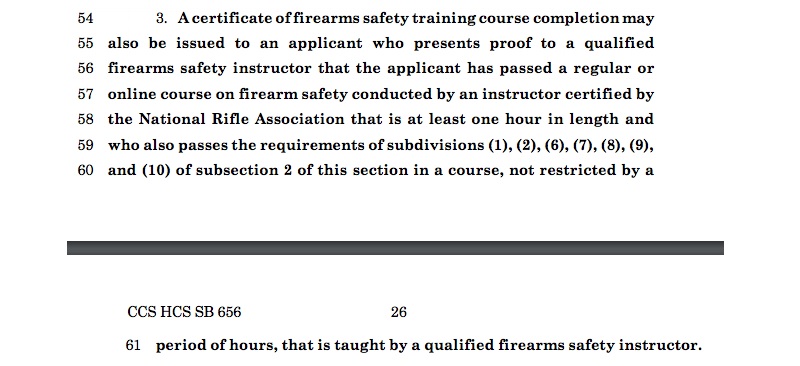 The new law also extends so-called Stand Your Ground laws and the Castle Doctrine. It clarifies the right of an individual to remain, despite potential threat, in a location where he or she is lawfully …

and also extends the right to protect one's property against invasion to those "deputized" by the property master.

Missouri will also be joining Louisiana, Indiana, and Tennessee in their provision of extended (10-year) and lifetime concealed carry gun permits. The law caps the fees associated with the new permits at $200 and $500, respectively.
Less clear are the ways that the new law will affect concealed carry reciprocity agreements currently held between Missouri and most other states.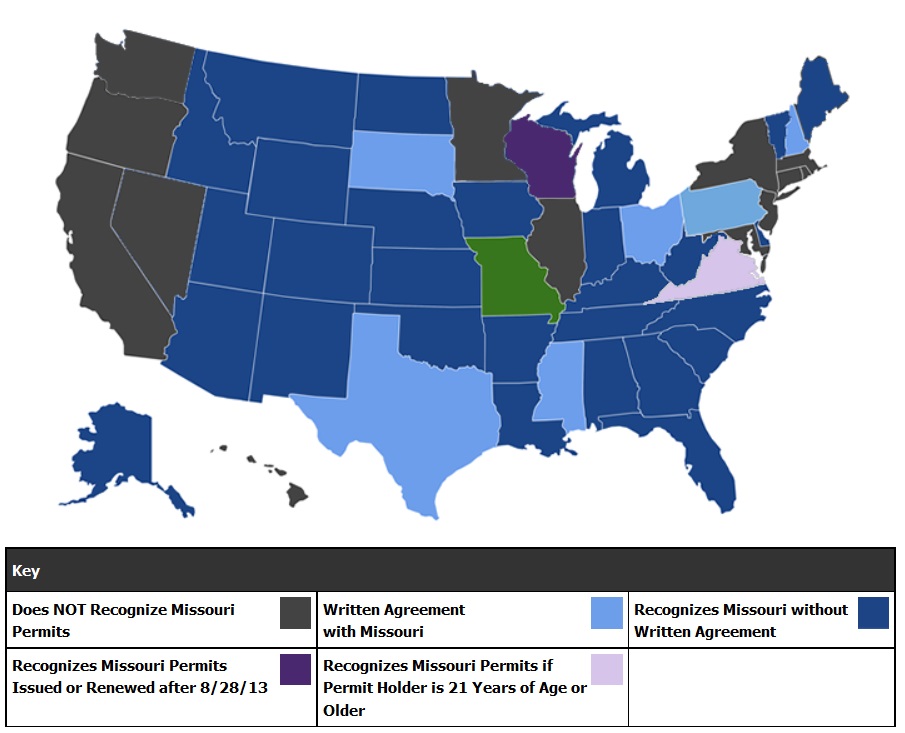 As part of MuckRock's ongoing project to collect and compare gun policies and data across the United States, MuckRock has been requesting gun policies nationwide. In response, the Missouri Attorney General provided a link to their website on concealed carry permit reciprocity with other states. In a common arrangement, the state currently has written or non-written agreements with most other states allowing Missouri residents to use their permits in partner jurisdictions, though it remains unclear to what extent the new law will affect those understandings, if at all.
In Iowa, for example, where "universal recognition" is granted to permits from other states, the Missouri changes will effectively grant its citizens access to a lifelong concealed carry permit in the Hawkeye State.
As MuckRock follows up, learn more about our nation's gun policies. A full copy of the bill has been embedded below:
---
Image via Flickr and is licensed under CC BY-SA 2.0