For this week's FOIA round-up, documents reveal most of the officers in "implicit bias" training are accused of same abuses the program is attempting to prevent, a request confirms claims that neglect led to the death of an Indiana inmate, and a record from Elizabeth Warren's past resurfaces through the Texas Public Information Act.
See a great use of public records we missed? Send over your favorite FOIA stories via email, on Twitter, or on Facebook, and maybe we'll include them in the next round-up. And if you'd like even more inspiration, read past round-ups.
Documents show majority of officers leading Chicago Police Department's "implicit bias" training accused of abuse or misconduct
Documents obtained by The Intercept through the Illinois Freedom of Information Act revealed that a majority of the officers leading the CPD's implicit bias training program have had complaints of abuse or misconduct filed against them, undermining the legitimacy of the training program - and of more police "training" in general - as a solution to police brutality.
"Sixteen of the 17 police officers … who have provided instruction for the procedural justice training program since the start of 2017 have together garnered a total of 111 misconduct complaints, according to police documents obtained through a Freedom of Information Act request."
Read the full story here.
Public records request reveals abuse and neglect in the death of Indiana inmate
A New York Times investigation verified claims of police abuse and neglect in the case of Lamekia Dockery, an 36-year old inmate who died at the Goshen, Indiana work-release center after being arrested for shoplifting. Reporter Sarah Maslin Nir filed an Indiana Access to Public Records Act request that turned up corrections officers' logs which confirmed what she had been told by Dockery's fellow inmates: that she was shackled, castigated, and placed in solitary confinement for demanding medical care from the facility, or seeking help from others when she was denied it.
"Ms. Dockery's death was likely preventable. But she died because, experts told me, as a drug user, a black woman and an incarcerated person, her human anguish was dismissed."
Read the full story here.
Washington Post obtains new records showing Elizabeth Warren listed her ethnicity as "American Indian" on her 1986 Texas Bar registration card
The Washington Post obtained Warren's 1986 Texas State Bar registration card through an public records request, on which she marked her ethnicity as "American Indian."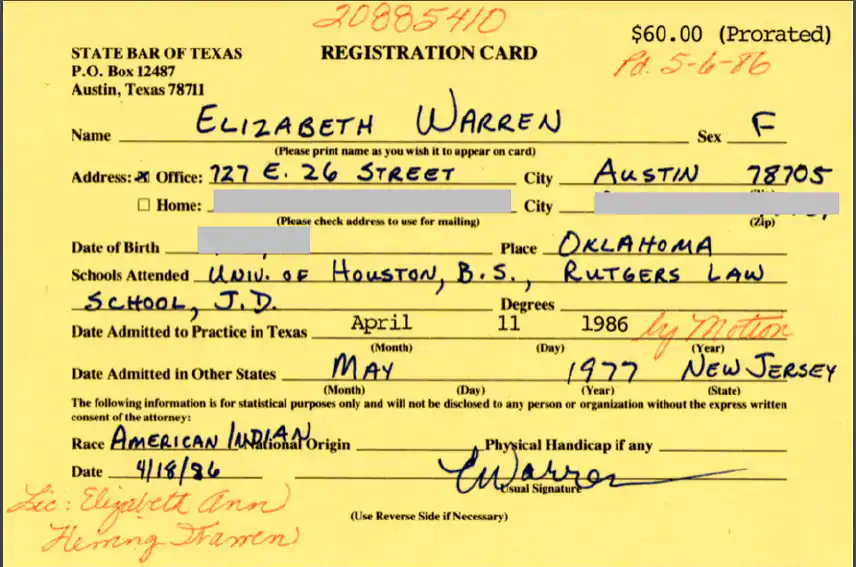 This news comes just a few days after Warren issued an apology to the Cherokee Nation for releasing her 23&Me results in an attempt to prove her Native American ancestry.
Read the full story here.
Read a great FOIA-based news story we should highlight? Let us know and maybe we can include it in our next roundup! Send it over via email, on Twitter, or on Facebook.
---
Image via Chicago Police Department Facebook