While a number of declassification programs and requirements have historically been in place at the Central Intelligence Agency, its responses to these programs has been mixed at best. One study in the CIA's declassified archives is extremely optimistic, stating up front that it assumes the Agency would fully implement the intent of the declassification programs. In a stark contrast, another memo revealed that "for many years," the CIA had no continuing declassification review program - and other policies and guidelines declared that the Agency's records were simply exempt from declassification.

One of the CIA's earliest policies of exempting itself from declassifying records dates to 1967. According to a security instruction, which asserts that their authority to declassify documents is exempt from declassification, all CIA records exempt from declassification. The policy stated that "all classified information or material originated by CIA is considered of an intelligence nature and should be excluded from automatic downgrading or declassification."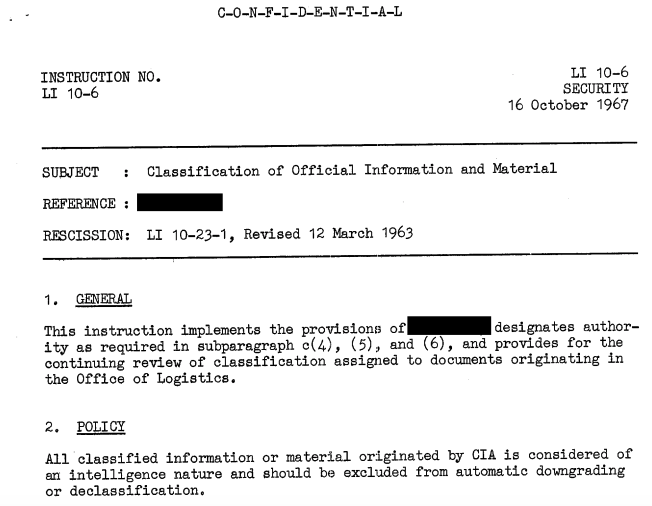 This policy lasted for at least several years. A 1972 memo wrote that "in effect, CIA has not had a program of 'continuing review for downgrading purposes' for many years." The reason given for this was the Agency's requirement to protect sources and methods, and the 1967 policy. In this document, the Agency claims that the specific authority exempting them from declassifying information is exempt from declassification, despite having declassified it a year earlier.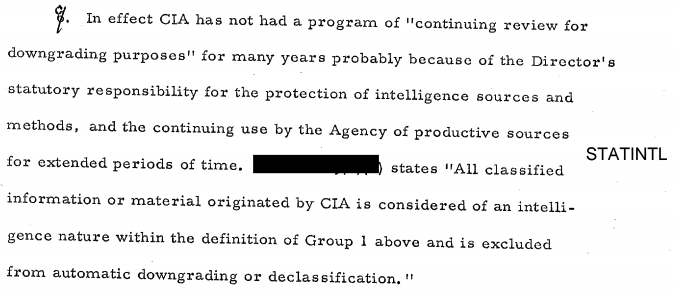 Another draft of a memo on the same subject explained that while the Agency had declassified "a substantial body of documents" in the '50s, this process had "virtually disappeared" by the early '60s.

A memo from the same year, written by the Agency's Special Assistant for Information Control, The memo admits that when it came to strategic intelligence, their policy didn't derive from any of the relevant Executive Orders. When it came to strategic intelligence and intelligence estimates, the Agency consistently refused to declassify the files, citing the mosaic theory and the need to have frank communications unencumbered by transparency or oversight. The memo explicitly stated that one purpose behind this was to defend "the right of [the intelligence community] to be protected from the consequence[s] of their frankness."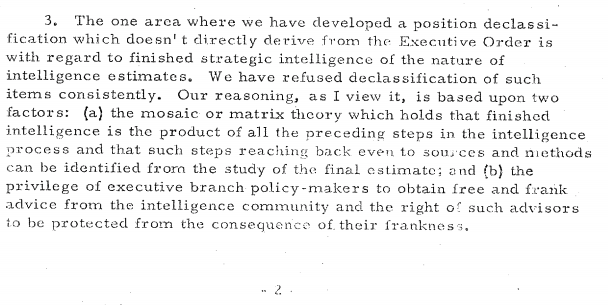 In the following paragraph, the Agency describes their policy of ignoring declassification reviews for entire sets of documents that the Agency intended to exclude from declassification. This "initial determination" justified the Agency ignoring the review process, which was a "tedious … expensive and time-consuming process." The memo also described the Agency's policy of destroying records before they were subject to mandatory declassification review.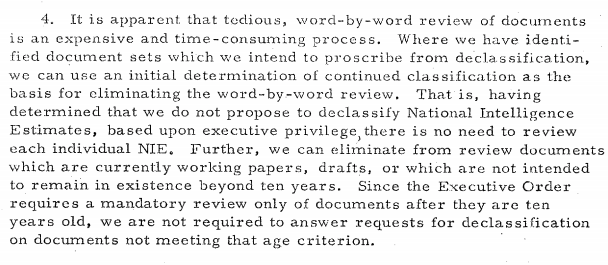 In perhaps the most Freudian of slips, the memo concluded by noting that when it came to declassification, the Agency hadn't yet "encouraged all of the problems."

MuckRock has filed a new FOIA request to learn more about CIA's policies when it comes to declassification reviews and their associated loopholes and exceptions. In the meantime, you can read the 1972 memo embedded below.
---
Image via US National Archives Flickr