A State Department cable in the Central Intelligence Agency's Kissinger archive claims that pending revelations from the Church Committee would rock the Netherlands, potentially forcing it to leave NATO. Even more drastically, the memo warned that this scandal could lead to "the restructuring of the Dutch political system."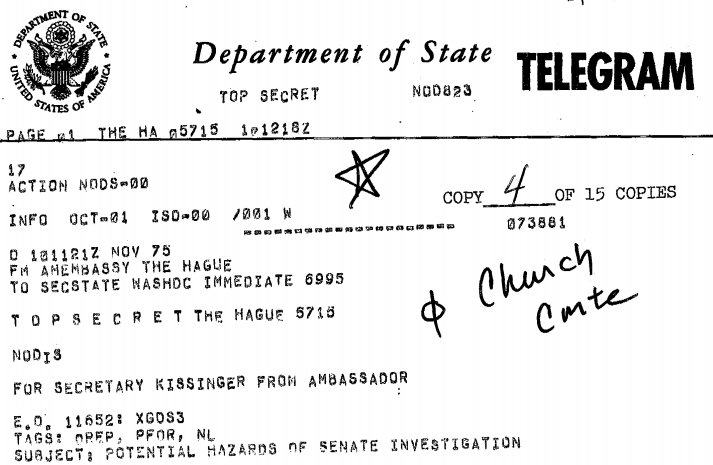 According to the cable authored by Ambassador Kingdon Gould:
Senate investigators from Church Subcommittee on Multinational Corporations in frank disclosure during just completed visit here advised us that they find credible allegations, evidently supported by documentary proof, of extreme hazard to United States interests.

I am positive that if these allegations should surface publicly they will have enormous adverse results for the United States and the transatlantic relationship and could lead to irresistible calls for Dutch withdrawal from NATO and even for the restructuring of the Dutch political system.

It would seem imperative, therefore, that these potentially disastrous consequences be brought to the immediate personal attention of Senator Church and his colleagues so that, if at all possible, this information not fall into the public domain. Should you so desire am available to return forthwith to elaborate on foregoing.

Though the memo doesn't specify what the allegations are, they likely relate to one of Lockheed's bribery scandals. According to a Washington Post article from 1977, the Lockheed scandals were "first revealed in testimony before the Senate subcommittee on multinational corporations in the summer of 1975." The same article explains that "Prince Bernhard was stripped of his jobs in the armed forces and forced to relinquish business connections after a Dutch inquiry concluded he had sought payments from Lockheed." (Bernhard, coincidentally, was the co-founder for the infamous Bilderberg Group.) According to an article preserved in CIA's archives, the Agency was aware not only aware of the payoffs, but "Lockheed representatives participated in briefings with the CIA in various embassies."
While the Netherlands' NATO membership remained intact, the revelations that were made clearly made an impact on the political order of the Netherlands, as well as other nations. MuckRock has filed FOIA requests to learn more about this episode of history. In the meantime, you can see the original declassified cable below.
---
Image via NATO.int