As many researchers have learned over the years, government agencies in general and the Central Intelligence Agency in particular often apply exemptions very broadly, and, at times, in ways that border on the ridiculous. Exemption codes, on the other hand, can still be useful to researchers, journalists, and curious citizens - by searching for these codes, clever researchers can find documents that discuss war plans, cryptography, WMDs, and diplomatically damaging information.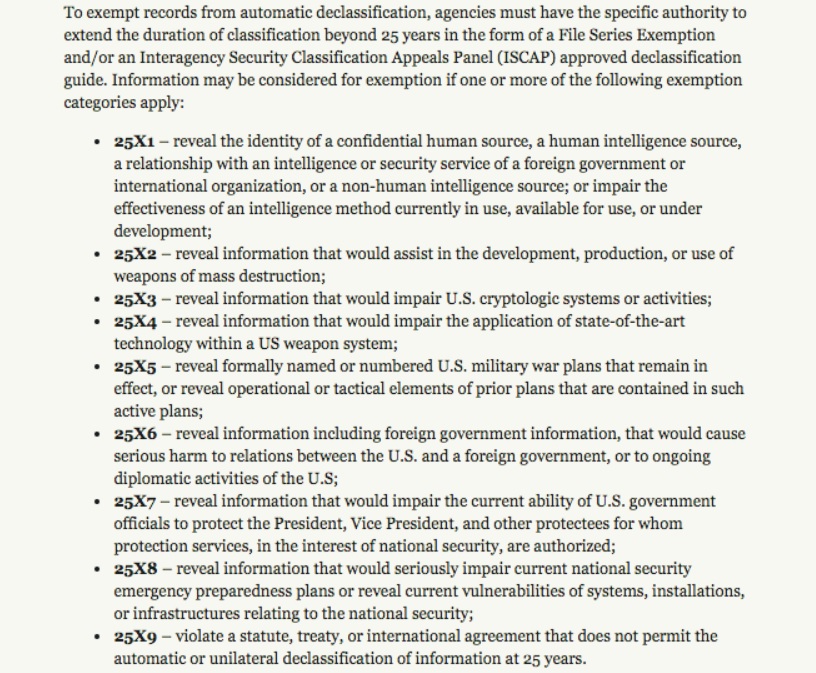 While the specifics may still be redacted in one document, they often aren't in another - or aren't necessary to make use of the documents. In effect, researchers can use exemptions as a way of finding leads.
To that end, we've put together a guide to searching the CIA's declassified archive through its exemption codes.
25X1
Due to its overuse, searching CREST for exemption 25X1 (sources and methods) will prove fruitless unless combined with other search criteria. Even then, 25X1 is so overused that it's very likely that it's redacting information which most civilians wouldn't consider a source or method - such as the name of an Eastern Bloc beer brand.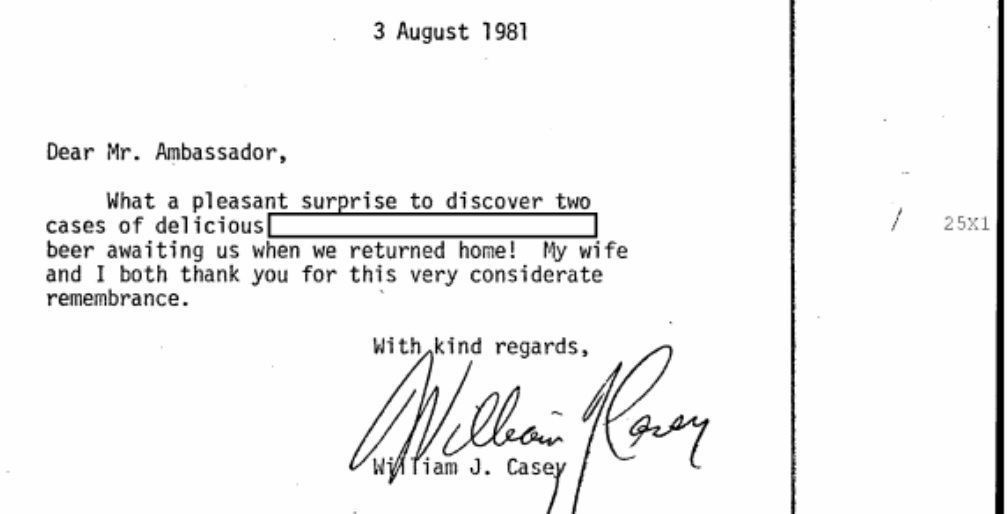 25X2
Searching for 25X2, however, "information that would assist in the development, production, or use of weapons of mass destruction," is at least somewhat useful - returning "only" 599,000 results, many of which are at least relevant to WMDs or their deployment. When combined with other terms, it becomes a useful search string for researchers into WMDs, ICBMs, etc.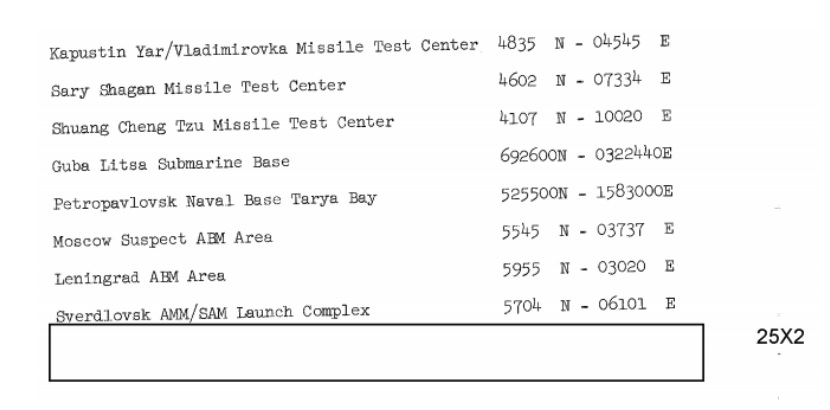 25X3
Similarly, researchers can search for 25X3, which marks "information that would impair U.S. cryptologic systems or activities." Searches for 25X3 are likely to turn up documents from or references to NSA, surveillance systems, and encryption/decryption, such as CIA's proposal to use NSA to watch for reactions to the U-2 flights.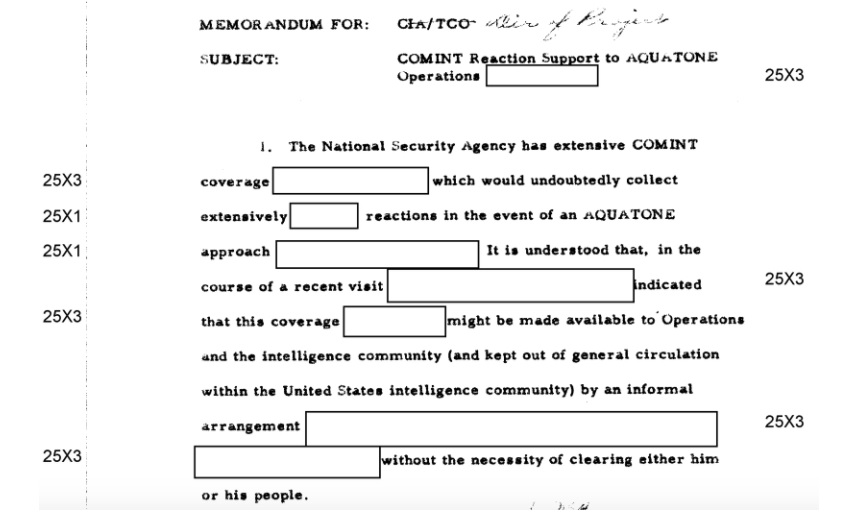 25X4
Searches for 25X4, on the other hand, will result in documents that supposedly discuss "information that would impair the application of state-of-the-art technology within a US weapon system." This includes the Presidential Directive/NSC Directive laying out the National Space Policy, while addressing the military space program.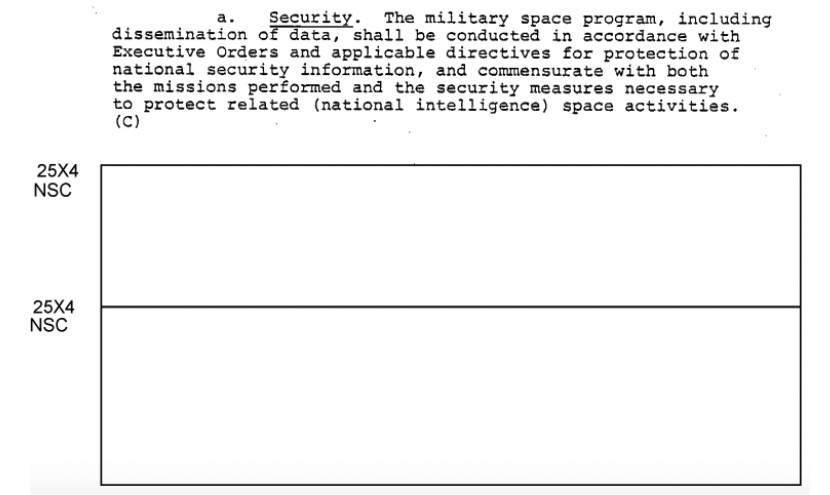 25X5
Searches for 25X5 will supposedly turn up documents discussing "formally named or numbered U.S. military war plans that remain in effect, or reveal operational or tactical elements of prior plans that are contained in such active plans." This redaction, especially, may be questionably applied, considering it's cited in a report on photographs of what CIA described as Soviet astronomical observatories.

25X6
Searches for 25X6 should reveal documents that discuss "information including foreign government information, that would cause serious harm to relations between the U.S. and a foreign government, or to ongoing diplomatic activities of the U.S." In some instances, this will turn up information that probably deserves the exemption, such as documents discussing CIA's psychological warfare efforts.
In other instances, it's almost certainly used more capriciously - like when it's used to justify redacting the name of the person who read an advanced copy of a book for CIA (which would be properly protected under 25X1).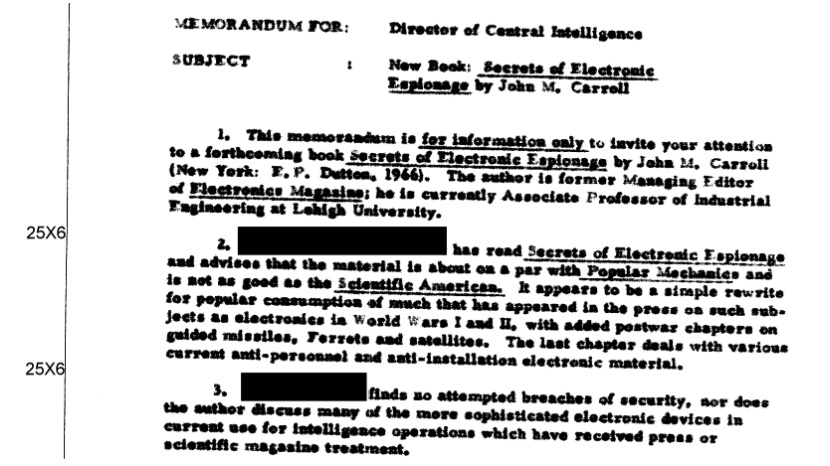 25X7
Searches for 25X7 should turn up documents that discuss "information that would impair the current ability of U.S. government officials to protect the President, Vice President, and other protectees for whom protection services, in the interest of national security, are authorized." Thus you might come across old documents on Presidential travels and preparations for them.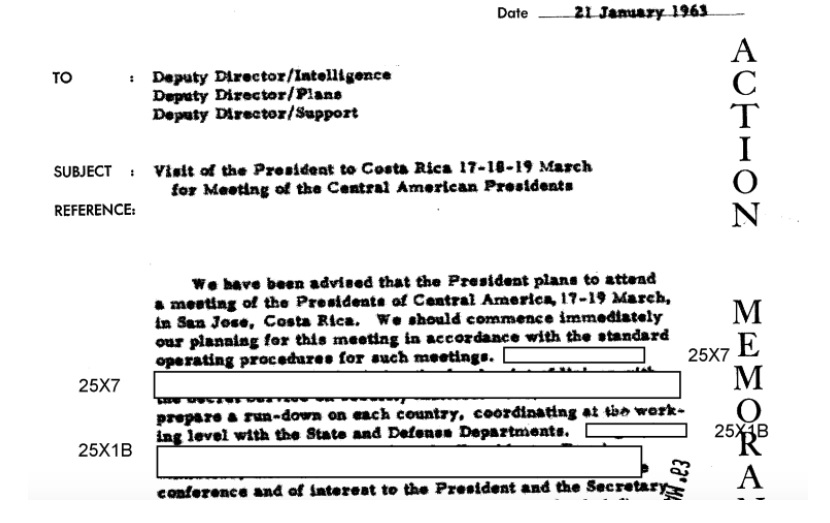 25X8
Searches for 25X8 should return documents that discuss "information that would seriously impair current national security emergency preparedness plans or reveal current vulnerabilities of systems, installations, or infrastructures relating to the national security." This can turn up interesting documents that discuss CIA's emergency relocation plan.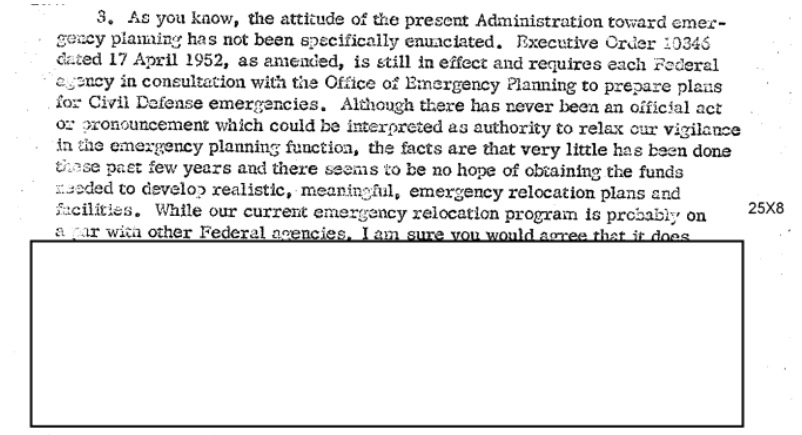 25X9
Searches for 25X9, the final exemption, will result in documents discussing things that are protected by "a statute, treaty, or international agreement that does not permit the automatic or unilateral declassification of information at 25 years." This can cover almost anything, including CIA's desire to transfer certain staff employees to contract employees (a distinctly different status, which, among other things, allows CIA additional deniability).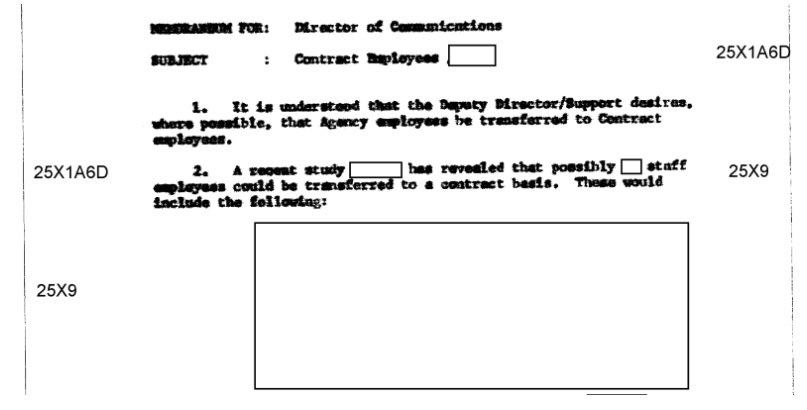 Happy hunting, and don't forget to combine the exemption codes with additional search terms for more refined results. If you find anything interesting, be sure to let us know via email, on Twitter, or on Facebook!
---
Like Emma Best's work? Support her on Patreon.
Image by RestrictedData via Flickr and is licensed under CC BY 2.0