Recently released documents show that the backlog of untested rape kits in Alaska's capitol city, Juneau, is staggering. Out of the 283 sexual assault evidence kits collected since 2000, 206 still remain untested, while the status of three remains "unknown."
We've written before about how Fairbanks, one of Forbes Magazine's "Most Dangerous U.S. Cities for Women," is charging $15,000 for sexual assault evidence collection policies and data - an effective rejection of the request. But the release of Juneau's data corroborates what those living in the mostly rural state already know to be true - that violent sexual crimes are plaguing the Last Frontier.
The Federal Bureau of Investigation's Uniform Crime Report shows Alaska's rape rate towers over the national average, surpassing it by almost three times in the last couple years the data was collected. A Bureau of Justice study from 2010 found that, unsurprisingly, the prevalence is highest among American Indian and Alaskan Native women, with more than 56 percent experiencing sexual violence in their lifetime. Alaska Victimization Surveys, year after year, also report on the high rates of both rape and domestic violence.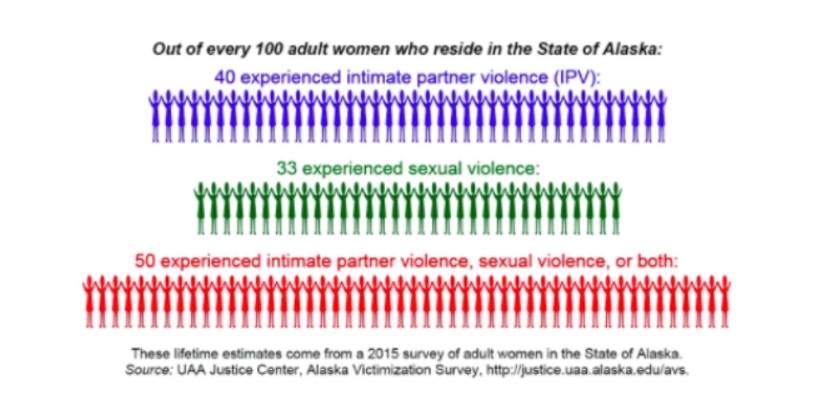 Although there are many factors that combine to make the state especially dangerous on these terms, the state's excessive ruralness has been singled out as a main cause. In the farthest reaches of the Alaskan Bush, where emergency services are scarce and police may take hours, if not days, to reach remote areas, prosecuting this type of crime is difficult. Rape evidence is time sensitive, and sexual assault evidence exams must be completed within 72 hours, so it's hard enough to gather evidence for these crimes. The state's existing kits must especially be tested, as prosecuting even one criminal can lead to the prevention of many more crimes.
We're continuing to unpack the data surrounding sexual assault in Alaska, making requests for hospitals with on-staff sexual assault nurse examiners and sexual assaults investigated by the Alaska Village Public Safety Officer Program- the state's team of small-town law enforcement officials that handle everything from fires to rapes. As one of the worst states in the national for sexual violence, it's imperative to gauge the size of their backlog and how different municipalities prosecute these crimes, and we'll continue to track them.
---
Image by Bill and Vicki Tracey via Wikimedia Commons and licensed under Creative Commons BY-SA 2.0.