According to a recent analysis of the Extremist Crime Database by the Homeland Security-affiliated National Consortium for the Study of Terrorism and Responses to Terrorism (START), "far-right extremists have killed twice as many people (272) as Islamist extremists (130)" from 1990 to 2016, after one removes the two outlier events of 9/11 and the Oklahoma City Bombing.
During the same time period, continued the analysis, Islamist extremists had killed 7 law enforcement officers in 5 attacks while far-right extremists were responsible for the deaths of 57 law enforcement officers in 46 different attacks.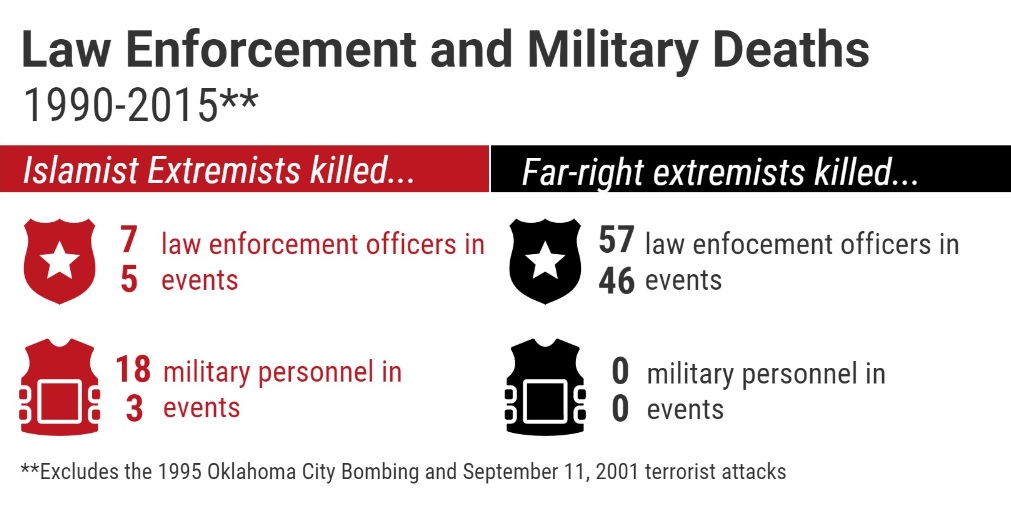 Such findings are consistent with previous studies which have also concluded that far-right extremism remains a much greater danger to the United States than Islamist extremism.
A 2014 survey of 382 law enforcement agencies reported that 74% of agencies identified "anti-government extremism" as one of the top three terrorist threats in their jurisdiction" compared to 39% which identified extremism connected with al-Qaeda or "like-minded terrorist organizations." One officer specifically named "militias, neo-Nazis and sovereign citizens" as the greatest extremist threat.
Despite numerous such empirical studies, the Countering Violent Extremism (CVE) initiatives which began under the Obama administration have maintained an almost exclusive focus on Islamist extremism and Muslim American communities as supposed incubators of Islamist ideology, with only cursory attention ever paid to far-right extremism.
Indeed, reports of recent discussions inside the Trump administration to rebrand CVE to focus solely on Islamist extremism led one former DHS official to remark that such programs had "never been geared toward identifying white supremacists …"
Such warped priorities are reflected in a presentation on Domestic Terrorism made at the San Diego Corporate Security Symposium and acquired through a FOIA request to DHS.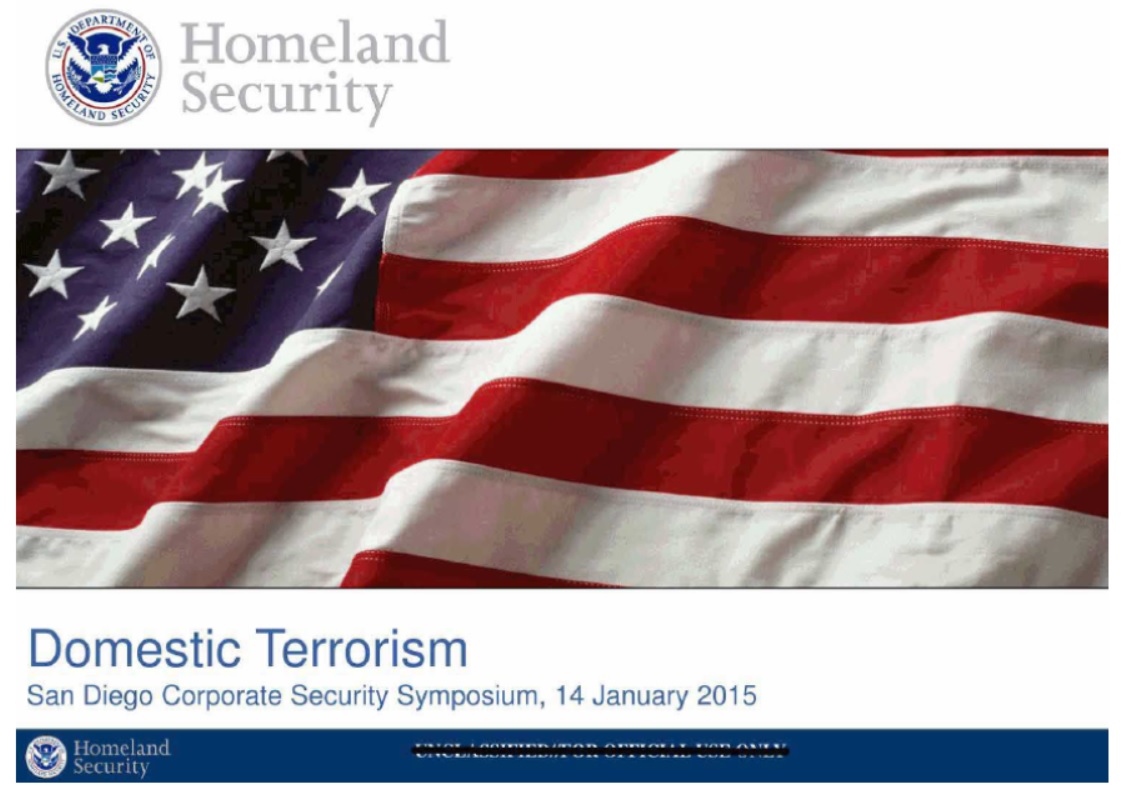 The presentation was made in early 2015 and designed to provide "operational and intelligence advice and assistance to federal, state, local, and tribal Homeland Security and law enforcement officials so they may deter, prevent, preempt, or respond to terrorist attacks against the United States."
It begins with a brief discussion of the terms "domestic terrorists" and "homegrown violent extremists," the latter of which refers to attacks which receive inspiration or direction from foreign terrorist organizations.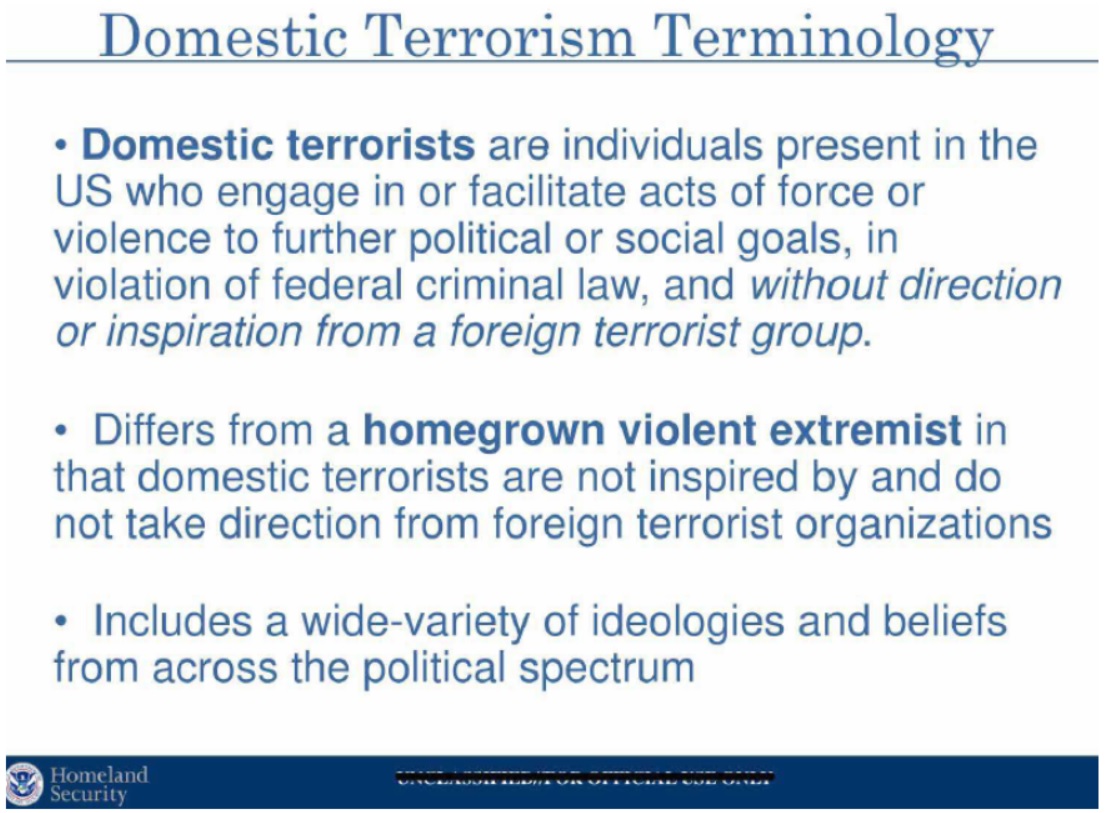 The presentation counts eight different categories of domestic terrorists, including not just far-right but also far-left terrorists: anarchists, animal rights, anti-abortion, black supremacists, environmental rights, militia, sovereign citizens, and white supremacists.
Of these categories, animal rights, environmental rights, and anarchist extremists typically only target corporations and financial and political summits with property destruction, arson, and vandalism. Far-right extremists like sovereign citizens, militia groups, and white supremacists are much more likely to target people and also pose the greatest threat to the country among domestic terrorists.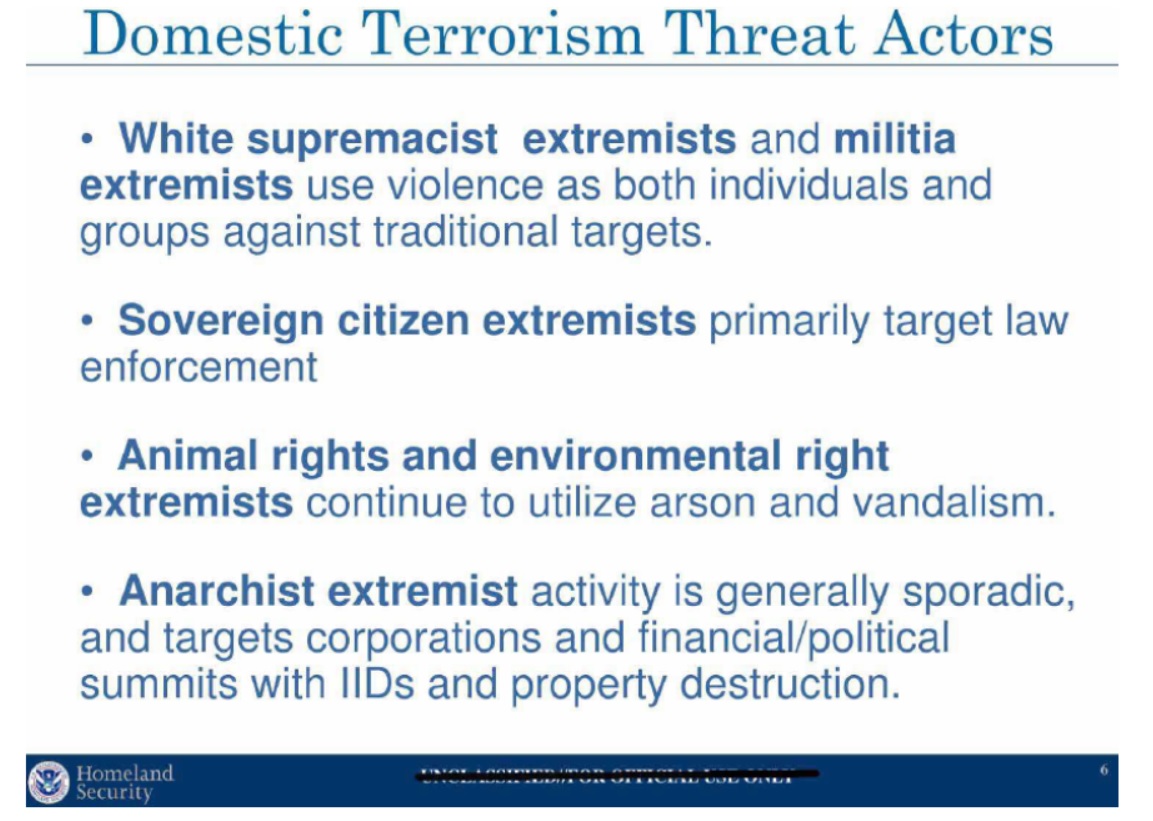 Together, these domestic terrorists pose a "persistent but largely limited threat" to the country, according to the presentation.
The characteristics of domestic terrorist attacks are "assault, arson, bombing, murder, and shootings" while mass casualty attacks like the Oklahoma City Bombing are "rare." The presentation predicts that such attacks "will likely remain constant, but small in scale."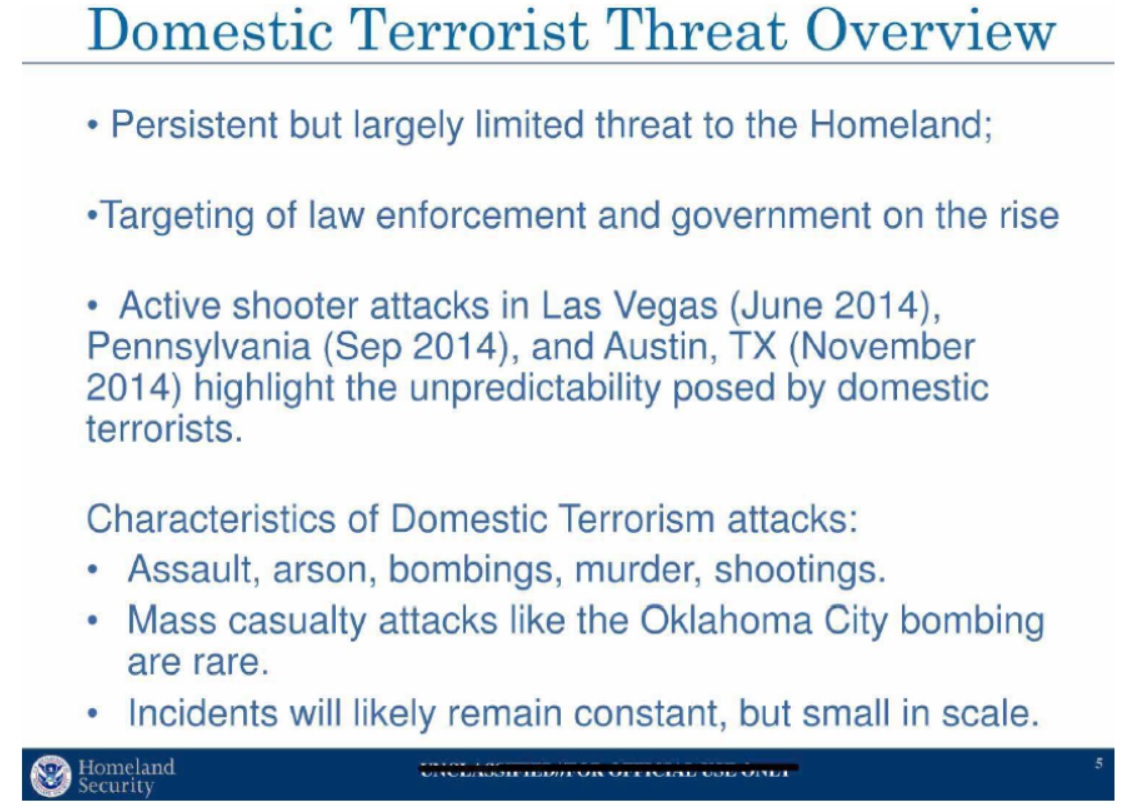 The most common types of attacks are carried out by lone offenders or small cells. Large groups quickly run into problems maintaining "group cohesion," practicing "good operational security," and "avoiding law enforcement scrutiny."
Militia extremists, meanwhile, pose the "greatest domestic terrorism threat for a complex mass casualty attack" and the presentation predicts an "increase in attacks by militia extremists and similar lone offenders …"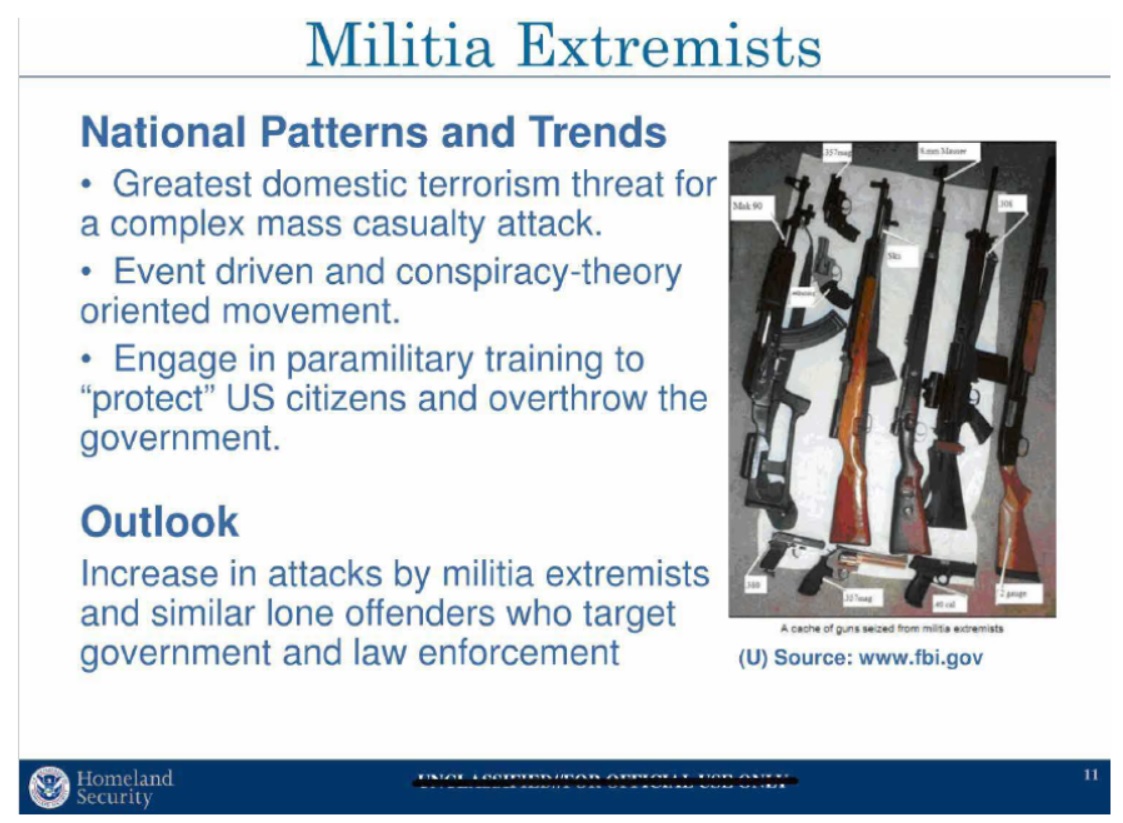 The classification of domestic terrorists as a "persistent but largely limited threat" is consistent with a lack of focus on far-right extremism under CVE initiatives but completely at odds with the number of domestic terrorist attacks actually carried out by far-right extremists.
It further raises questions as to what need there is for CVE initiatives if the supposed threat of Islamist extremism that it confronts is far less severe than even the "persistent but largely limited" threat of domestic terrorism which the initiatives do not bother to focus on.
Read the full presentation embedded below, or on the request page.
---
Image via DHS Flickr