Back in late 2014, John Kirsch first filed with the CIA for records related to fellow JFK assassination researcher Mary Ferrell, whose namesake, the Mary Ferrell Foundation is the one of the largest independent archives of documents related to the president's murder.
A few months later, he finally heard back, receiving a not-at-all-ominous "Glomar" rejection.

Curious to find exactly what was in that nearly 50-year-old file that could still be classified as a matter of national security, Kirsch took a page from Jason Leopold's FOIA playbook and a few days later, in January of 2015, requested the processing notes for his request.
Over a month later, the CIA finally acknowledged this request …

And then resumed radio silence. In April, they responded to a follow-up giving an estimated completion date of May 31st …

Which they promptly blew right past, while ignoring all of our subsequent requests for a revised completion date. Fearing that an appeal would only stall the process further, we decided the best thing to do was to wait.
Just this week, a envelope postmarked March 1st, 2016 - a year and a month after the CIA's initial acknowledgment - arrived in the office. According to the cover letter, the CIA, after a "thorough search," had located six documents - four of which it could release in full, and two which required redaction.

Those releases - which again, the CIA took over a year to dredge up - turned out to be carbon copies of Kirsch's own requests …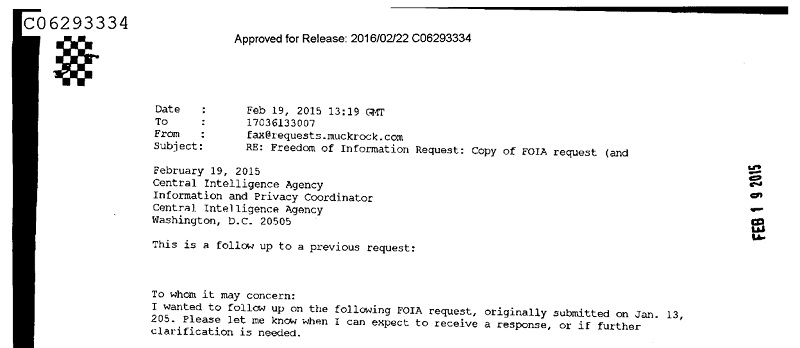 And another copy of the CIA's original Glomar rejection that started this whole thing in the first place.
As for that "sensitive information" that the CIA had to expunge, that was Ferrell's social security number, which Kirsch had included in his original request.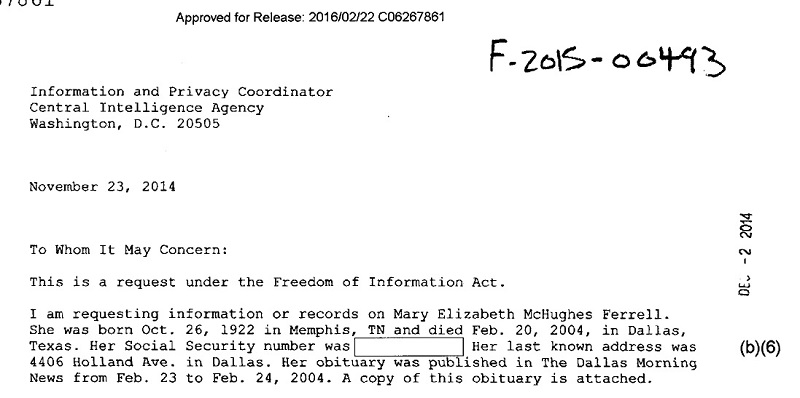 Which was very polite of them, but somewhat unnecessary in light of the fact that Ferrell had been dead for 12 years. And it's not like the CIA wasn't aware of this fact, seeing as the very next page of the "release" was a copy of her obituary.

In case you're wondering if there's some strange, death-defying FOIA exemption just for your social security number, there isn't. Here's Steve Jobs' SSN.

So, two takeaways. One, while it's nice to see the CIA taking the privacy issue seriously, the fact we're talking about the same agency that lends its spy gear to local law enforcement and has to repeatedly remind itself that it can't share all of its files with the NYPD indicates they might have their priorities a little out of whack. Here's an idea - how about extending that same right to privacy to those of us still breathing?
And two, if you ever needed a reminder, it's exactly these kind of long-delayed non-responses that led to us suing the CIA in the first place. Maybe they need a couple more lawsuits to finally get them to pay attention.
Read the full release embedded below, or on the request page.
---
Image by Walt Cisco via Wikimedia Commons