We've launched a new homepage for MuckRock Assignments, our crowdsourcing tool that let's you contribute your time, expertise, and curiosity to a journalistic investigation.
For previous site improvements, check out all of MuckRock's release notes, and if you'd like to get a list of site improvements every Tuesday - along with ways to help contribute to the site's development yourself - subscribe to our developer newsletter here.
Site Updates
A little over a year ago, we launched Assignments, our journalism crowdsourcing platform. More than 1,300 volunteers have helped comb through 16,000 pages of documents across over a hundred different projects, and we decided it was time to give the tool a new home page to highlight all the ways the platform could be used as well as make it easier to get started.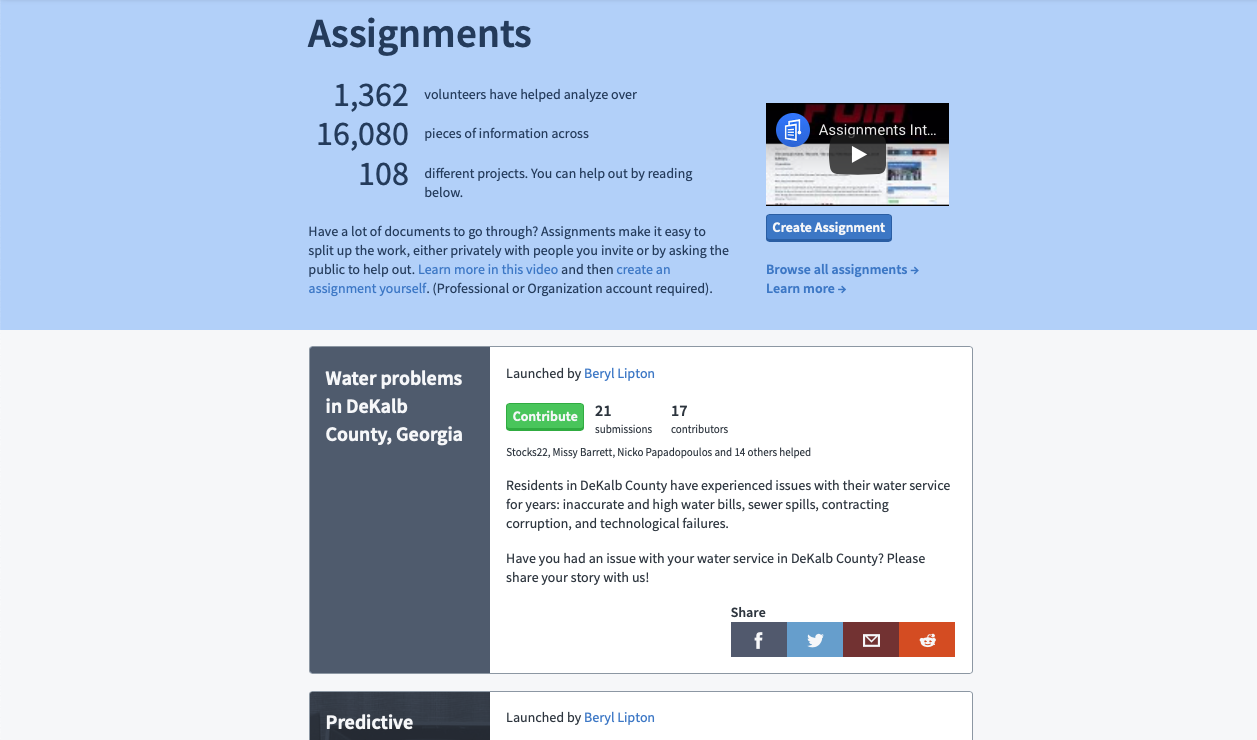 We're grateful to a number of volunteers who helped us test and clarify what we wanted to present with this new homepage, and we plan to continue to tweak and improve how both the Assignments homepage and the individual components work overall.
Some of the specific things now implemented:
Usage statistics: Since close to day one, MuckRock has always included the number of requests filed, pages released, and key statistics on our homepage. We've brought this transparency to our Assignments landing page (for the nerdy and curious, you can get historical data on Assignments usage via our API).
Introductory video: We've put together a seven-minute overview video walking you through everything you need to know to get started with Assignments.
Projects integration: Assignments can be associated with a MuckRock Project. If they are, we'll pull in the Project header image into the Assignment preview and make it easy for readers to check back in with the Project for more context.
Creator and contributor credit: We want to highlight both those that create and manage an Assignment (so you know who you're helping) and those that do the work. You can now see a list of contributors on the page, as well as click through to learn more about the creator of the project.
Progress bars: For Assignments sifting through a data set, you can now visually see how much progress has been made.
Share buttons: Assignments are more fun together! Easily share an Assignment you find interesting right from the Assignment homepage.
We're excited to see how well this new page works to highlight all the ways to contribute to great journalism projects. If you have suggestions, feedback, or want help getting started with an Assignment of your own, just get in touch.
These improvements would not be possible without generous support from Democracy Fund and the Knight Foundation, the Ethics and Governance in AI Initiative, and the Reynolds Journalism Institute.
Improved new Organization onboarding
We also made some changes for onboarding for Organization accounts. Now, if you create an Organization, we automatically activate it against your account so you can go ahead and start filing without being prompted to buy requests.
If your main account is out of requests but you have access to requests through an organization account, we'll now highlight that right on the filing page and let you switch to one of your active organization account with just a click. You can switch between Organization accounts and your personal account either by hovering over your profile name on any page or on your settings page.
Come hack transparency with us
Every Tuesday night, we gather in Cambridge with a group of coders, designers, and others who want to see more open government. The past few months, we've been mixing MuckRock's agency database with a set of scanners and scrapers to help gauge the accessibility, mobile-friendliness, and security of America's digital infrastructure.
You can find out more and join us by checking out Code for Boston's website.
Reporting bugs and submitting fixes
There are a number of other ways to help us continue to improve the core MuckRock site experience. We have a project and a weekly newsletter, "Release Notes," that highlights everything we're working on. Register to get a summary of site updates each week and details on open issues you can help with.
Check out some of our issues labeled "help wanted" for ideas on where's good to start, or just pop into our Slack's #Developers channel.
Subscribers to the weekly newsletter get exclusive data sets, FOIA-related scripts, and other transparency hacker tidbits exclusively for subscribers. You can subscribe to the newsletter at the top or bottom of this page.
If you spot a bug or have a feature request, you can also help by opening an issue on GitHub.
If you do, please search open issues first to make sure it hasn't already been reported. If it has been reported previously, please leave an additional comment letting us know it's an issue for you, particularly if you can provide more details about when it crops up or what you think is causing the problem.
In addition to the new newsletter, we have a developer channel on the MuckRock Slack.
---
Image via Wikimedia Commons