Government investigations into California's electricity shortage, ultimately determined to be caused by intentional market manipulations and capped retail electricity prices by the now infamous Enron Corporation, resulted in terabytes of information being collected by the Federal Energy Regulatory Commission. This included several extremely large databases, some of which had nearly 200 million rows of data, including Enron's bidding and price processes, their trading and risk management systems, emails, audio recordings, and nearly 100,000 additional documents. That information has quietly disappeared, and not even its custodians seem to know why.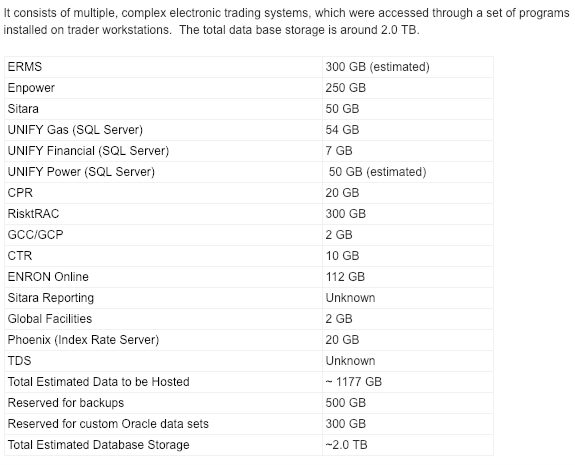 According to FERC's website, some of the information is maintained by Lockheed Martin, which will provide members of the public with copies of the data "for a fee" if they contact Lockheed Martin via a non-existent e-mail address, fercrequest@aspensys.com.

The collection of emails, scanned documents, and transcripts, on the other hand, is hosted by another defense contractor - CACI. Unfortunately, that portion of their site is down. According to the Internet Archive's Wayback Machine, it's been down since at least August 2013.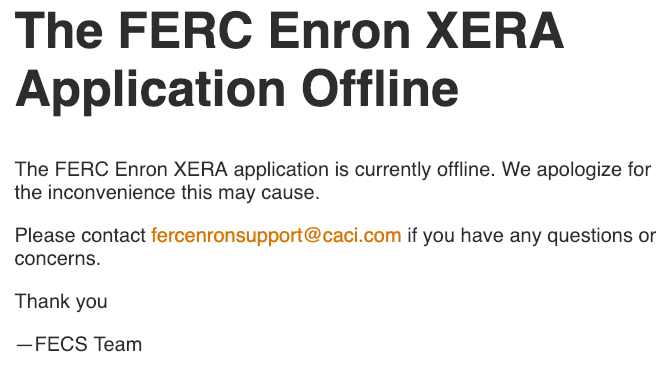 An inquiry was sent to the support email address listed on their error page. A month later, CACI responded that the data was "under review by the FERC and is currently not accessible." Asked why the information was being re-reviewed despite having been previously released, CACI informed MuckRock that they didn't know and that the information might not be available again.
While terabytes of information has disappeared, up to 4,516 documents remain available through a pair of predefined searches of FERC's eLibrary. While FERC claims that they, not Lockheed Martin or CACI, do offer a trio of Enron datasets on CD, FERC has not responded to repeated requests for these datasets sent over the past two months.
MuckRock sent also FERC an additional request for information and explanation about the disappeared data, but no response was received. A FOIA request was also filed to learn more about the information and its unpublication.