The Federal Bureau of Investigation has responded to dozens of FOIA requests regarding darknet markets (and one request for files on Cryptocomb) by refusing to confirm or deny the existence of records mentioning them. To support this denial, the Bureau cited FOIA exemption b(7)a, which covers "ongoing proceedings." In doing so, the Bureau seemed to violate its own GLOMAR response by citing the existence of proceedings it refuses to acknowledge exist.
Despite arguing that they cannot confirm their interest in any of the darknet markets cited, the Bureau's website contains numerous press releases that not only confirm, but boast about the investigations.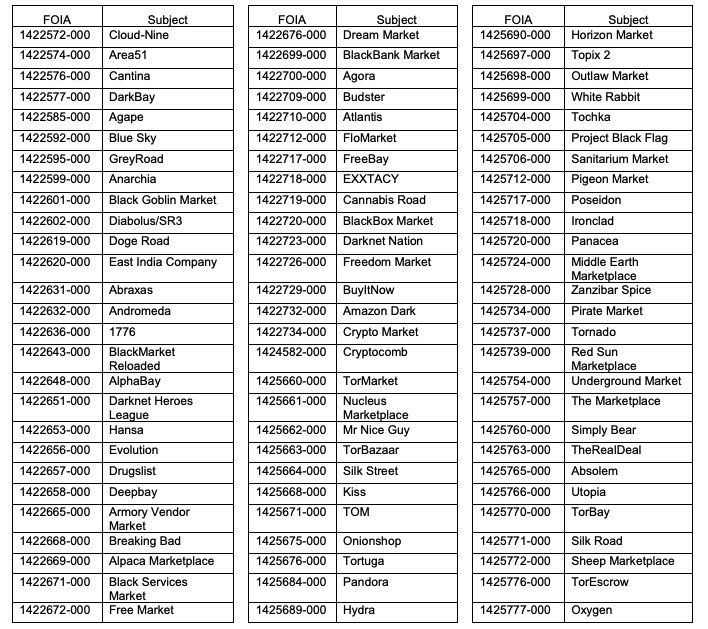 One press release alone confirms the Bureau's interest in and seizure of the darknet markets Blue Sky, Cloud Nine, Hydra and Pandora, all of which the Bureau included in its GLOMAR.

Other markets, such as AlphaBay, are acknowledged in Congressional testimony, an official FBI podcast, a press release from the Department of Justice, and a featured story on FBI's website. In light of the FBI's assertion that acknowledging any interest in this case would enable criminals to circumvent the law, it is only possible to conclude that the Bureau either acted in bad faith, incompetently, or is helping criminals avoid arrest and prosecution. The Bureau's interest in AlphaBay is also described in an Inspector General report.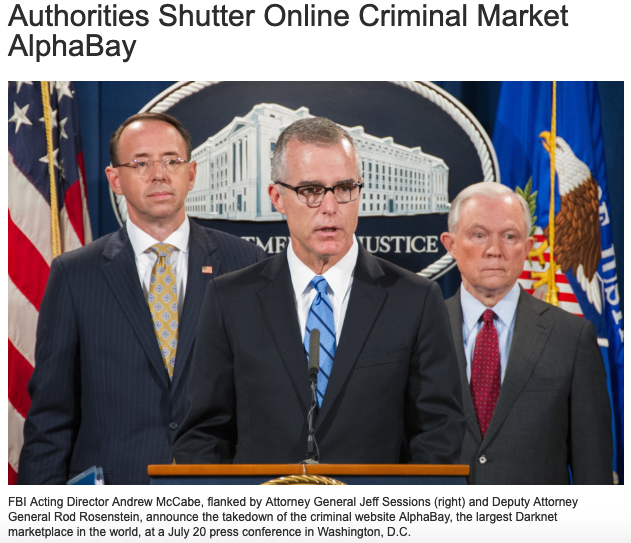 The Bureau also refused to confirm their interest in any of the iterations of the Silk Road. Nevertheless, the Bureau's website contains multiple press releases not only announcing the investigation, but the arrest, conviction and life sentence of the first Silk Road's creator. Another FBI press release specifically confirms the Bureau's interest in Silk Road 2, while yet another press release addresses the Bureau's involvement in investigations covering Hansa and Dream Market.
If you know the specific identity of any of the other dozens of acknowledged instances of the FBI's interest in darknet markets, let us know. Until then, MuckRock has appealed the Bureau's response, and you can read the Bureau's absurd rejection letter below.