Documents responsive to a request by Tom Nash shed light on a proposed conversion therapy ban in Virginia that failed last January. The documents include emails between experts and Doctor David Brown, Director of the Virginia Department of Health Professions, regarding a conversion therapy "workgroup" convened by Brown in October 2018, and a pair of bills, SB 245 and HB 363, seeking to ban the practice.
The documents include nearly 300 pages of emails between experts and Brown regarding the two bills, the workgroup's 109 page agenda, and recommendations from the Virginia Academy of Clinical Psychologists.
Like Conversion Therapy bans in other states, Virginia SB 245, led by Senator Scott Surovell (D - Mount Vernon), sought to impose penalties on mental health practitioners who performed the therapy on minors, including disciplinary charges, suspension or permanent loss of licensure.
The bill was defeated in an 8-7 party-line vote in the Committee on Education and Health. HB 363, introduced to the Virginia House by Delegate Patrick Hope (D - Arlington), was similarly killed.
Like Hawaii's bill in May, the majority of state bans attempt to prohibit licensed healthcare providers from practicing Conversion Therapy on minors, leveraging disciplinary charges, suspension or loss of licensure. In August, California Assemblyman Evan Low (D - Campbell) challenged the practice from a consumer protection angle, deeming paid conversion therapy a fraudulent business practice under the state's consumer protection law. Low eventually put the bill on hold, hoping to find a consensus with the bill's religious opponents.
Opposition to conversion therapy bans like California's and Virginia's SB 245 and HB 363, often come from religious groups who argue that the bans infringe on religious liberty. In Virginia, Brown received a letter from Victoria Cobb, President of The Family Foundation, reiterating these concerns. The Family Foundation is a lobbying group that seeks to "Empower families in Virginia by applying a biblical worldview and founding principles to culture and public policy." Here is an excerpt from Cobb's letter to Brown.

Included as an attachment in one of the emails were ethical guidelines created by American Counseling Association members, staff, and leaders containing information that adults seeking referrals for conversion therapy should know. The ACA maintains that conversion therapy is a "religious, not psychologically-based practice," that research shows no support for its success, and that some clients exit the therapy reportedly functioning more poorly than when they began.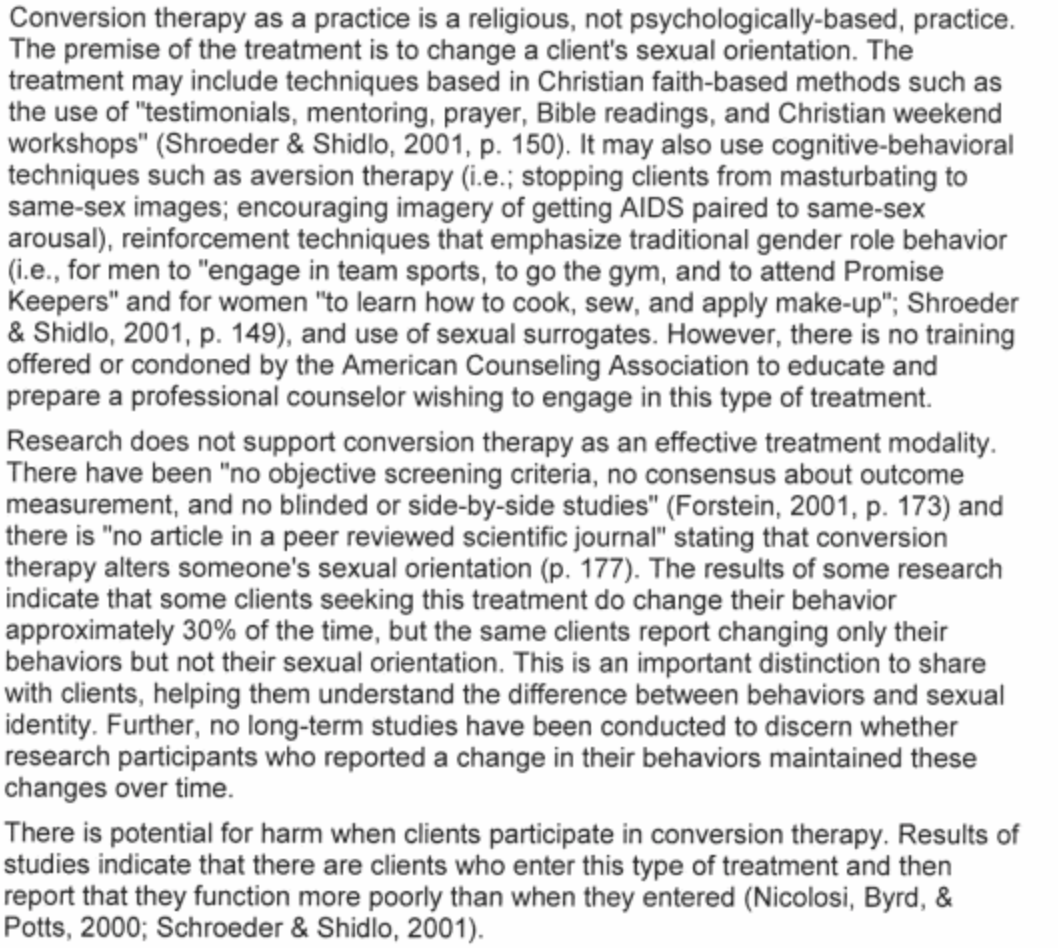 Adults can consent to the therapy after being informed of these risks, but minors can not. Most bills seeking to protect LGBTQ+ youth from these risks all short because of religious liberty groups, difficulties defining the practice, and potential ethical implications. These continue to be major roadblocks for lawmakers seeking to ban conversion therapy on minors.
Read the workgroup minutes embedded below, and the rest of the records on the request page.
Image by Tim Evanson via Wikimedia Commons and is licensed under CC BY-SA 2.0