Protecting LGBTQ+ Youth from Conversion Therapy
Conversion Therapy is built on the idea that being gay or trans is abnormal and must be "cured." The harmful practice is unregulated and performed without consent on LGBTQ+ youth across the country by religious advisors and licensed healthcare professionals. There are currently 698,000 LGBTQ+ adults in the U.S. that have gone through conversion therapy, 350,000 of which were children at the time of treatment.
"Protecting LGBTQ+ Youth from Conversion Therapy" seeks to use public records to gain a better understanding of the conversion therapy industry, governmental involvement in the practice and the scope of its harm on LGBTQ+ youth.
A January 2018 study by the Williams Institute at UCLA School of Law estimated that 20,000 LGBTQ+ youth between the ages 13 and 17 will undergo conversion therapy from a licensed healthcare professional before the age of 18. The study estimated that another 57,000 youth would receive conversion therapy from a religious or spiritual advisor. The Williams Institute study found that roughly 698,000 LGBTQ+ adults in the U.S. have gone through conversion therapy and 350,000 of them were children at the time of treatment. Though the issue is under-researched and public discourse on the subject is limited, there are vocal political proponents.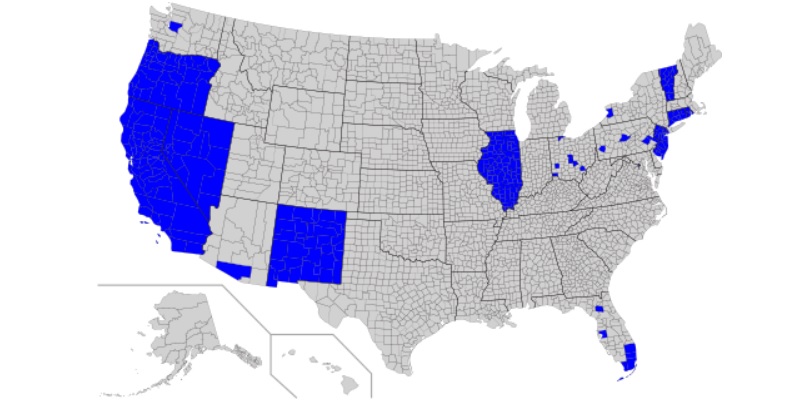 Blue = U.S. cities and counties that have bans on sexual orientation and gender identity change efforts with minors.
Image via Wikimedia Commons and is licensed under CC BY-SA 3.0
This investigation will involve locating and investigating private organizations that perform conversion therapy on minors, examining their incorporation documents and any public grants they may have received, finding potential governmental ties to "ex-gay" organizations through donations or communications, and finding consumer fraud lawsuits or FTC complaints made against organizations offering the treatment.
Using public records to understand conversion therapy uncovers a number of transparency issues. Aside from the lack of solid research, a large number of practitioners offer the services in private, in the name of ministries or religious denominations. It goes by many different names, making requests for information difficult. Many practitioners create their own unfounded methods. Also, many reports come first-hand from survivors of the versions of the treatment.
By fighting for more transparency we can gain a better understanding of the legislative, scientific and social repercussions of conversion therapy, informing future choices judicially and individually, and in the process, protecting children from harassment, shame, and abuse.
Image by Levi Saunders via Unsplash