Post Sunshine Week, we're not slowing down, launching some major new features plus updating some of the ones that were launched last week. Read on for details plus how you can help us get even better.
For past site updates, check out all of MuckRock's release notes.
What's new on MuckRock
See where your request is going
Now you can see how your request or follow up is being sent, and if you're a Pro or Organizational user you can flag your request to be sent to another contact.
Our goal has always been to make requesting as simple as possible: Whether a request needs to be mailed, faxed, or submitted through a portal isn't something you should have to worry about, and we update hundreds of agencies each month with better contact information to make sure requests are getting to the right place.
But sometimes an agency will CC another staffer on a request, or ask you to forward your request somewhere specific. Traditionally, you've had to use the "Get Help" button to make sure things are getting sent precisely there, but we wanted to make that process even smoother.
Now, on the bottom of the second filing page and on any request follow up area, you'll see a text link: "See where this request will be sent." Click it and it will show you whether it will be sent via email, mail, fax or through an agency's portal.
Pro and Organizational users get more information …

and more options, including the ability to override our contacts and choose another contact from the request thread or suggest an entirely new contact. We manually review these requests to make sure things stay on track, but this should make it much easier to know that you're request is getting where it needs to, particularly for advanced users.

We're continuing to improve and refine this feature, so let us know what you think and future improvements you'd like to see.
Bulk add request documents to an Assignment
Last week we launched our new Assignments feature, that lets you crowdsource questions you have about documents you've received, whether through a MuckRock request or documents you've posted to DocumentCloud.
Now we've made it easier to get FOIA'd documents into an Assignment.
Create a new Assignment (available to Pro and Organizational users), but when you've got it how you want it, save it as a draft instead of starting it.
Go into the request list view and filter to the requests you want to crowdsource. Select them either one-at-a-time or using the select all tick box at the top.
Use the bulk action tool and select "Add requests to assignment," type in your Assignments name (remember, it only works for draft Assignments) and then click "Go."
Start your assignment, share the link, and get the information you're looking for!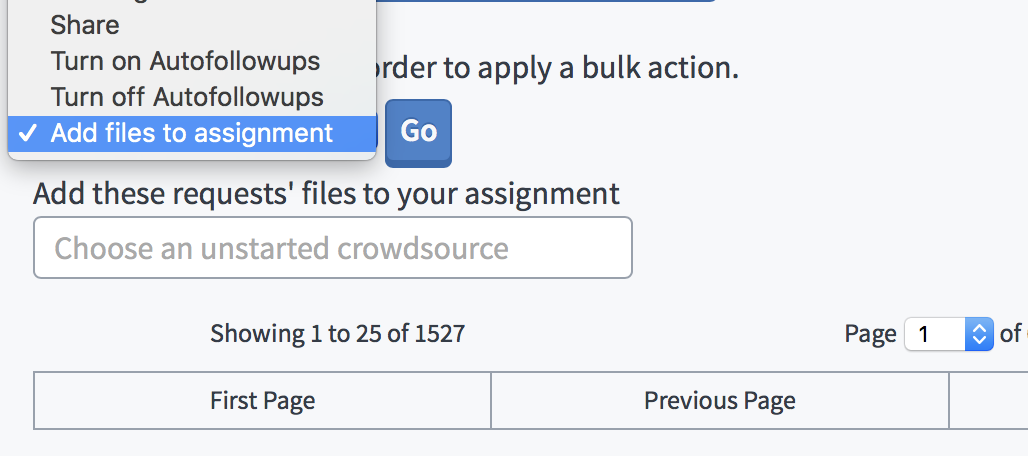 If you're looking for inspiration, check out how other people are using Assignments, and read more background on the new feature).
A typo meant that Wyoming was replaced by a second West Virginia when we launched our overview of public records laws. Wyoming is back in its proper place, and we've made a number of other updates and edits to our state public records guides, so if you suggestions to keep improving please let us know!
Improved Assignment Formatting
We've also made assignments easier to respond to for many of our readers. If you're on a screen with a relatively large size, it will now show you the questions and document side-by-side. Huge thanks to former MuckRocker Allan Lasser for the fix!
There are lots of other ways to contribute. If you find a bug you can email us directly or open an issue.
If you do the latter, please search open issues first to make sure it hasn't already been reported. If it has been reported previously, please leave an additional comment letting us know it's an issue for you, particularly if you can provide more details about when it crops up or what you think is causing the problem.
For those who want to contribute design, code, or otherwise more directly to the site, we have a developer channel on the MuckRock Slack. We're also part of Code for Boston's weekly hack nights, which take place Tuesday evenings in Kendall Square. We might not make it to every one of them, so if you want to meet up there it's a good idea to check in on Slack first. We will be at tomorrow's event, barring any last-minute emergencies.
In particular, we're looking for designers who are interested in helping us find ways to make all of our tools and data more accessible and more fun to use. We've got a relatively simple front end stack, so if you're interested in helping hundreds of thousands of people better understand public records and the importance of transparency, please get in touch!
---
Image via Wikimedia Commons