Files recently released to MuckRock include the transcripts of phone calls the Central Intelligence Agency received from Federal Bureau of Investigation and the Washington Metropolitan Police Department in the immediate aftermath of the Watergate arrests. Previously unavailable, the only apparent reference to the tape is Congress' request for a copy of it. According to the request, "it is not known what is contained in the tape, but its importance is obvious."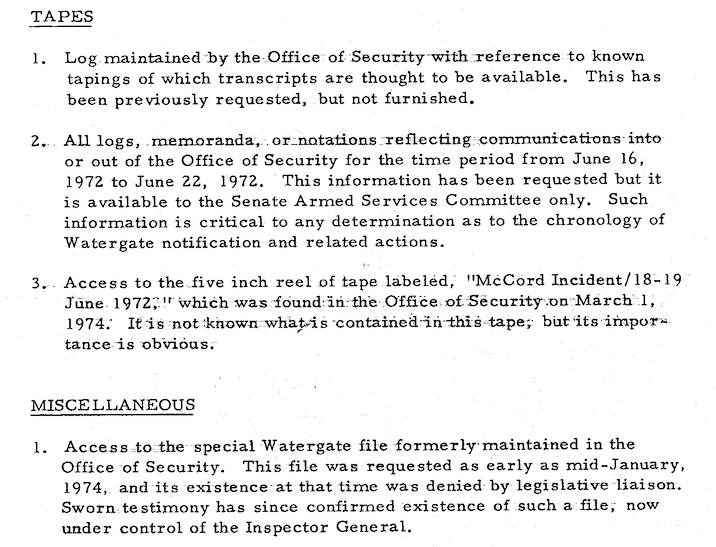 The transcript was included in a folder of "CIA Material Furnished to … [the] Senate Select Committee on Presidential Campaign Activities." The packet, previously unreleased, was provided to MuckRock due to portions discussing the primary subject of the request.

According to CIA's memo accompanying the transcripts, the tape contained two conversations: one between an unnamed FBI official and Howard Osborn, CIA's Director of Security and the other between an unknown CIA security and a Washington MPD official. The memo states that "the transcripts believed to have already been made available or in the public domain."
While the raw information in the transcripts is already known - who was arrested, what they had with them at the time, etc. - the transcripts do shine a light on the degree and specificity of CIA's information at the earliest stages of the Watergate affair.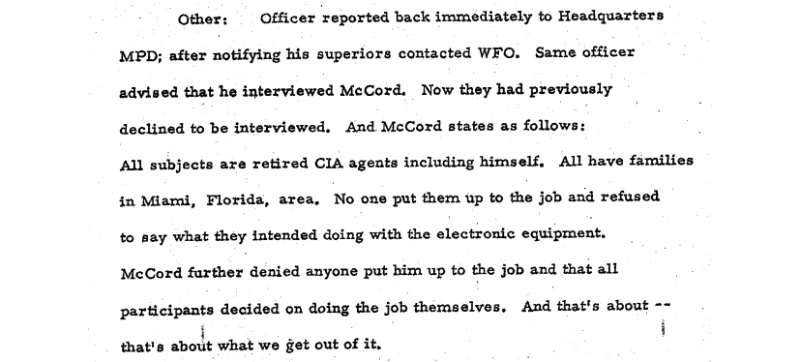 Curiously, the transcript with the MPD refers to an attorney named "Lafferty," which seems to be a misunderstanding of the attorney Joseph Rafferty, who was brought in on the issue of bond. According to Douglas Caddy, the original lawyer for the Watergate burglars, Rafferty became involved after Caddy "telephoned Robert M. Scott, the partner of the law firm who in the past had worked with me on Hunt's personal legal affairs" and Scott spoke with his nephew who arranged an introduction to Rafferty, a criminal defense attorney. According to Caddy, Rafferty's involvement was brief.

You can read the transcripts below, and find out for yourself what CIA knew and when they knew it - at least for when it comes to Watergate.
---
Image via National Archives