A Wyoming county contract for phone services at the local jail is currently being withheld from disclosure due to a provision included by the company, ICSolutions, that labels the document a "trade secret" and, thus, nonreleasable under the state public records law.
The condition, however, sets up a conflict between two elements of the Wyoming Public Records Act, the one that clearly identifies contracts as an official public record, generally available to the public …

and the one making a specific exemption for "trade secrets," information unique to the company that, if disclosed, could harm its business interests.

The denial also highlights the limitations of the Wyoming Public Records Act, which provides no clear administrative appeal options; if public materials are denied to a requester, the only option that person has for compelling disclosure is court action. Many other states provide for some local adjudication or a state-level body to help manage disclosure disputes.
In this particular instance, though, the only avenue before a lawsuit is to get in touch with the company itself. MuckRock submitted an email two weeks ago that has yet to receive any response and is currently awaiting feedback on another request for the contract made via the company's customer service call center.
The request for the contract was made as part of a nationwide survey to ascertain the agreements by which prisons are providing inmates access to communication services. Many of these contracts include commissions for the local police department itself - sometimes as high as 70 to 80% - that drive up the costs for prisoners and their families while generating revenue for the facilities themselves.
Another contract between ICSolutions - which is a division of prison products giant Keefe Group - and Butte County Sheriff in California sets the commission at 83.2% per phone call and a guarantee of at least $300,000 a year in revenue from prison phone calls.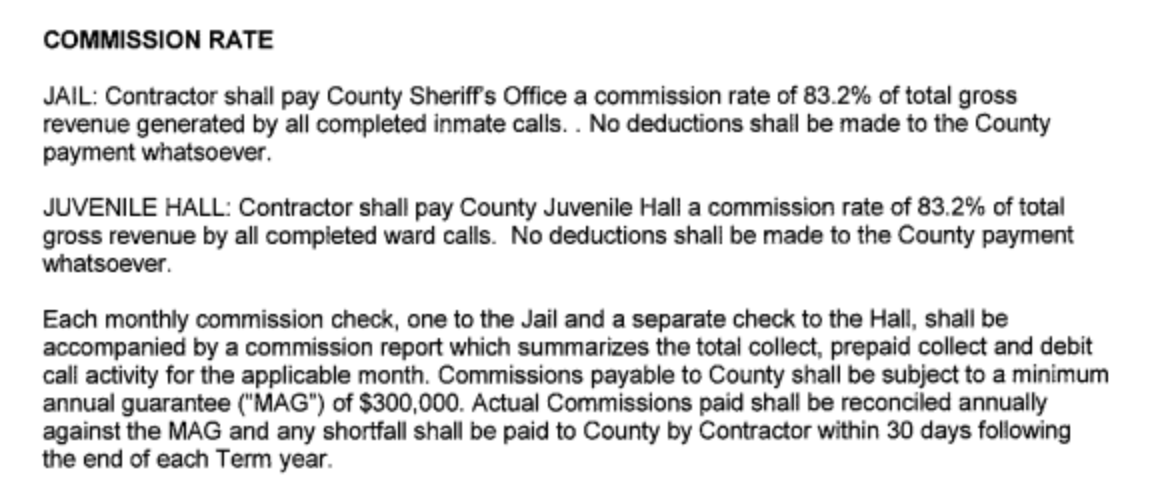 In Wyoming, for comparison, the contract held by Lincoln County Sheriff's Office with the Wisconsin-based TurnKey Corrections, lacks a "trade secrets" clause and was quickly released by the Department, revealing that they receive a quarter of the sales generated through phone services.

MuckRock will continue to follow up with the Sheriff's Offices in Wyoming and across the country. Follow along via project page.
---
Image via Laramie County Sheriff's Office Facebook