Last Monday, the Supreme Court prevented release of government spending data to a South Dakota newspaper, handing down a ruling that is expected to limit the public's understanding of how tax dollars are spent in the private sector.
"It could have a lot of implications for a lot of different categories of information that the community wants, particularly if government is relying more and more on the private sector to essentially outsource its obligations," said Alexander Abdo, litigation director at the Knight First Amendment Institute. In particular, the government's growing adoption of automated decision-making software and its use of contracted services could become even more opaque in the aftermath of the ruling.
However, taking into consideration FOIA legislation passed in 2016 and the actual text of the law, the lower courts and Congress could mitigate some effects of the 6-3 Food Marketing Institute v. Argus Leader Media decision.
"This is very much a textualist decision, based on the text of FOIA, and the Supreme Court ignored a lot of legislative history to reach this decision," said Cortelyou Kenney, Assistant Director of Cornell Law School's First Amendment Clinic. "It didn't even address it in the opinion, or barely addressed it. I think the court is saying basically the text of FOIA is what matters."

The Supreme Court's finding determined store-level data on Supplemental Nutrition Assistance Program payments had been reasonably withheld in response to a 2011 FOIA request from the Argus Leader, propping up commercial privacy under Exemption 4 of the Freedom of Information Act.
"At least where commercial or financial information is both customarily and actually treated as private by its owner and provided to the government under an assurance of privacy, the information is 'confidential' within the meaning of Exemption 4,'" wrote Justice Neil Gorsuch in the majority opinion.
But given that the relevant FOIA request was filed and processed prior to passage of the FOIA Improvement Act of 2016, Kenney said the decision should appropriately affect only a few pending federal court FOIA cases. The First Amendment Clinic's amicus brief, filed in favor of the Eight Circuit Court's decision to release the data, identified nine pending federal court cases as subject to the decision's effect.
"[The decision] didn't include any mention of the 2016 FOIA amendments, so it's possible that [lower and circuit] courts could misinterpret it and take it more broadly than it means. We certainly hope that's not the case," Kenney said. "The [Supreme] Court has told us clearly to look at the text of FOIA. The text of FOIA was amended in 2016 and now clearly reflects a commitment to a foreseeable harm standard."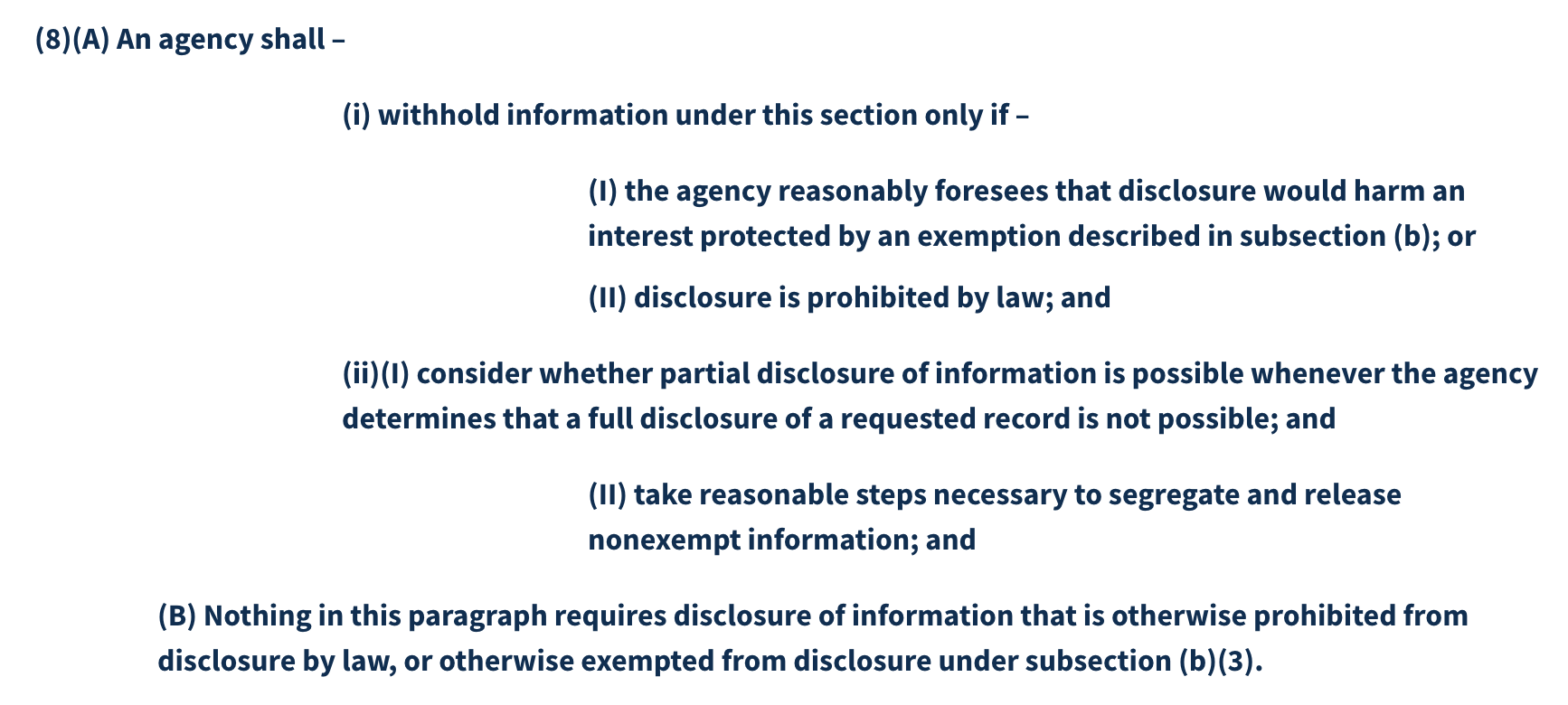 Transparency advocates, as well as the Department of Justice, say that standard, which applies an assumption of disclosure unless "foreseeable harm" may befall an involved entity, was importantly codified in the FOIA Improvement Act. The Supreme Court decision, penned by Gorsuch, didn't address that legislation or how it should apply to new FOIA challenges, leaving other courts flexibility in how broadly or narrowly they interpret the threshold of potential harm.
"Basically, the Supreme Court has kicked this back to the lower courts and the circuit courts, and it's highly possible that there will be confusion among agencies, and we don't know how the DOJ is going to interpret this decision, so we don't know what guidance the DOJ is going to be providing to the agencies," Kenney said.
Further Congressional action would be one way to address concerns that commercial interests will be allowed to trump the public interest.
"People propose that Congress should foreclose the government from assuring confidentiality, at least in some contexts," said Abdo. "It could also just amend exemption 4 itself to undo this interpretation of it. Congress could say, 'No, what we meant is information, which, if turned over, would cause harm that would outweigh the public benefit to its disclosure.'"
Abdo is skeptical Congress will move to act on additional amendments that would not be considered "business friendly," though some legislators have come out against recent changes in agency FOIA policy and the high court's ruling.
"I am an advocate for the FOIA and the public's business being public, and this Supreme Court decision inhibited that," Senator Chuck Grassley (R-IA) said on the Senate floor last Thursday, also criticizing recent changes to FOIA regulations at the Department of the Interior and the Environmental Protection Agency. "I'm working on legislation to address these developments and to promote access to government records. Americans deserve an accountable government and transparency leads to accountability."
You can read the Food Marketing Institute v. Argus Leader Media ruling embedded below.
---
Image by Daderot via Wikimedia Commons