Amid #metoo stories and Hollywood's women coalescing around a fight against sexual assault and harassment in the workplace, there's finally some good news: President Donald Trump has signed the SAFER (Sexual Assault Forensic Evidence Reporting) Act of 2017. In doing so, Trump reauthorized the original SAFER Act of 2013, extending and strengthening efforts to eliminate the nationwide rape kit backlog.
"The SAFER Act of 2017 helps victims attain justice and aids law enforcement in bringing perpetrators to justice." said said Rebecca O'Connor, RAINN's Vice President of Public Policy, in a press release.
The bipartisan legislation was introduced by U.S. Senators Dean Heller (R-NV), John Cornyn (R-TX), Amy Klobuchar (D-MN), and Michael Bennet (D-CO).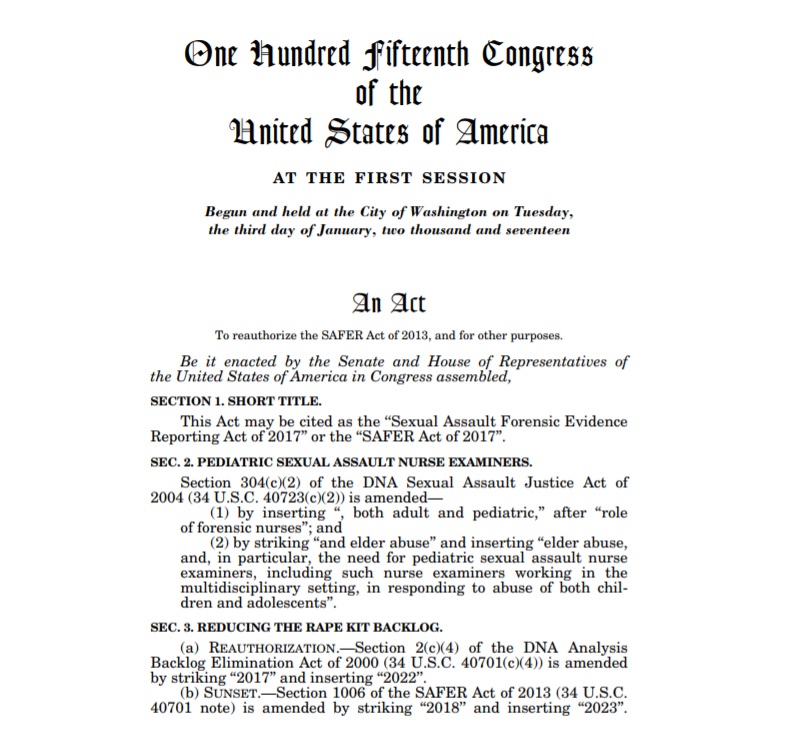 In August, we wrote about a 140-page document released by the government that listed best practices for law enforcement and medical professionals to take in the aftermath of a sexual assault. While it was notably unenforceable, it did present a first: Never before had the government released a set of guidelines for treating sexual assault victims and preserving crucial DNA evidence. While the suggestions in this document still remain enforceable, this new legislation reestablishes funding to crime labs. It also addresses the startling lack of pediatric sexual assault forensic nurse examiners by directing more resources toward training them.
"Victims of sexual assault shouldn't have to live in fear while evidence that could bring their attackers to justice goes untested," said Cornyn in a press release. "This law will assist in the efforts of our state and local law enforcement agencies to reduce the backlog of untested rape kits so survivors can get the justice and closure they deserve."
Read the full best practices report embedded below:
Want to get involved? Add your town to our project via the form below, and we'll submit a request to your local law enforcement.
---
Image via Wikimedia Commons