This past week we didn't push out much new user-facing functionality as we continue to push backend improvements. We did make a small tweak to where Projects are displayed, so I thought it might be a good chance to highlight some of the features you might have missed related to projects.
MuckRock Projects can help you organize FOIA projects, raise funding for original reporting, and make the most of your MuckRock account.
For past site updates, check out all of MuckRock's release notes.
What's new on MuckRock
Making the most of Projects
It was pretty early on that we started looking for better ways to manage large request projects. For times when tags just don't quite cut it, MuckRock offers a free tool called Projects to help keep things organized, particularly if you're working with a team or want a nice looking showcase for your requests.
You can check out a mix of staff and user-generated ones on the Projects overview page: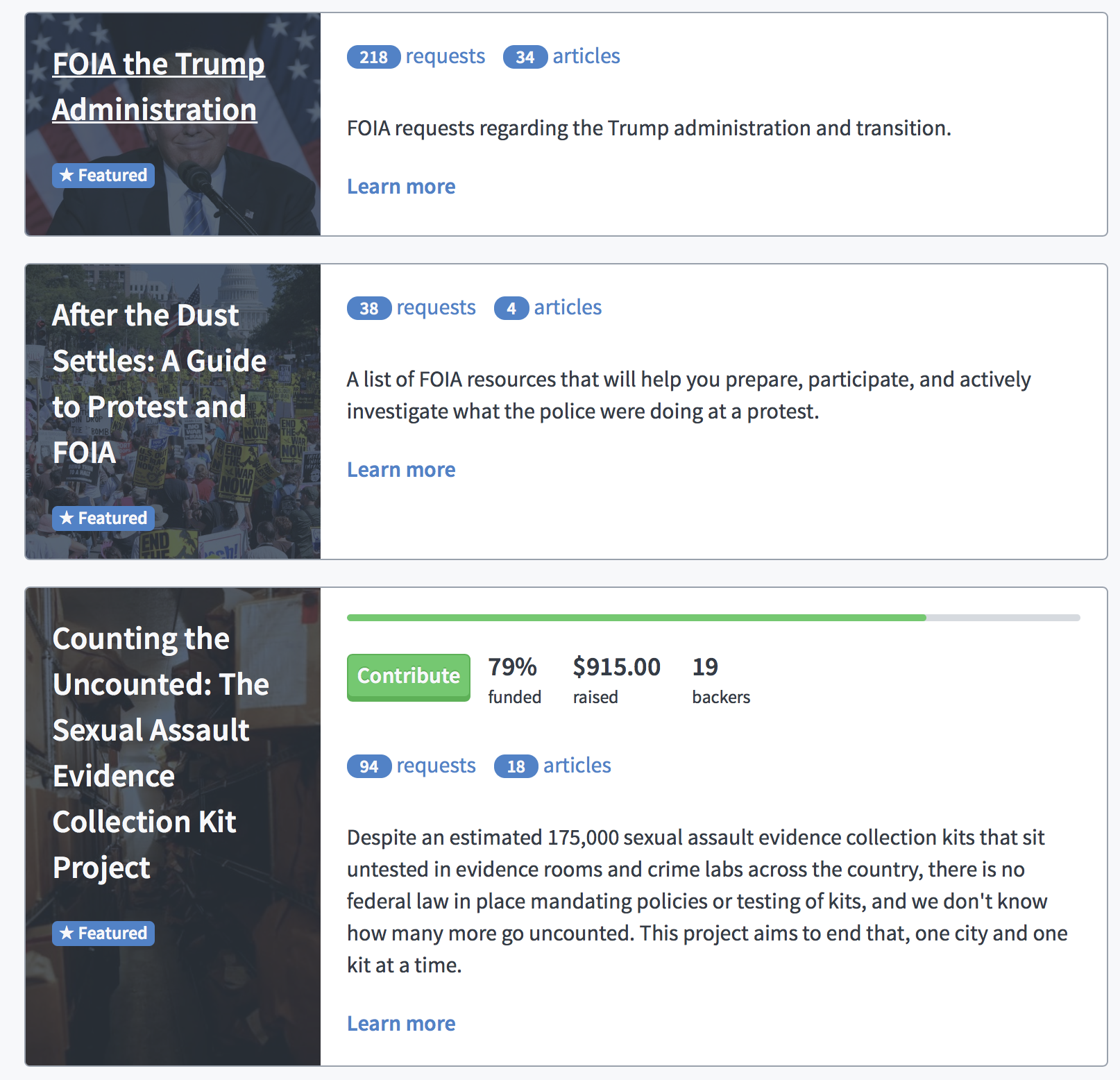 By default, Projects are private, and only people you specifically invite to see them can view them. If you'd like to showcase your work to the world, you can submit it for review and publishing. Once it's public, request pages that are part of the project will include a little card on the left-hand side linking people back to the full work, which is a great way to help people explore the full scope of a complex investigation.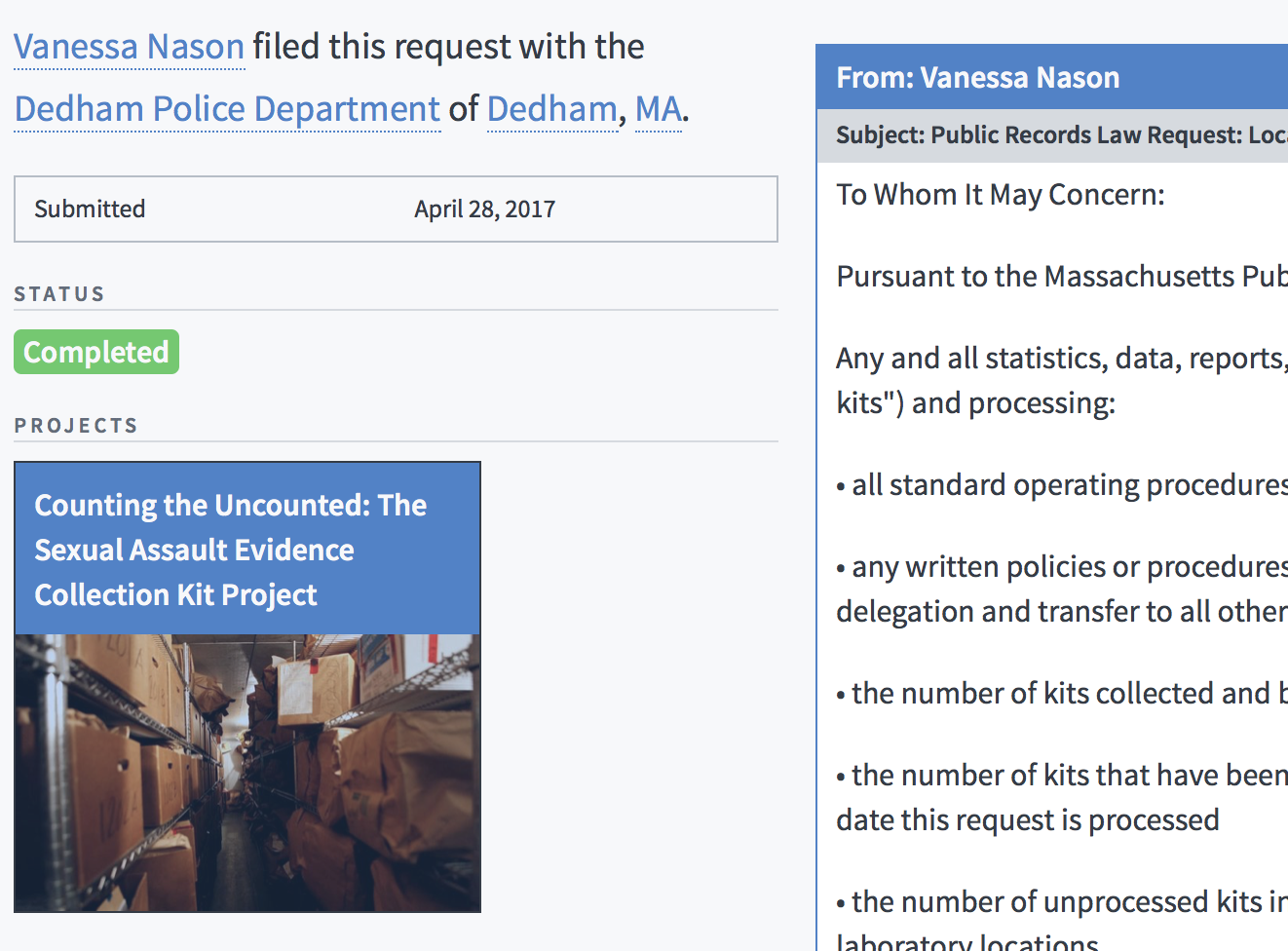 Once a Project is public, we can also configure it to let people more easily subscribe to get updates from you about how it's going, embedding a newsletter sign up form on every request page associated with that project as well as the project's page itself:

You can also set up crowdfunding to support your ongoing work on that project, including either setting a specific goal and end date for fundraising or leaving it open. If you leave it open, you can allow recurring donations, and it automatically highlights your backers right in the widget: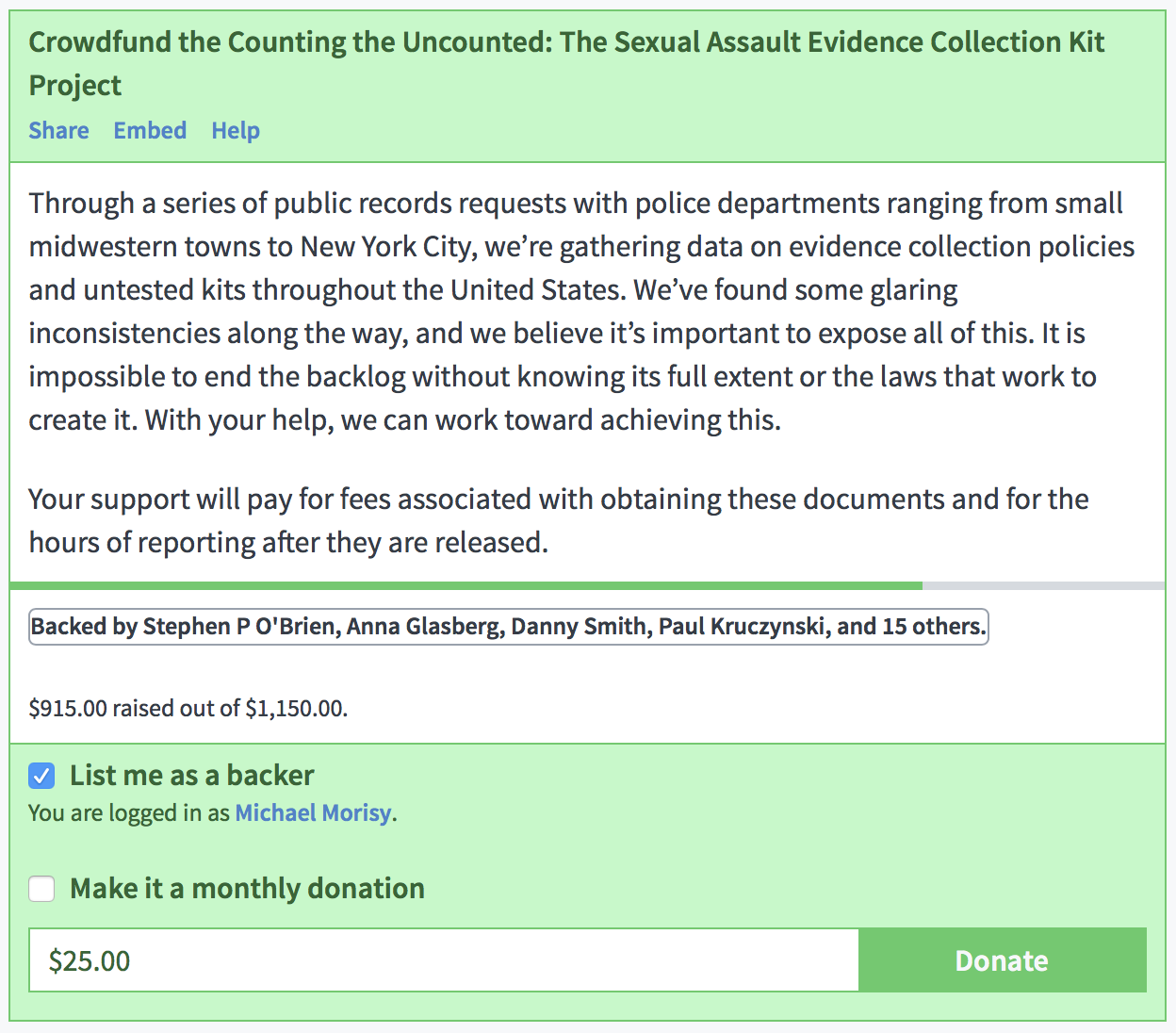 You can even embed that widget on your website. Read our advice from successful crowdfunding campaigns to get ideas for strategies that can work for you.
Projects are also really useful when paired with our advanced filtering tools.
We're continuing to roll out improvements, so please check out existing projects or try creating one yourself. We'd love to hear what you think.
Help build a better MuckRock: Volunteer designers wanted!
MuckRock is open source. That means anyone can freely inspect, modify, and reuse our code, and it also means you can help us continue to improve the sites (they're actually built on the same codebase!). Open issues are all listed on GitHub. If you find a bug you can email us directly or open an issue.
If you do the latter, please search open issues first to make sure it hasn't already been reported. If it has been reported previously, please leave an additional comment letting us know it's an issue for you, particularly if you can provide more details about when it crops up or what you think is causing the problem.
For those who want to contribute design, code, or otherwise more directly to the site, we have a developer channel on the MuckRock Slack. We're also part of Code for Boston's weekly hack nights, which take place Tuesday evenings in Kendall Square. We might not make it to every one of them, so if you want to meet up there it's a good idea to check in on Slack first. We will be at tomorrow's event, barring any last-minute emergencies.
In particular, we're looking for designers who are interested in helping us find ways to make our tools and data more accessible and more fun to use. We've got a relatively simple front end stack, so if you're interested in helping hundreds of thousands of people better understand public records and the importance of transparency, please get in touch!
---
Image via Wikimedia Commons