In an earnings call earlier this month, the CEO of GEO Group, one of the world's largest private prison companies, had a sunny projection to present to shareholders.
"We are pleased with our second quarter operating results and with our forecast for the balance of the year, which reflects improving trends across our diversified business segments," George Zoley relayed to the assembled callers. "During the second quarter, we experienced higher utilization rates across our federal segment, which we expect to continue into the second half of the year."
GEO Group, along with fellow for-profit prison giant CoreCivic, has been experiencing a boost in the Trump era from policies seemingly set on removing from the free-moving population any and all undocumented migrants, regardless of actual criminal status or contribution to their communities. This has meant an increased need for beds to house the detained.
However, the elevated public profile and position of profits in the ecosystem of immigration enforcement has also meant heightened activity from activists opposed to the corporate hand having anything to do with our carceral state. Earlier this month, on the same day that GEO Group execs held the Second Quarter earnings call with shareholders, the company issued a Cease and Desist order to the group Dream Defenders, in part a response to its organizing a day of action against the company.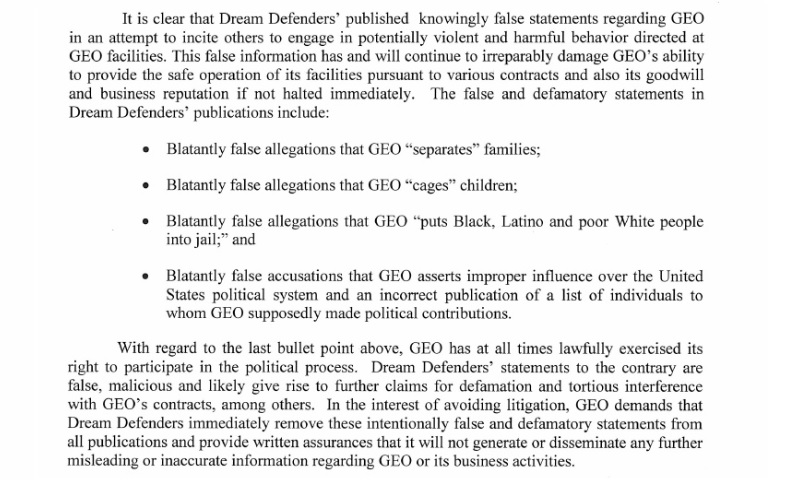 "[I] would like to briefly address the recent coverage of integration policies and separation of families. To be clear, our Company does not manage any facility that house unaccompanied minors nor has our Company ever provided transportation or any of these services for that purpose," Zoley told the call.
"For the last three decades, our Company has managed ICE processing centers providing services for adults in the care of federal authorities under both Democratic and Republican administrations. We have also managed the Karnes family residential center, which has cared exclusively for mothers together with their children since 2014 when it was established by the Obama administration. GEO ICE facilities are under constant operational scrutiny by on-site ICE monitors and special inspections by federal agencies and crediting organizations."
While it is certainly true that GEO Group has been operating private facilities for both political parties over the last three decades, the reliance on ICE monitors to substantiate claims of safety is a bit flawed across both public and private facilities; earlier this summer, the Department of Homeland Security's Office of the Inspector General released a report criticizing the effectiveness of all of ICE's facility inspection methods.
The call also detailed the ways in which the current political atmosphere is helping to fill idled beds and generate new business.
The contract for the Folkston ICE Processing Center in Georgia has been modified to add 338 beds. "This contract modification took effect this past month and it is indicative of our ability to respond quickly to the evolving needs of our government partners," according to the company representative.

A new 1,000-bed ICE processing center in Montgomery County, Texas is scheduled to open in September of this year and is part of a 10-year contract with ICE.

The Aurora ICE Processing Center was expanded to add 128 beds, increasing the total ICE contract capacity to 976 beds.

The two-year contract for the State of Idaho for approximately 670 out-of-state beds. "This represents an expansion and extension of the emergency agreement we had entered into earlier this year to house 250 Idaho inmates at our Karnes Correctional Center in Texas."

In California, they entered into five-year contract renewals for four company-owned correctional facilities.

In Oklahoma, they entered into a five-year contract for continued operation of the 2,682 bed Lawton Correctional Facility.

In Virginia, GEO entered into a 15-year contract for the Lawrenceville Correctional Center.
GEO Group's activities aren't limited to detention facilities. They also promote their GEO Continuum of Care programs, which are now active in 18 facilities, their reentry and youth detention services, in addition to their BI Electronic Monitoring equipment, demand for which has also increased as immigration officials have encountered a dearth of available beds.
MuckRock is continuing to follow private prison contracts and operations around the country. Know of a development we might have missed? Let us know via the form below.
Image by Eflatmajor7th via Wikimedia Commons and is licensed under CC BY-SA 3.0