Playboy magazine was founded just a few years after Central Intelligence Agency (CIA), and together, those two institutions left their mark on the 20th century, for better and for much, much worse. To mark Hugh Hefner's passing, we dug up those times those two overlapped in the Agency's declassified archives.
The Agency kept a copy of the November 1972 interview with the investigative journalist and rumored spy as part of a file on Anderson's reporting that the State Department was ignoring the CIA's recommendations in Asia.
Unsurprisingly, the Agency was pretty interested in the New Orleans District Attorney (and future Oliver Stone darling)'s October 1967 allegations that JFK was assassinated by a disgruntled group of ex-CIA employees.
In July 1978, just a few years after his behavior during the Agency's 1975 crisis left him a persona non grata in the intelligence community, the former CIA Director sat down for an explosive tell-all in which nothing exploded and very little was told. It's like they say - █████'s thicker than water.
In January 1967 - five years after the Cuban Missile Crisis - the "bellicose dictator," as the magazine put it, chatted with the magazine about his side of the story, as well as to air a few grievances about the whole "trying to kill him" thing. Pretty easy to imagine the CIA being the first at the newsstand that morning.
1. Okay, sometimes they just like to look at the pictures …
While a few photos did manage to arouse the Agency's interest, they're not quite what you would think. For starters, there's this bizarre picture of cop eggs …
a spooky hand with a spooky knife …
and, a personal favorite, this comic strip, which no doubt graced the Agency's break room fridge for years.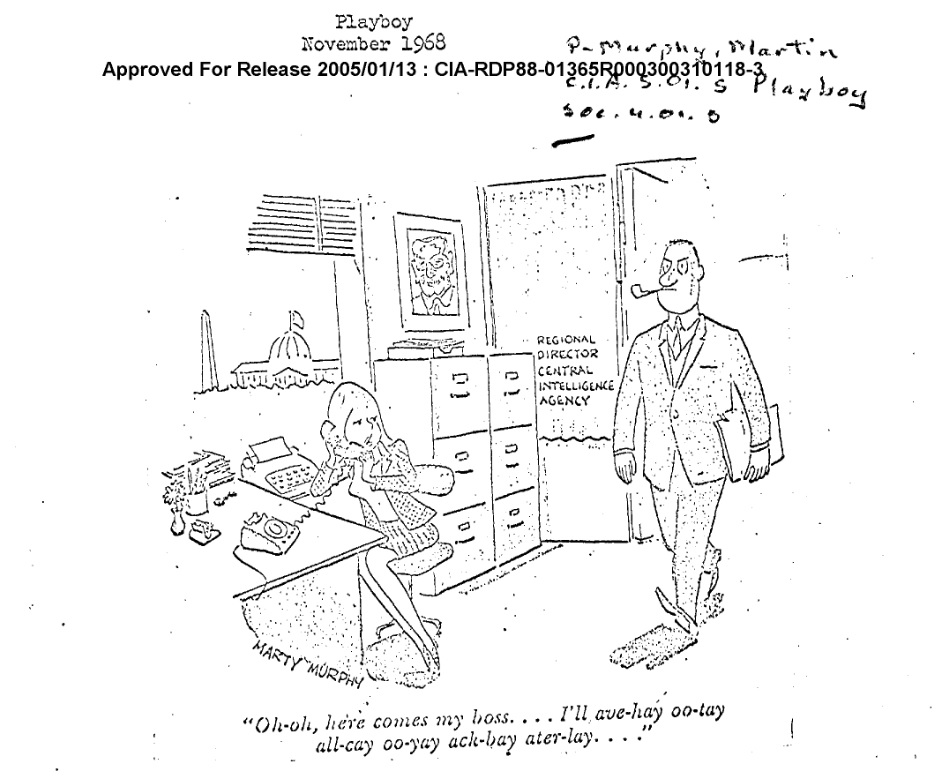 What'd you expect? If you're looking for something a tad racier, go read Hunter S. Thompson's FBI file.
---
Image via Playboy