The War on Drugs is creeping up on half-a-century old, and the scourge of addiction and abuse isn't much closer to being reigned in, regardless of its most popularly-prescribed treatment: carceral punishment. Government efforts have shifted in the last few decades, as have consumers preferred substances, and today the term"opioid crisis" is practically a household turn-of-phrase, the brand names OxyContin and Percocet basically synonymous in rural areas with a debilitating corruption of any sort of functional life, despite their intended purpose as painkillers for the medically ailing.
Thirty years ago, the leading cause of drug-related fatalities was phencyclidine - more commonly known as PCP - according to a report from 1987 collected in CIA's CREST database.

The report was issued by the National Narcotics Intelligence Consumers Committee (NNICC), which at one time consisted of 12 federal agencies dealing with the use and distribution of illegal drugs.

In it, the NNICC writes that, while pharmaceuticals are a notable chunk of illicit drug use …

it appeared as though the abuse of prescription opioids had leveled off …

representing a less substantial threat to the public health than the hallucinatory threats conjured up by a mind on PCP.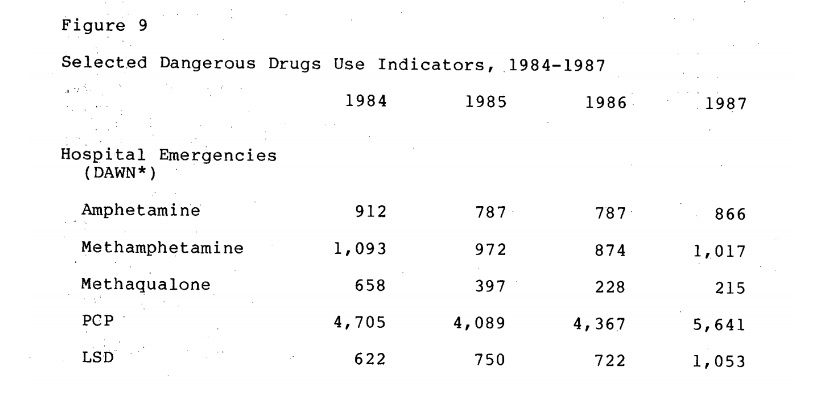 Today, however, heroin and opiate-related substances, like morphine and hydrocodone-based medicines, comprise approximately 61% of all drug-related deaths, and the primary manufacturers of commonly-prescribed versions are attempting to mitigate the damage being wrought by misleading prescription practices. A recent report from the National Sheriff's Association, done in collaboration with Purdue Pharma, highlighted the concern that tighter borders would cause supplies of heroin to drop, suggesting that abuse of alternatives might rise in its stead.
MuckRock will be following up with the agencies involved in the Sheriff's Association and Purdue Pharma program. Have tips or experiences you'd like to share? Let us know at info@muckrock.com
Read the full report embedded below.
---
Image via Moody Air Force Base