Over the last year, Breitbart's former ethno-nationalist troll-provocateur got into a big bus with his face on it and traveled around the country to speak at college campuses. After his ousting from Breitbart, I began requesting documents relating to Milo Yiannopoulos's speaking tour.
I was curious to know how much these college Republicans were shelling out to have him come to their campus to berate trans students, or what sorts of riders were attached to his appearance? Instead, I got a larger understanding of the few super-rich individuals funding a conservative movement.
In May 2016, Yiannopoulos joked on his Facebook about his speaking fee: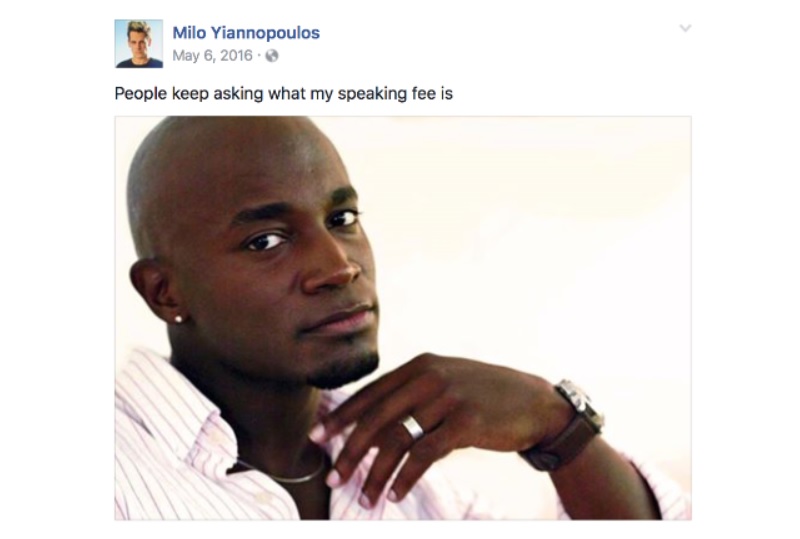 As it turns out, despite his constant objectification of black men - which he often cites as a reason why he's not racist - his speaking fee is actually $0.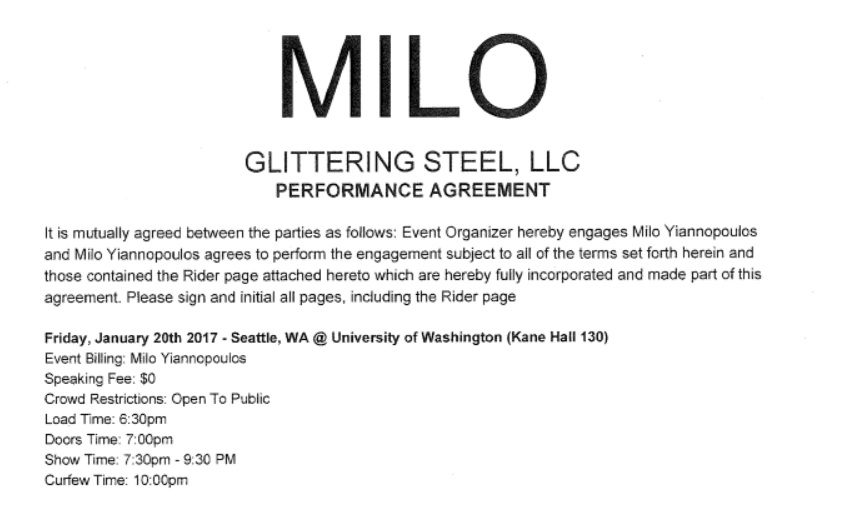 So who funds this endeavor? Who pays for a team of young men to travel the country in a tour bus? The answer resides in the organization behind the tour. Glittering Steel, LLC is a small production company located at the same address in Beverly Hills as Breitbart News and a number of other companies owned and supported by Trump-supporting Hedge funder Robert Mercer.
Glittering Steel reportedly made a few small campaign ads for the Trump and Cruz campaigns and has received $950,090 from the super PAC "Make America Number 1," according to FEC filings compiled by reporter Grant Stern. "Make America Number 1," which employed both Steve Bannon and Kellyanne Conway at various points during the election cycle, received $15 million of Robert Mercer's disclosed $22 million made in donations during the 2015-2016 primaries and election. Mercer also invested $10 million in Breitbart News, Yiannopoulos's former employer.
So now we can add "Toxic College Speaking Tour" to the list of things, along with a presidency and far-right media outlet, that Robert Mercer's super PAC has funded in the last few years.
Read the full document below embedded below, or on the request page.
---
Image via Flickr and is licensed under CC BY-ND 2.0