Andrew Carter Thornton II (ACT II) is a name unknown to most except as a piece of historical trivia - the man who fell from the sky in 1985 with millions of dollars of cocaine strapped to his body. To a few others, he's one of the men tied to a drug operation that was fueling and fueled by government corruption, whose roots were traced as far as the Kentucky Governor's mansion. But reality, revealed through his FBI file, is even stranger, tracing the corruption surrounding ACT II back to the CIA.

On the morning of September 11, 1985, ACT II's body was found with dried blood running from his mouth, wearing khaki colored clothes, black gloves and a "point-blank type" bullet-proof vest by Body Armour. ACT II had with him a Browning 9mm automatic pistol, a .22 caliber Derringer, night goggles, books with names and codes, thousands of dollars in cash, and six Krugerrands.
The most immediately significant pieces of evidence at the scene were the 35 one kilogram packages of cocaine.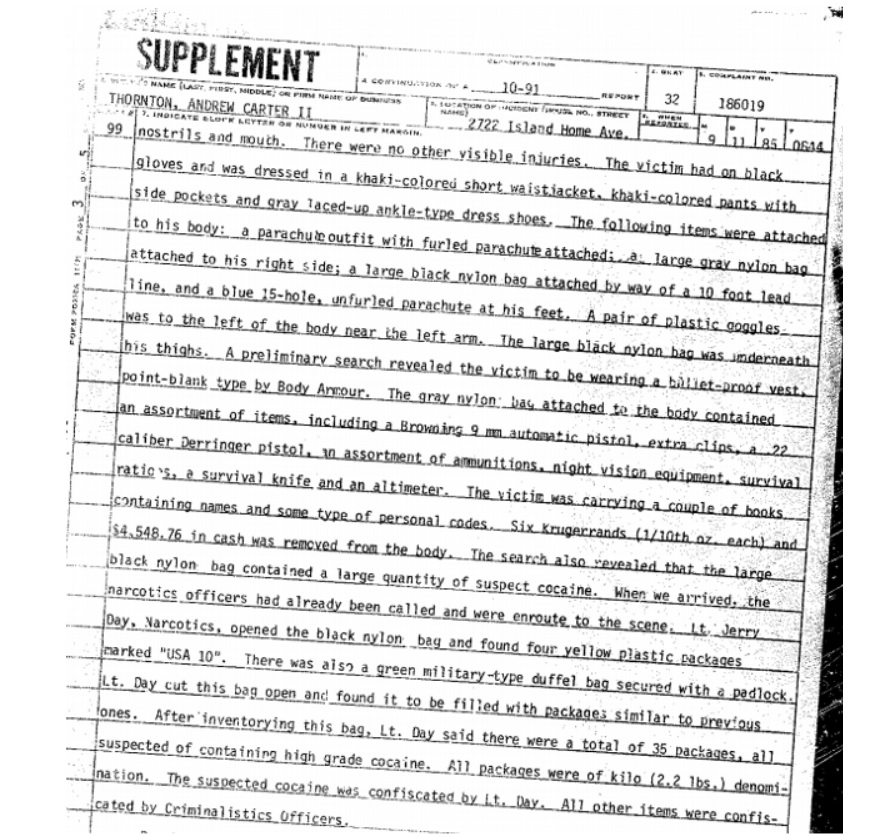 An examination of the body revealed that he had died 6 to 8 hours earlier, in the same place where his body was discovered. The police were soon notified by the Macon County Sheriff's office that a crashed Cessna 404 had been found nearby, with "no signs of any fatalities or survivors." Police connected the plane to ACT II, and his death was ruled an accident.
Later, Georgia Bureau of Investigations would use the flight-path of ACT II's drug-smuggling plane to solve the mystery of a black bear's apparent death by cocaine overdose.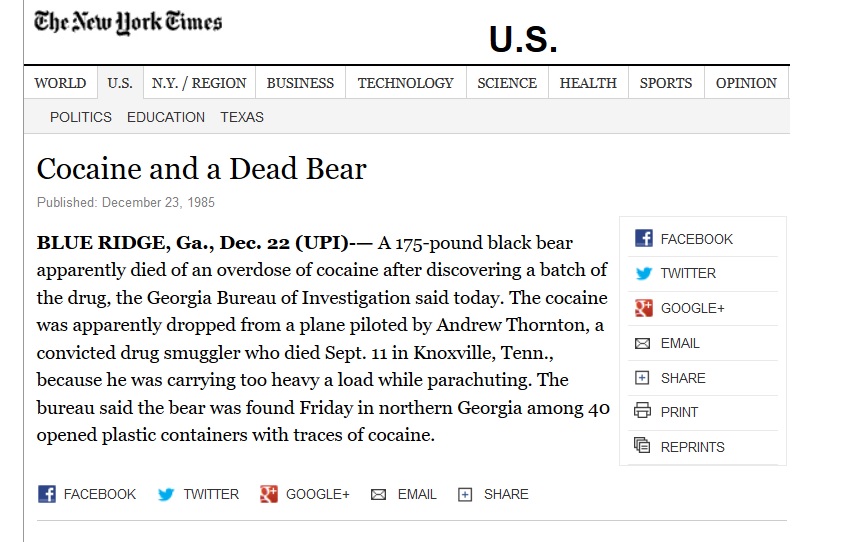 A curious note about ACT II's death was soon brought up during the investigation, however - he had deployed his back-up parachute, but not the main parachute. The main parachute was later located some distance away, indicating he had lost it while in freefall. An examination of both parachutes indicated they were of high quality, and neither had any "obvious flaws."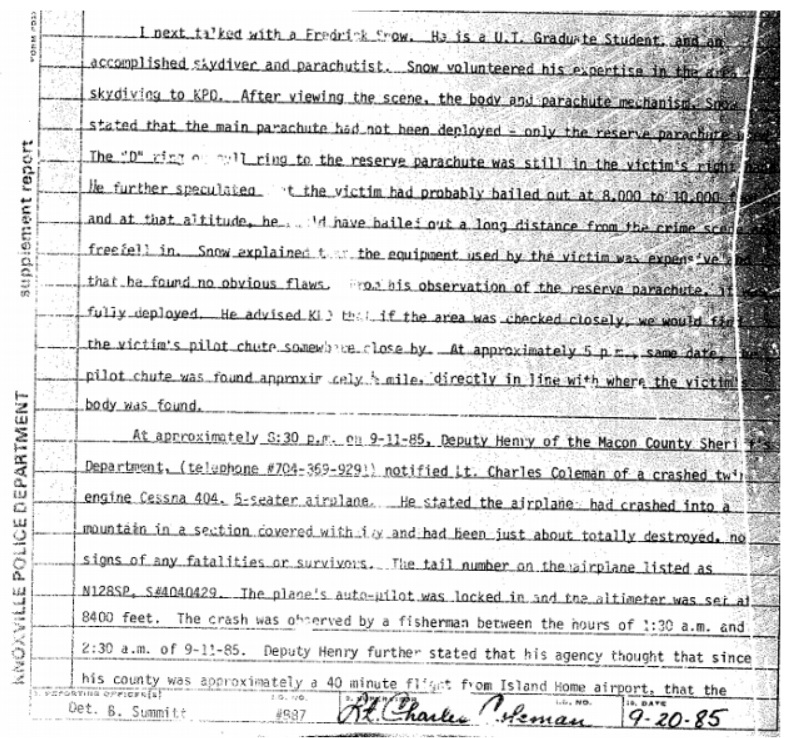 While the death of ACT II was quickly listed as an accident - despite the question of what happened that made him lose his primary parachute - it was clearly only the beginning of the investigation. ACT II was clearly part of a domestic drug trafficking operation, one which would ultimately connect him back to an operation known as The Company, which was tied to the Chagra Brothers. Jamiel "Jimmy" Chagra was one of the largest drug traffickers in the Western United States, and had commissioned the first assassination of a U.S. Federal judge in the 20th Century. Jimmy Chagra's criminal operation was so large that he personally managed to accumulate an FBI file just over 65,000 pages long.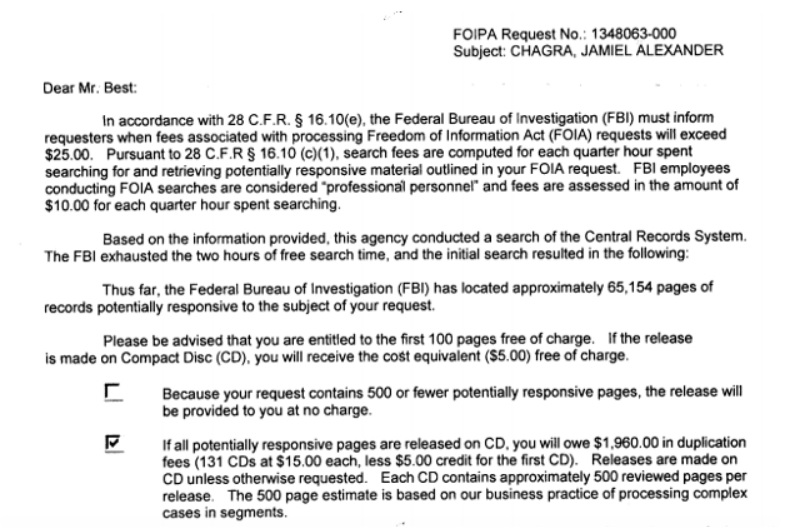 Chagra and ACT II's drug network would also lead to large-scale corruption within the DEA, Kentucky law enforcement, and even the Kentucky Governor's mansion. This has been extensively covered by Sally Denton's excellent book, The Bluegrass Conspiracy. The book also documented rumors of more meaningful connections, such as rumors that ACT II's drug operations were helping support the United States' covert operations in Nicaragua, El Salvador, and South Africa. Ralph Ross, the Lexington Officer investigating the case, became convinced that ACT II was involved in Oliver North's Iran-Contra network, which provided support to him through both CIA and DEA resources.
Direct links between ACT II and the Agency have been suspected and alleged since the 1980s, when ACT II and his associate Bradley F. Bryant, along with two dozen other men, stole weapons from the China Lake Naval Weapons Center. This theft was later linked to former CIA employees Edwin P. Wilson and Frank Terpil as part of the Arms for Libya controversy which Bryant later stated that they believed was authorized by CIA. The Arms for Libya controversy ultimately involved Thomas Clines and Theodore Shackley, also former CIA employees, and military officers such as Major General Secord and Colonel Oliver North. When arrested in connection with the scandal, Bryant had reportedly had a "listing [of] poisons used by the CIA and a book entitled: "The Top Secret Radio Frequencies of the U.S. Government."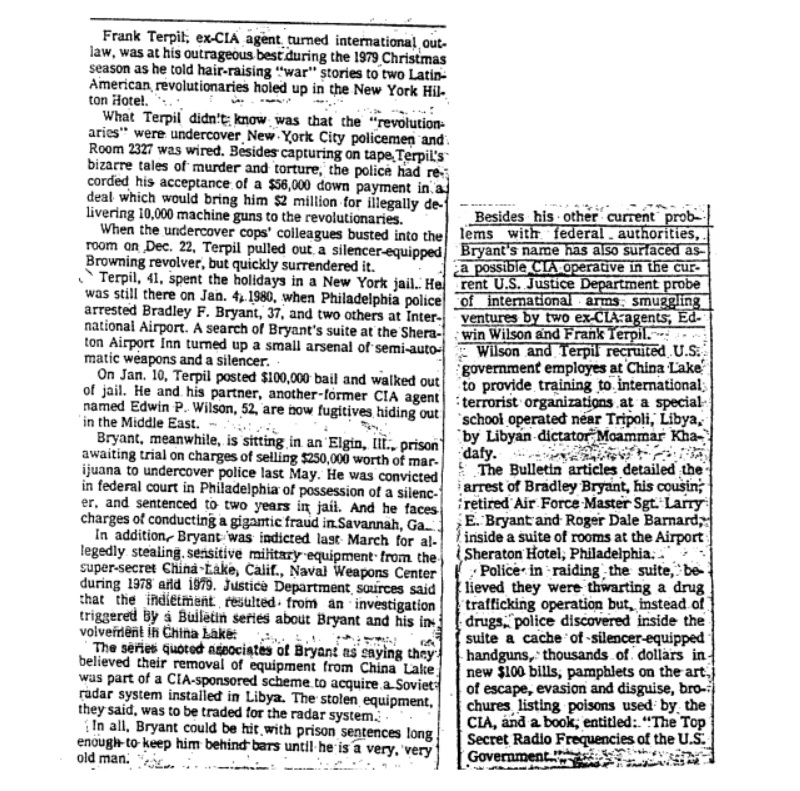 Regardless of the numerous alleged connections and extensive circumstantial evidence supporting these suspicions and allegations, evidence definitively linking either Bryant or ACT II to the Agency has been lacking. The most significant and direct allegation comes from Denton's book, which despite extensive legal review, and having excluded any material which was even slightly actionable (as opposed to material which they couldn't prevail on in court), has been treated with considerable skepticism. It is, after all, the sole piece of evidence which can directly tie The Company, ACT II, and Bryant to the CIA, and show that they received support from it.
The FBI file, however, offers crucial confirmation of Denton's sources and the evidence she described: a pair of address books, or specifically a phone number found within Bryant and ACT II's address books. According to Denton's book, dialing the phone number 202-449-9944 "would inform the caller whether or not the phone he was using was being tapped."

While the address book collected by the FBI and included in the file is almost entirely redacted, it is still enough to confirm Denton's description of the address book and its contents thanks to both the FBI and Denton including a sequence that would have been impossible to predict or arrive at through an educated guess: "41-44, 3R-35, 2L-79, R-95, 4L-35, 3R-20, 2L-31"

These numbers were found in the same phone book as the CIA phone number listed above, along with the global contacts for ACT II - including his law enforcement contacts. While the FBI redacted the Agency's phone numbers, along with the numbers for ACT II's other personal and professional contacts, the unredacted portions are enough to confirm the evidence that led Ross and later Denton to conclude that ACT II received support not only from sources within Lexington and Kentucky law enforcement, but the DEA and CIA as well. While Denton's sources in the FBI, Customs, DEA, etc. remain anonymous, the accuracy of the information they provided her is confirmed by the FBI's initial FOIA release.
Future articles will look at ACT II's criminal activities and his death, as well as with the CIA networks surrounding the Arms for Libya and Iran-Contra scandals. In the meantime, you can read the first ACT II file embedded below, and the rest on the request page.
---
Like M Best's work? Support them on Patreon.
Image via The Knoxville News-Sentinel