In a shocking turn of events, a government agency in Massachusetts is being unreasonable about a public records request.
When a Massachusetts agency tries to charge a requester a fee for "segregation" (also known as "redacting"), that agency is supposed to cite the applicable exemptions to the Public Records Law. While it's not uncommon for an agency to cite two, three, or even four exemptions, when I asked the Massachusetts State Police for its internal evidence audits, the department cited a whopping 17 of them to justify its $615 fee.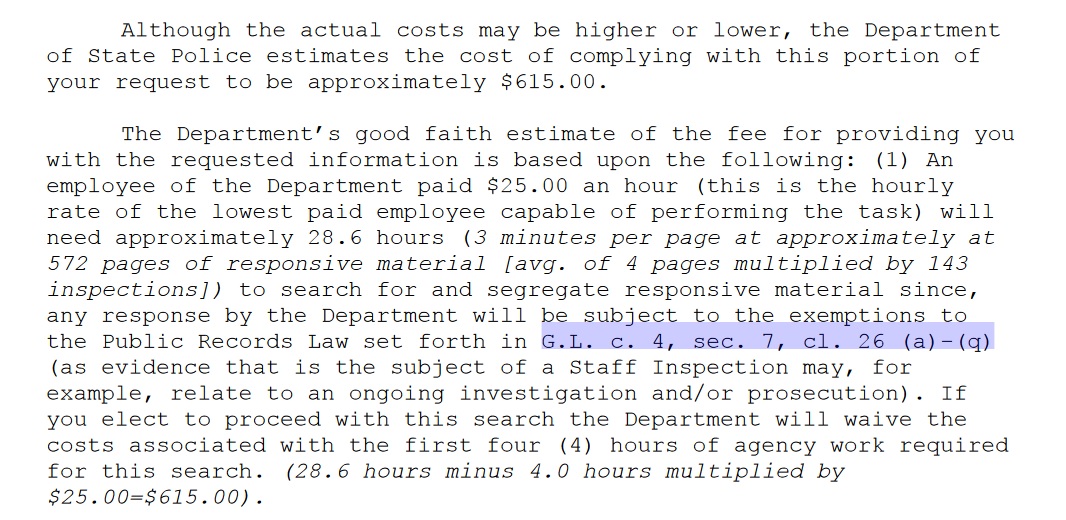 Now, I have a hard time believing that evidence inspection reports contain information that is subject to exemption h, which "serves to protect the integrity of the bidding processes used by the government to procure goods and services by allowing a records custodian to withhold the proposals of early bidders from other interested parties," according to the Secretary of the Commonwealth's office.
I'm also not convinced that there's any information in these reports subject to exemption q, which allows for the withholding of "Adoption contact information and indices therefore of the adoption contact registry," information that is kept by the Registry of Vital Records and Statistics.

Actually, I don't really think most of exemptions cited by the State Police apply, especially since the agency hasn't really provided an explanation beyond "evidence that is the subject of a Staff Inspection may, for example, relate to an ongoing investigation and/or prosecution."
So I guess the State Police at least think that exemption f - the investigatory exemption - "may" apply. But I'm not paying $615 based on pure speculation - or at all, for that matter. Hopefully the appeal I filed will result in me being provided with more specific reasons for why I'm being charged a fee I can't afford for records other police departments have already given me for free.
Read the MSP's full response embedded below, or on the request page:
---
Image via MSP's French and Electric Blue magazine