When we last looked at J. Edgar Hoover's personal files, the newly-minted FBI Director was America's criminal justice wunderkind, settling into his role as Number One G-Man amid nearly universal acclaim. Almost half a century later, the file shows a very different Hoover, neither wunder nor kind - a paranoid recluse scouring the tabloids for bad press while fighting the constant threat of forced retirement.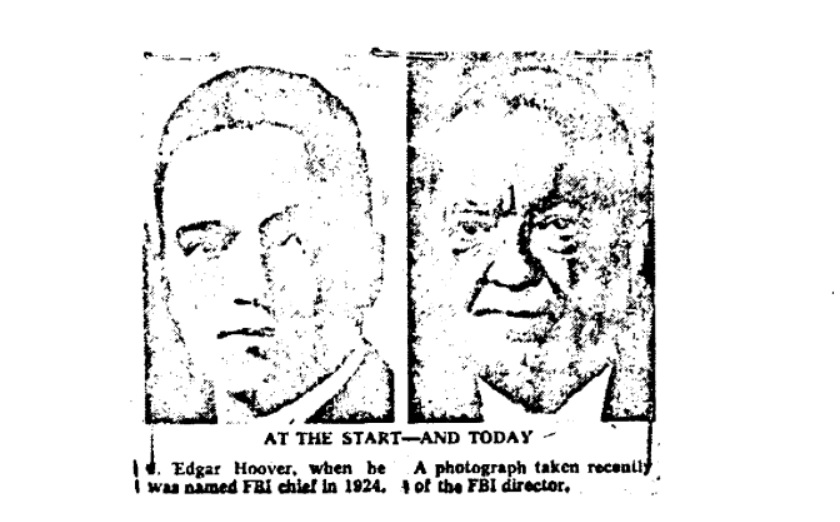 The last of Hoover's files before his death covers the mid-sixties to just months before his heart attack in 1972. The investigation that kicks things off already gives the sense that we're dealing with a Hoover that's a far cry from his gang-busting days – after a local DC gossip columnist joked that Attorney General Ramsey Clark had stolen the plaque commemorating Hoover's birthplace, the Director ordered a couple agents to go check it out.
In a still mostly redacted report, the agents confirmed that an exterior plaque was indeed missing, and it must have been quite a feat to make off with the thing.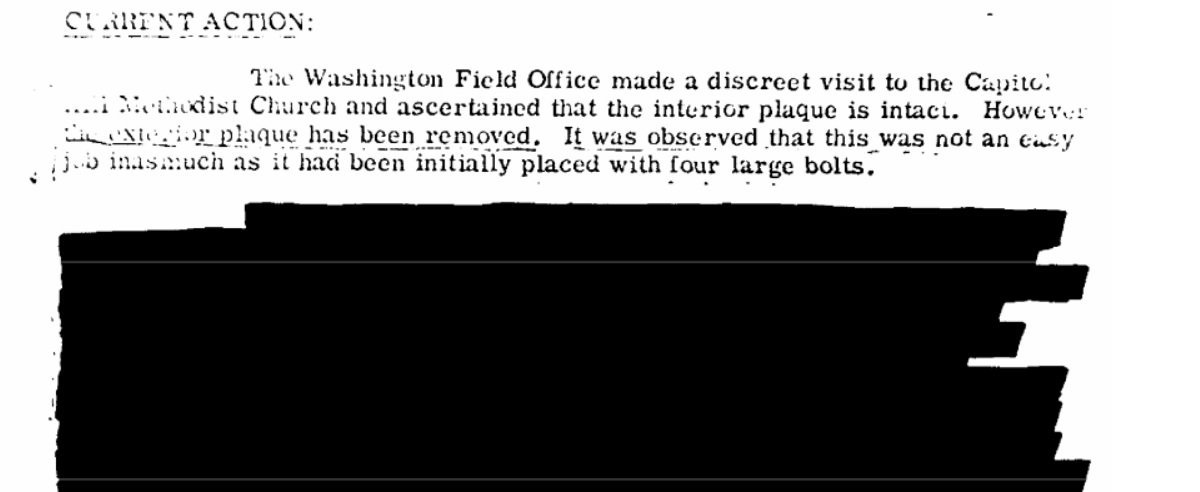 However, the agents advised against pursuing the matter, on the grounds that their only lead was the local Pastor, and with his "alleged liberal leanings," that would only end in embarrassment. The case was closed.

The second sizeable chunk of the file concerns Hoover's remarks at an American Newspaper Women's Club dinner honoring Martha Mitchell, wife of Attorney General John Mitchell, a Nixon appointee that Hoover got along with much better than Ramsey Clark.
Considering that, at this point in his life, Hoover had essentially sealed himself off from the public eye …

and that his abject contempt for the press was common knowledge …
This was a pretty big get for the American Newspaper Women's Club, who wanted to make the most of some rare face-time with the Director.

Though Hoover made it abundantly clear that he was here just to support the Mitchells.

For his part, the normally quite-easily flapped Hoover seemed to take the whole thing in stride, waving off concerns that hoards of "newspaper women" would descend upon him and commence buttonholing.

In fact, included in the file is a copy of Hoover's speech (including his own last-minute edits), which gives us a rarity among rarities - the Director telling a joke.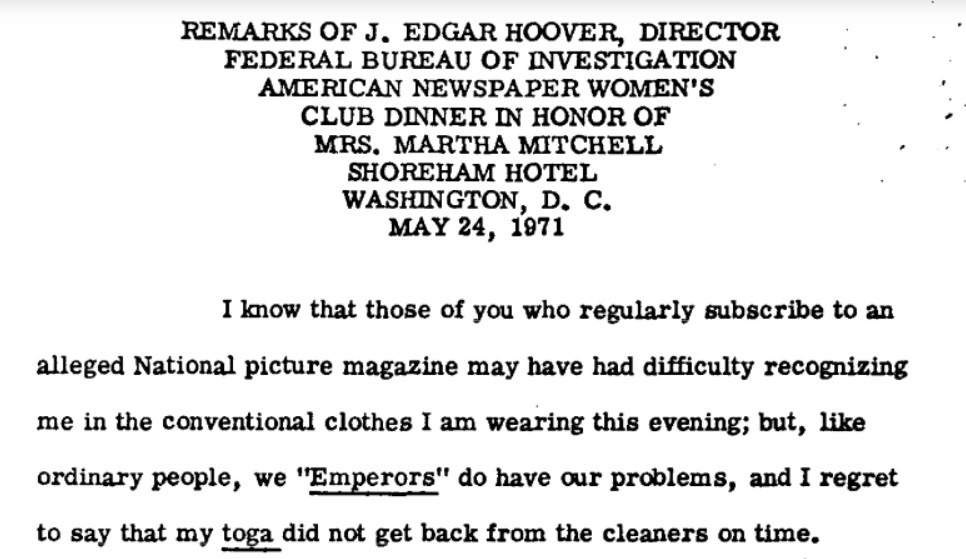 Oof. Don't quit your day job, Hoover.
Though Hoover spends most of his White House Correspondents Dinner-level cringe-fest making it clear that he loathes journalism as an institution, he largely avoids singling out any one specific outlet … though one illegible ad-lib in a crack about indigestion …

has a pretty obvious candidate.

The final section consolidates the constant rumors that the Director was either voluntarily or involuntary stepping down …

including more than a few failed coups …

starting with this ominous missive from 1966: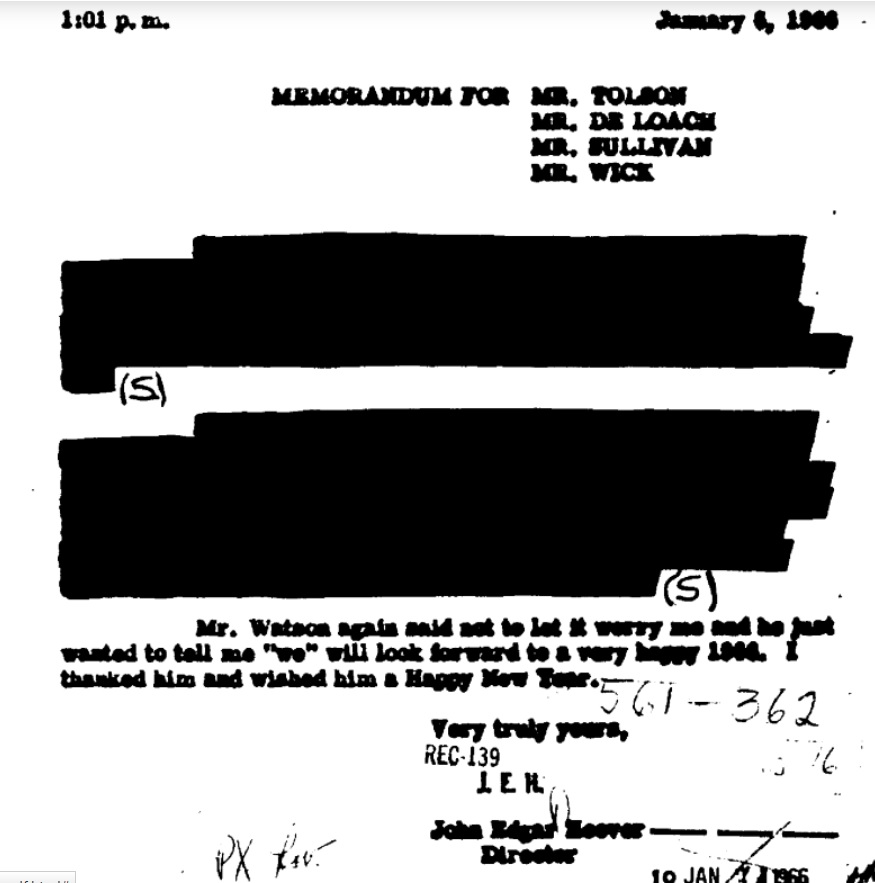 On the eve of the Director's 47th year in office, Hoover was approached by Congressman John M. Slack, who asked Hoover if he wouldn't consider committing the invaluable knowledge he had accrued over the decades into a personal history …

Lest the proper narrative be warped by the current crop of "freaks, weirdos, screwballs and political opportunists."

Understanding that Director couldn't possibly undertake such a monumental task while fulfilling his current duties, they'd be happy to set him up with a spare office somewhere …

not that he was suggesting that the Director retire - who do you think he is, one of those "freaky detractors?"

Seeing this as yet another plea to step down, Hoover declined the offer.

He died almost exactly a year later.
Perhaps the best encapsulation of the file - and this final chapter of Hoover's life, really - is this clipping from a New York Daily News "man on the street" interview, in which six New Yorkers were asked if President Johnson had made the right decision in excluding the Director from the federal government's mandatory retirement age of 70.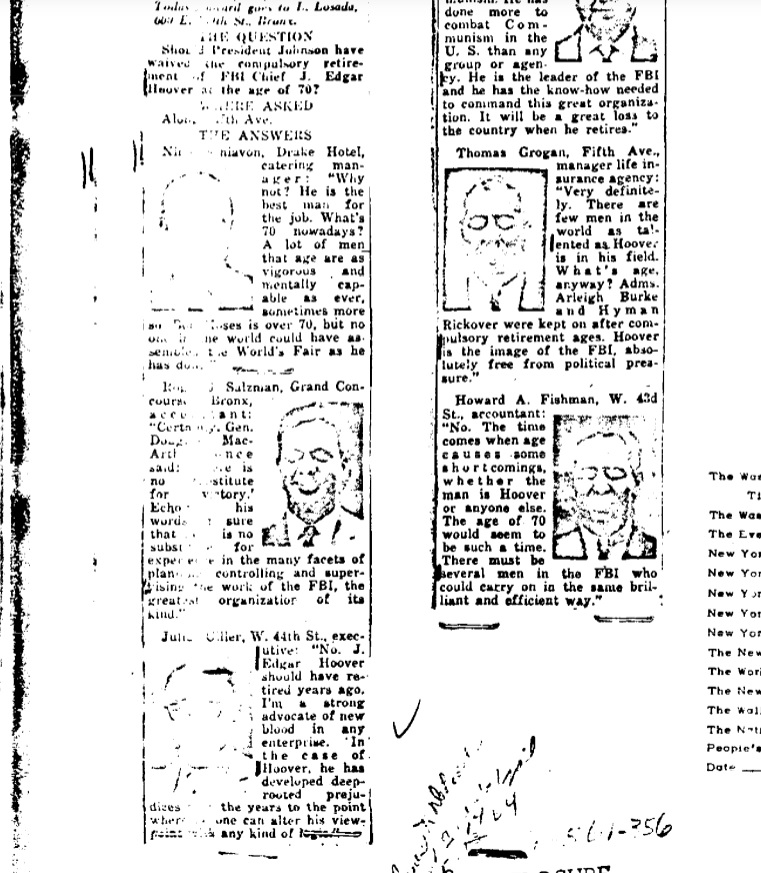 Of the six, two said no, Hoover should have been forced to step down. Hoover ordered an investigation into both of them.

Read the final installment of Hoover's file embedded below, or on the request page:
---
Image by Yoichi R. Okamoto via Wikimedia Commons