The scientist Alexander "Sasha" Shulgin had already been well-acquainted with the Drug Enforcement Administration (DEA) for decades before agents descended on October 27, 1994 upon the Bay Area home he and his wife had made.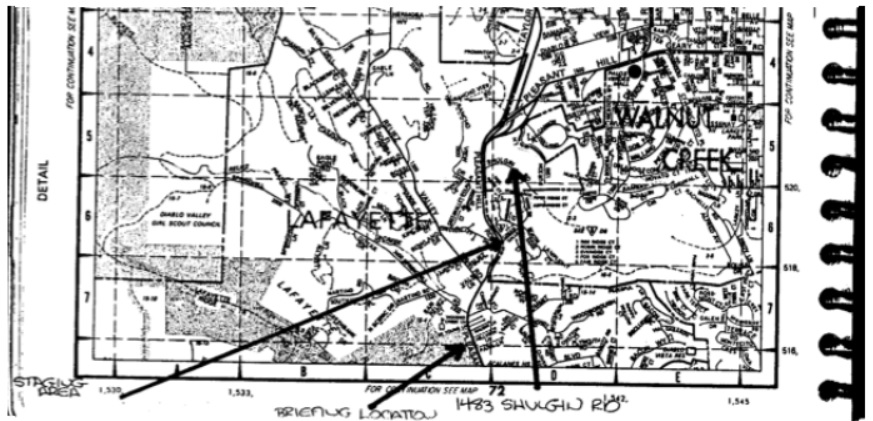 The so-called "grandfather of ecstasy," known for his introduction of and advocacy for MDMA's therapeutic potential as well as the creation of hundreds of his own psychoactive compounds, had been doing work for the agency himself for years.

However, evidence of this is conspicuously absent from recent materials released to MuckRock user Anthony Roberts (though they may be contained in a separate batch of materials being held by NARA). What primarily comprises the 230+ page file is the paperwork generated by the 1994 inspection of his home that resulted in a $25,000 fine and the revocation of his DEA registration number.
Curiously, multiple people submitted requests for Shulgin's files from the DEA, using varying language, but to no avail.

The impetus for the raid, according to reports, was an interview with Shulgin and his wife Ann published that August in the magazine High Times, in which was discussed their recent book "PiHKAL" ("Phenethylamines i Have Known And Loved").

The question that set them off?
"Was there any response from the Drug Enforcement Administration to it?"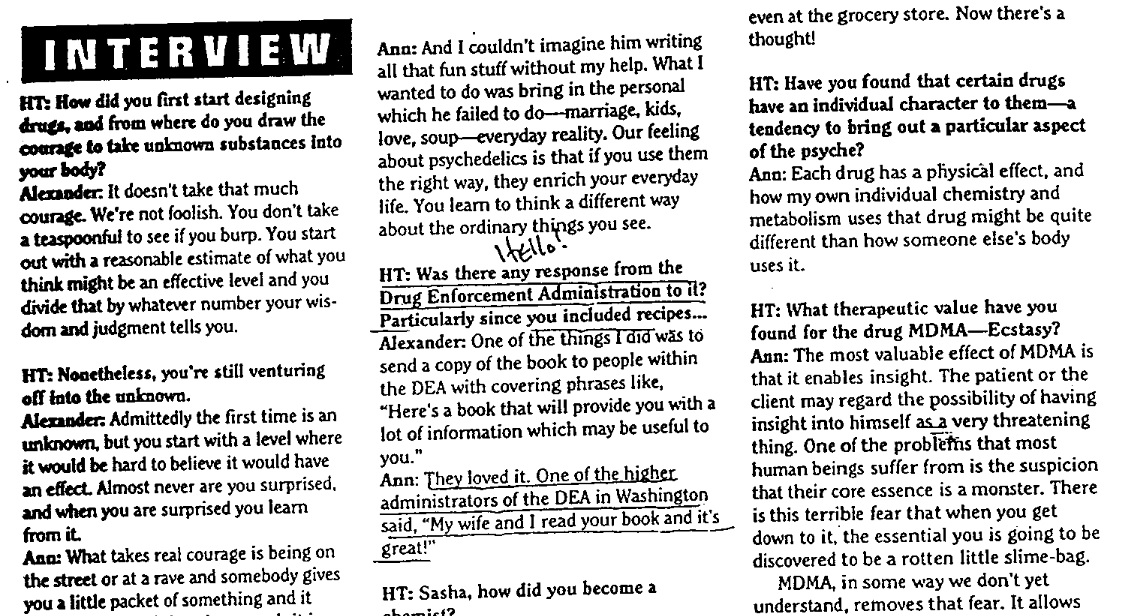 This wasn't the first time various branches of the DEA seemed confused about Shulgin's lawful involvement with scheduled drugs. In 1986, another investigation had failed to turn up anything wrong with his MDMA research.

And in 1992, another inquiry by the DEA involving 600 doses of LSD also resulted in no criminal misconduct. It had been at the request of a DEA scientist that Shulgin had and was analyzing the acid.

However, on the date of the October 1994 raid, he was found in possession of an assortment of drugs, as well as peyote plants, and his DEA-assigned DEA registration number, which allowed him to possess controlled substances, was soon revoked.

The files repeatedly point to a decision by the California Research Advisory Panel (CRAP) to reject his proposed marijuana research, which they claim he failed to properly disclose when applying for DEA credentials.

They also document the many unknown substances found throughout his home and a cooperative, even generous, Shulgin.

His punishment which could have been a lot worse - according to a conversation contained in the file, the Assistant U.S. Attorney could have brought to bear that amount on each violation.

However the settlement was a bit more agreeable. He was ultimately hit with a $25,000 fine and the revocation of his DEA number.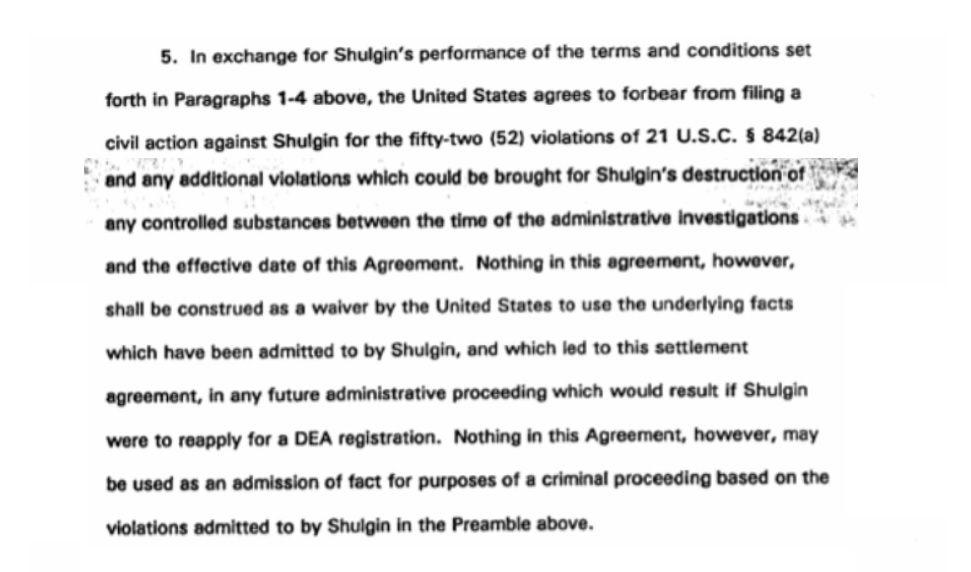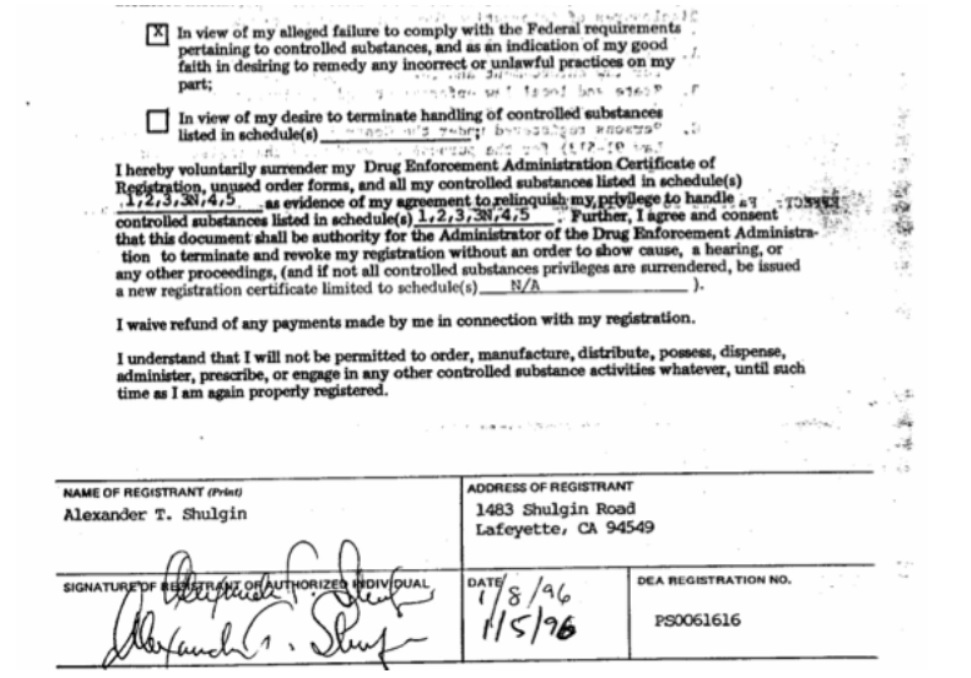 The file itself ends with insight into the more pressing concerns of the DEA regarding the use of ecstasy and other drugs at raves …

Including this handy guide to raves!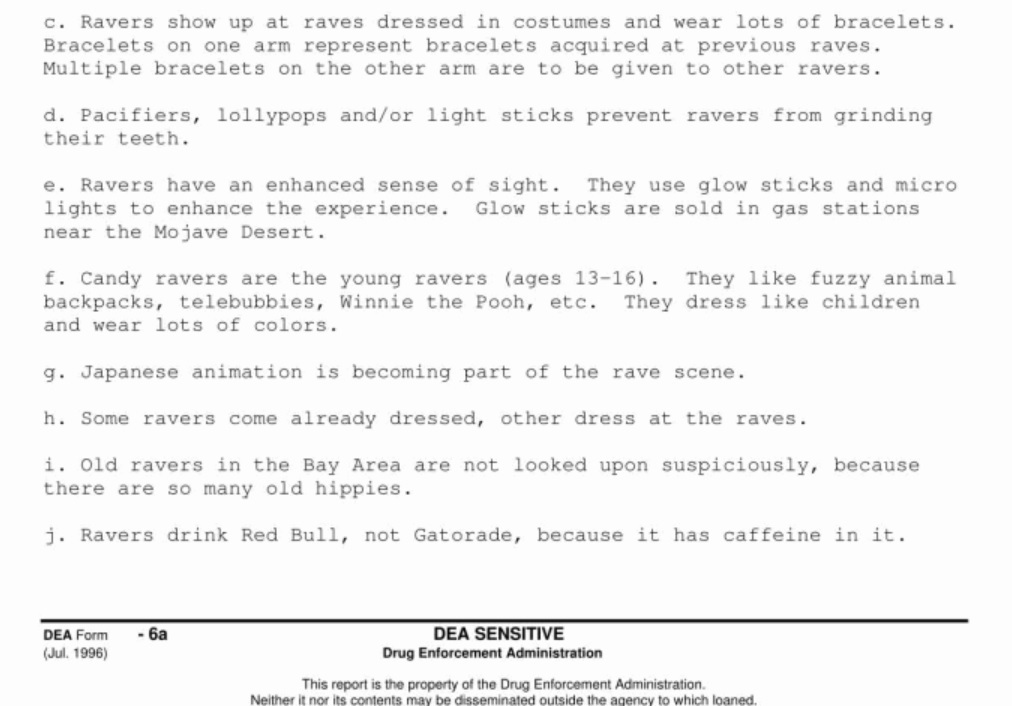 Read the DEA's release embedded below, or on the request page:
---
Image via Maps.org