Last month, the Federal Communications Commission announced a second wave of reforms to inmate calling services. In an effort to relieve exorbitant inmate phone bills incurred by local and in-state contact — a gap unaffected by 2014's $3.15 cap on 15-minute interstate calls — the newest guidelines place a $1.65 limit on both intra- and interstate phone contact.

The regulations are also addressing the assortment of fees companies have attached to most conceivable junctions in the phone account process — deposit fees, auto-payment fees, connection fees, complaint fees.
A recent release of FCC complaints related to inmate calling services captures the confusion and frustration of consumers with often limited resources for the base charges as is. Included are multiple descriptions of mistaken charges, unresponsive companies, and undependable equipment. It's a reminder that it's not just the Goliaths of inmate services — Securus, Global TelLink, CenturyLink — that have been benefiting from the system. Regional operators also create their fair share of burden.
In Alabama, one man wrote of his experience trying to stay in touch with his wife, who is being held at the Montgomery Women's Facility. He alleges that his fees had essentially tripled. The maximum allowable amount of a deposit had decreased, meaning more occurrences of that transaction fee. And the Home WAVE video visitation equipment would regularly stall.

The phone company in question, ICSolutions, is mentioned multiple times in the complaints, as is another company, Inmate Call Solutions, names so similar that the FCC repeatedly issues warnings to the latter only to hear they have the wrong number.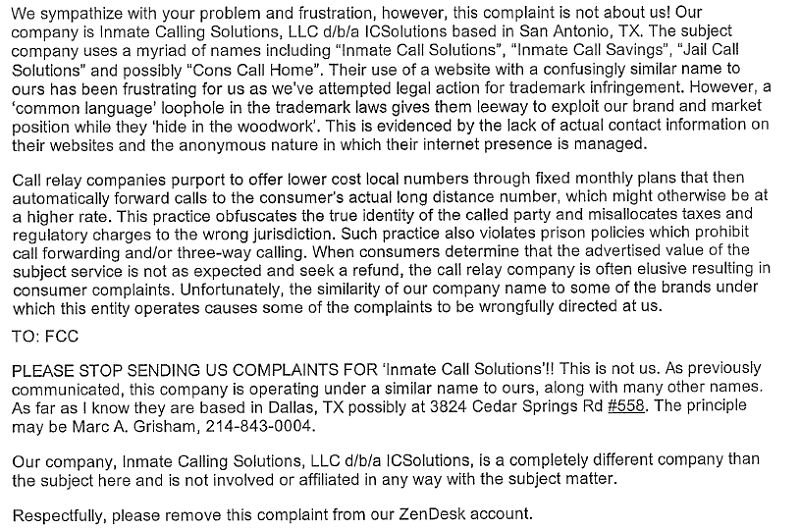 We're still waiting to receive the responses provided in those instances where they were the proper subject, although some have been referred to the state regulator. One instance is in Idaho. A consumer contacted the FCC in July to report that voice recognition software had been disrupting and disconnecting phone calls.

The software is part of the ICSolutions phone system. Each inmate account is associated with a particular inmate's voice, in order to prevent any other person from charging calls. According to a representative of the facility, Idaho State Correctional Facility began a mass re-enrollment of their voice biometric system on Monday to try to solve the glitches.
The problem of equipment failure can become a costly one, as highlighted by multiple complaints. Lost minutes and connection fees can easily eat through funds, and restitution is not easily obtained.

But there are a selection of other issues that become apparent from the complaints.
In Kentucky, one consumer was informed that the new rates do not apply to halfway houses, where the reported connection fee was $10.75.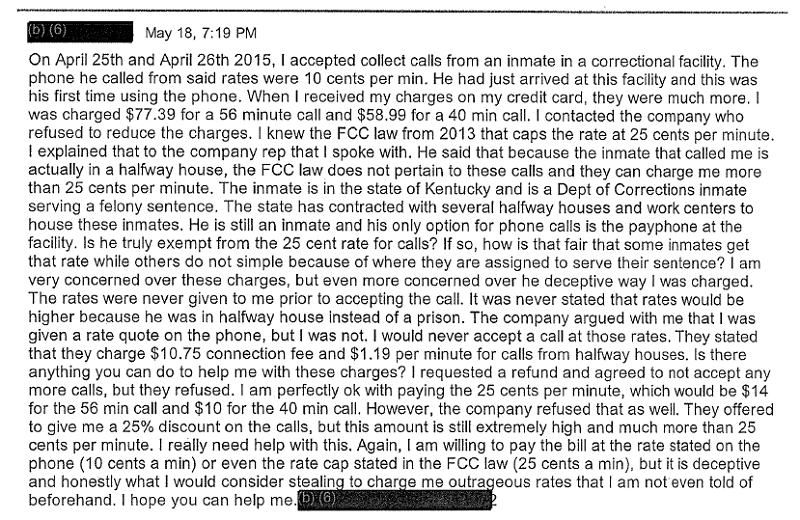 Another in Oregon took issue with the schedule on which funds were withdrawn.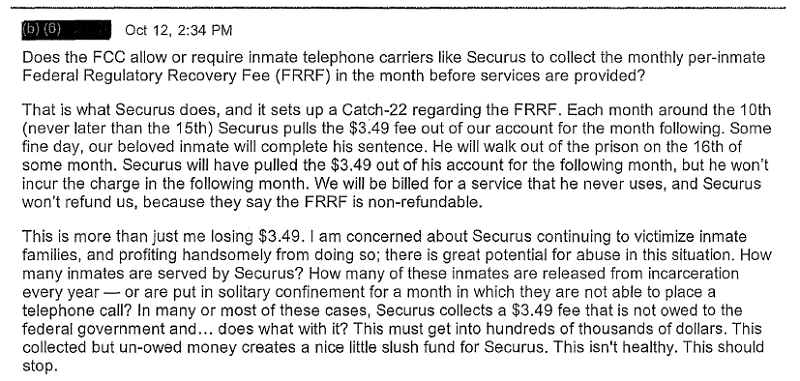 And in a nursing home in Illinois, an elderly man found himself on the receiving end of collect inmate calls.

The FCC notes that complaints can be used "to spot trends and practices that warrant investigation and enforcement action," even, as in the case of inmate services, it can take years for changes to be made. But then, there's not always a lot that can be done to help at the federal level.
Oft-cited ill-aligned incentives, like site commissions, are still at the discretion of the facility. The FCC strongly discourages but cannot prohibit such phone call kickbacks received by facilities. The new regulations also won't affect other inmate technological communications, like video visitation systems or emails, though new rules in those areas are expected.
In the meantime, local action can sometimes be a temporary deterrent. One Kentucky bank, for example, has gone so far as to pro-actively block payments to a particular inmate calling company, only allowing transactions with prior written consent. "The reason is that there's been so much fraud through that company," a representative said.

The FCC's attention to such problems can do much to alleviate them, then, it's no cure-all. The problem of state versus federal jurisdiction constantly comes into play, as it does with many federal regulations. For citizens from the Atlantic to Hawaii in search of a means of redress, this means an extended ping pong effect in the search for accountability that will require local diligence even in the wake of reforms.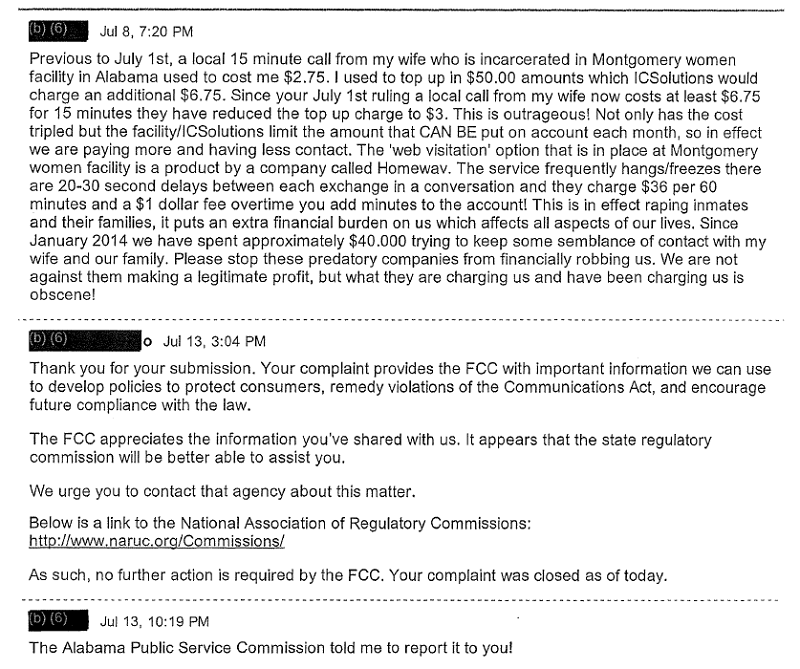 Interested in exploring phone commissions and rules in your state? Check out the map of complaints above to see what's been said near you. Then start your own digging by reaching out at info@muckrock.com.
---
Image via prisoncellphones.com